After two weeks touring Thailand with our dear friends from Miami and Chicago, a little alone time was welcomed. And what better way to wind down our trip than with a quick stop in Cambodia to explore the temples of Angkor Wat? OK, so maybe the "wind-down" wasn't as relaxing as one would have hoped. But after a few days on the beaches of Phuket, I was ready for a little more adventure before our return to reality. So, we said our tearful goodbyes and hopped a quick plane to Siem Reap where the adventure began, Tomb Raider style.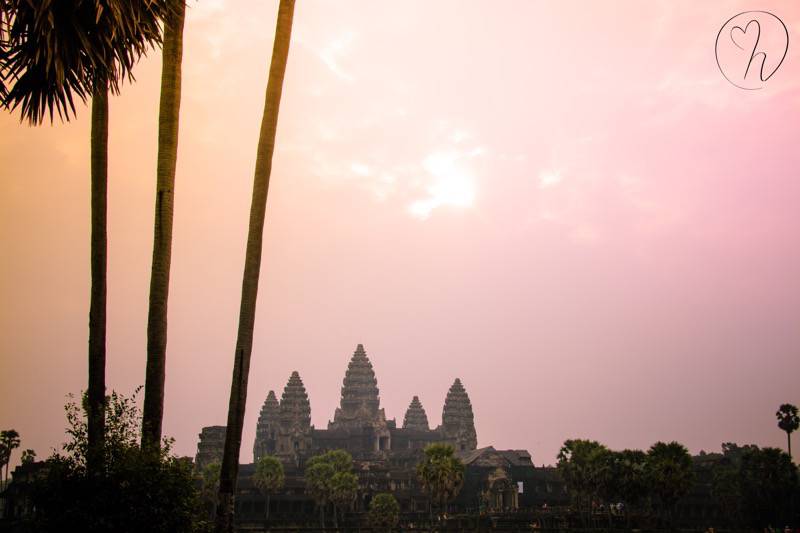 Thailand is a pretty touristy destination. Technically, Angkor Wat is too. So, I'm not quite sure what I expected when we got off our plane and stepped into the tiny one terminal airport. Perhaps we had become accustomed to the busier streets of Thailand. Cambodia, on the other hand, was a bit more laid back, made obvious by the children riding their bikes to school and the random cows grazing in the ditches. After a leisurely ride on many dirt backroads, we arrived in our small boutique hotel bubbling over with anticipation of seeing the temples. So, we wasted no time. The hotel set up a tuk tuk driver, Mr. Theon, to cater to us for our entire stay. So after buying our three day passes, we immediately headed to the best temple for watching the sunset.
This temple required a short hike up a hillside where it was situated high enough to get a good glimpse of the sunset over the forest trees. And right away, we got to experience the crowds of tourists that Angkor Wat temples are famous for. It's quite amazing how many people flock to these temples every day. I suppose that proves just how amazing the views and atmosphere of these ruins are. However, it does dull the experience a tad when you need to share it with hundreds of strangers. Nevertheless, we took it all in, our first temple sighting and the vast jungle surrounding it.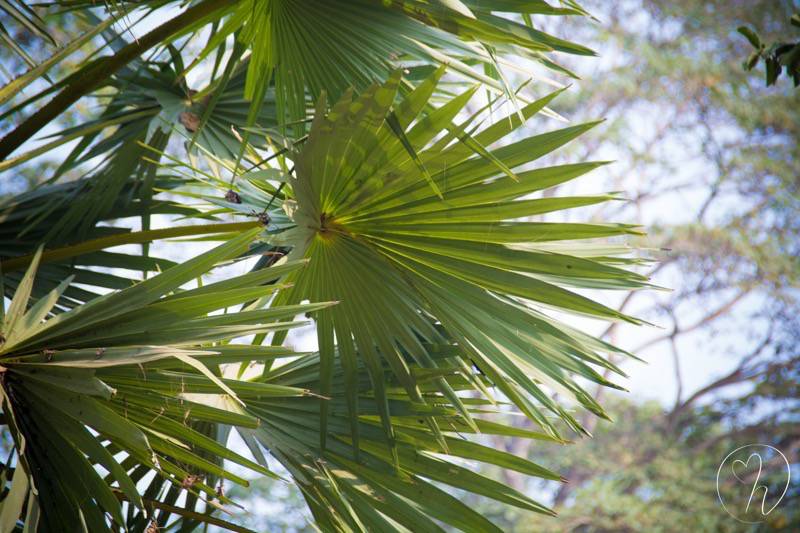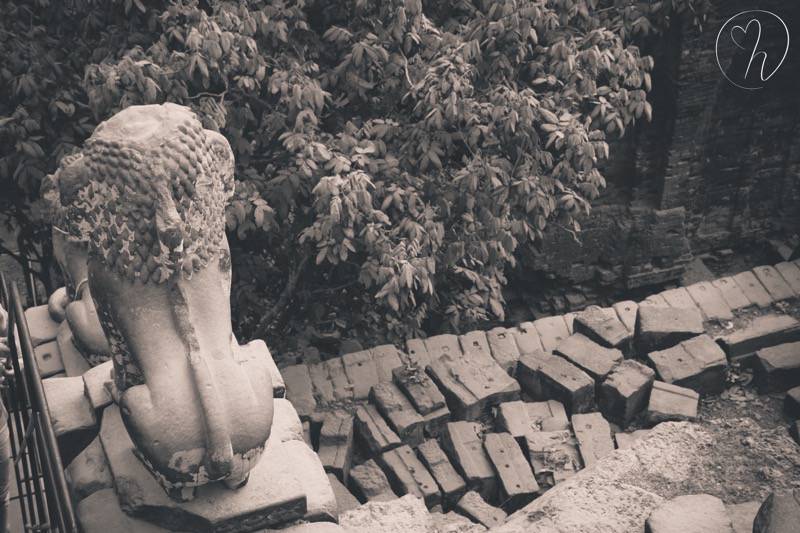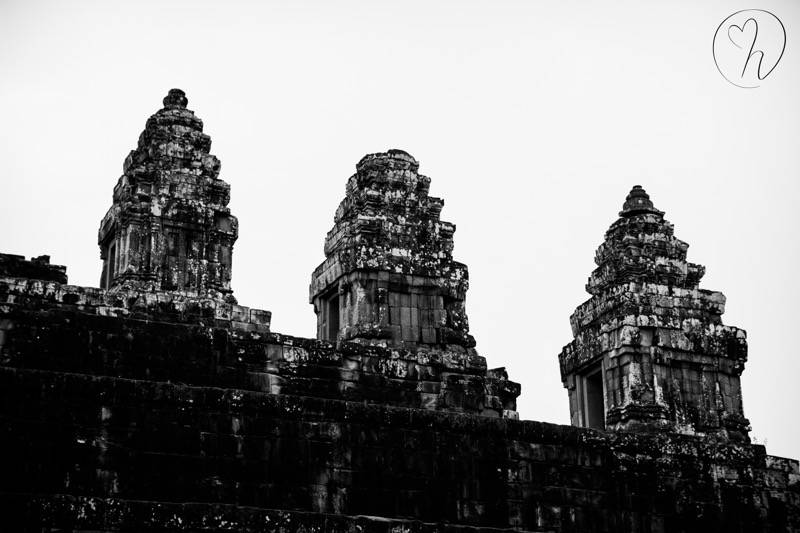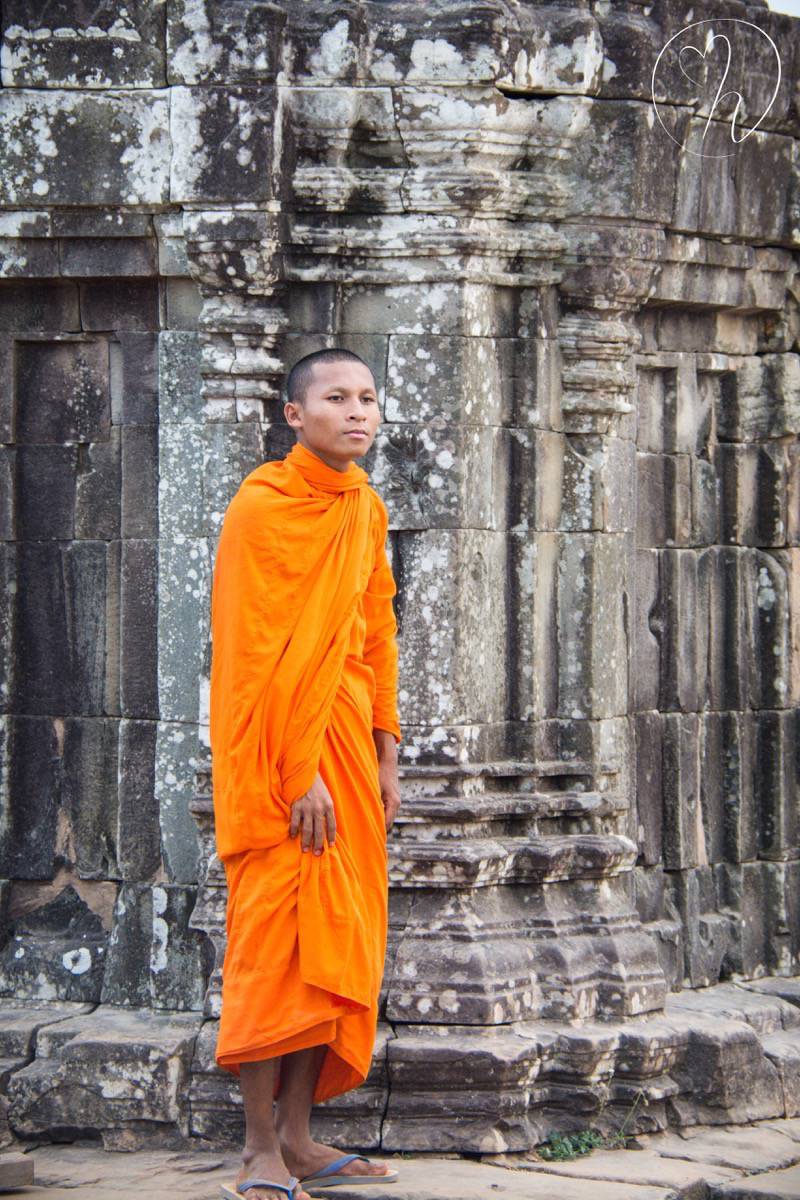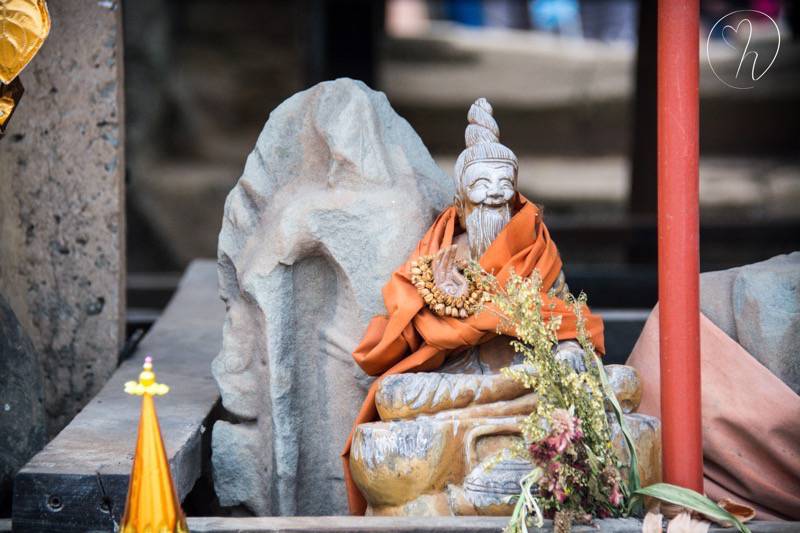 We headed back in to town and found a small local restaurant nearby where I had the best duck of my life. We would have liked to explore the city's nightlife, but it was a long day of carrying backpacks through the airport. Our backs ached. Thankfully, we were able to get massages in our room which put us right to sleep.
The next morning, Mr. Theon met us 5:00 AM. The hotel packed us a breakfast and we headed to the temples while it was still dark outside. We arrived at Angkor Wat with hundreds of other tourists all stumbling in the dark to find the best spot to watch the sun rise. Most people gathered around the pools setting up tripods and staking their claim on precious space. We tried this, but the crowd proved to be a little much for me. So, we set up the tri-pod directly in front of the entrance into the Angkor Wat complex and sat on the stone pathway to eat our breakfast while the sun slowly rose above the horizon. And as the sun did its thing, we starred in amazement at the vast temple before us.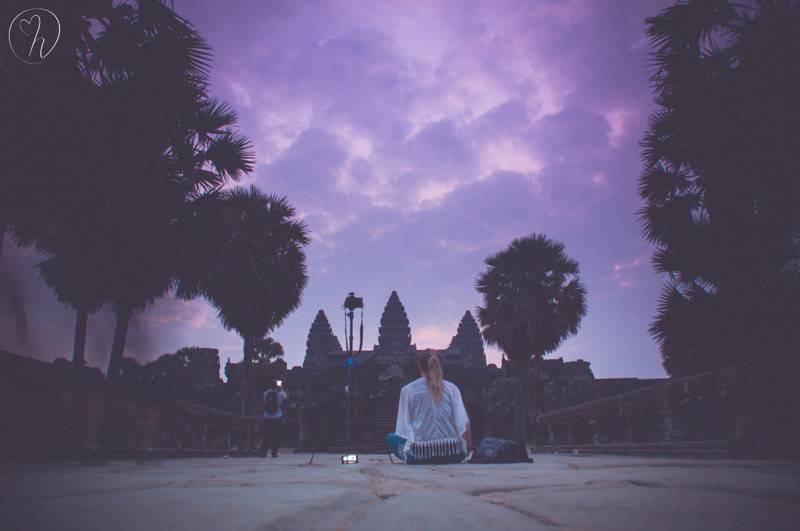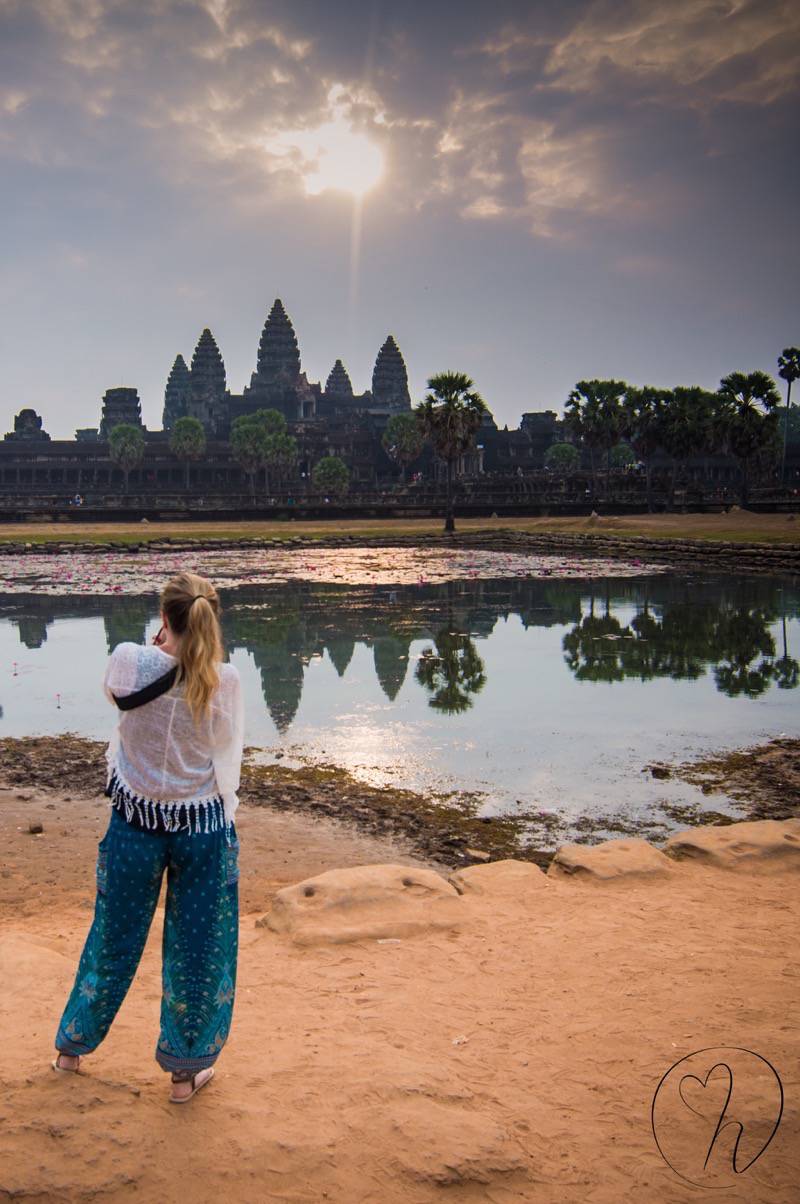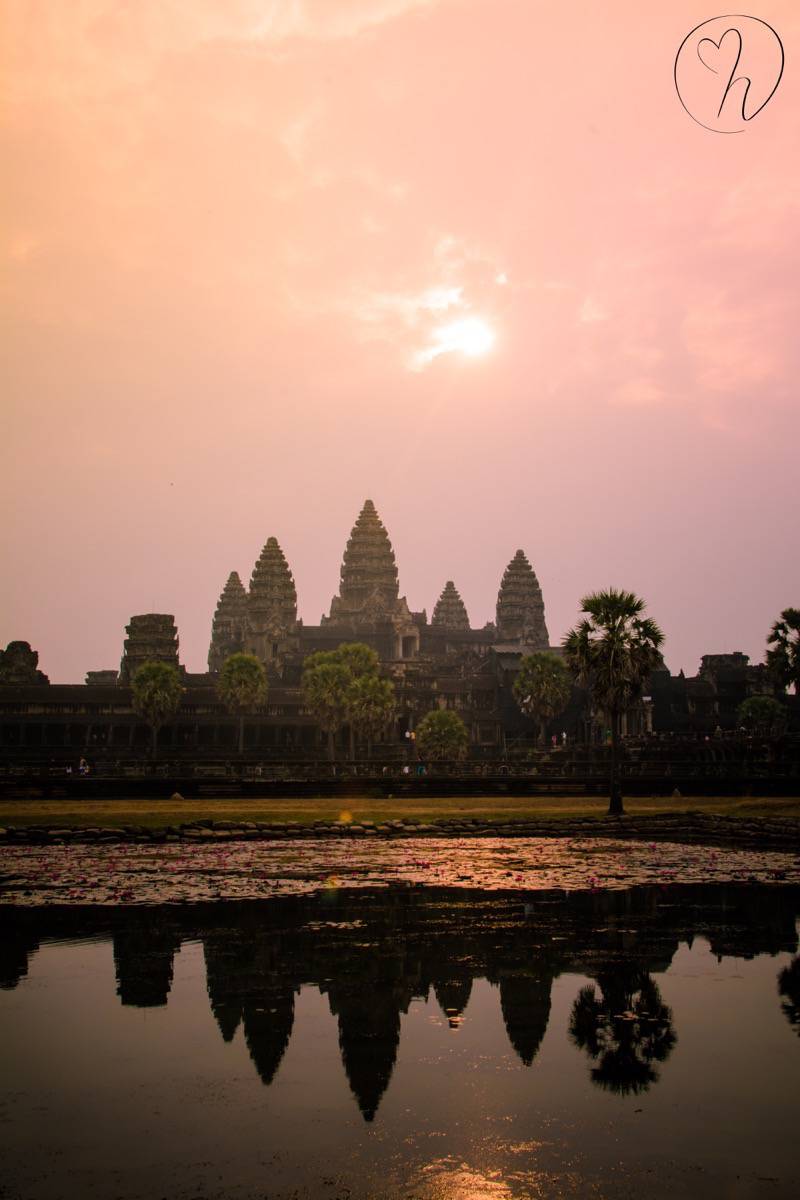 You can read all about Angkor Wat and the other surrounding temples here. I am not a history buff, so I will spare you all the butchering of the details. Yes, knowing its history made the temples that more grand. But even without a tour guide giving us blow by blow details, I was in awe. Still, I had Jason with me who had read quite a bit about the temples prior to arriving in Cambodia. He was all the tour guide I needed.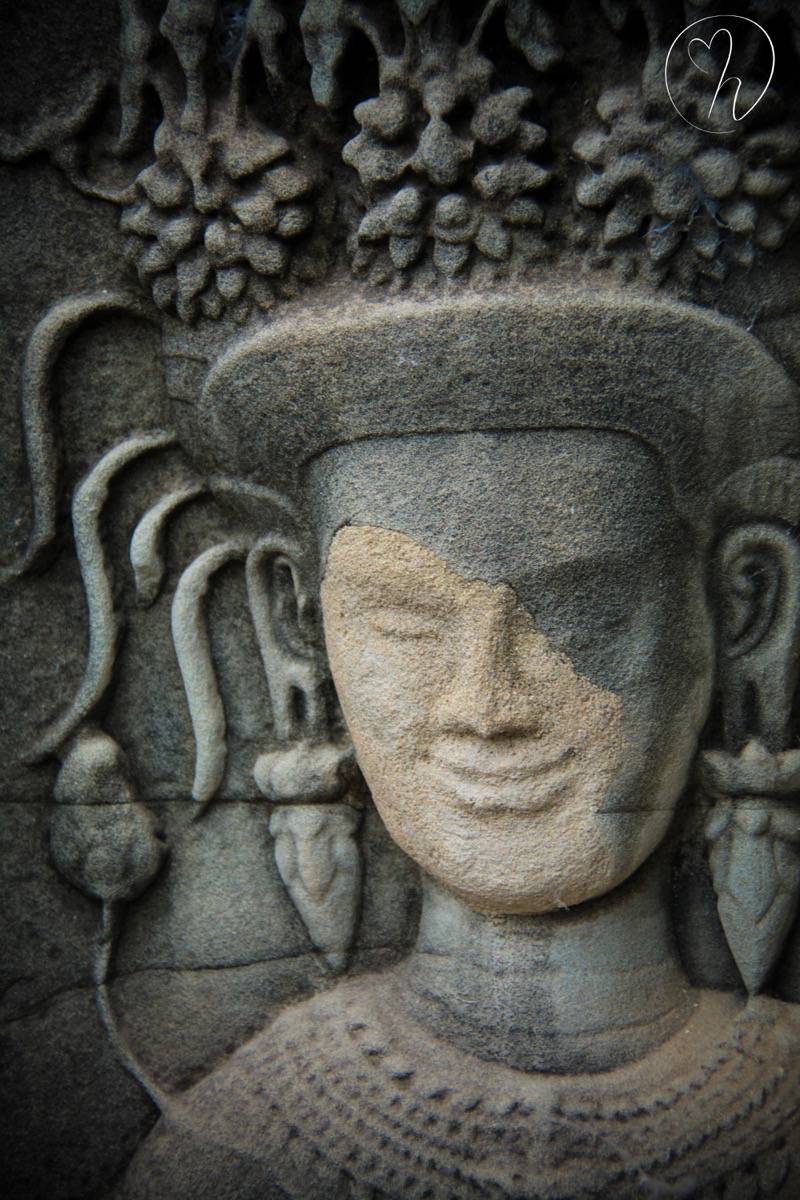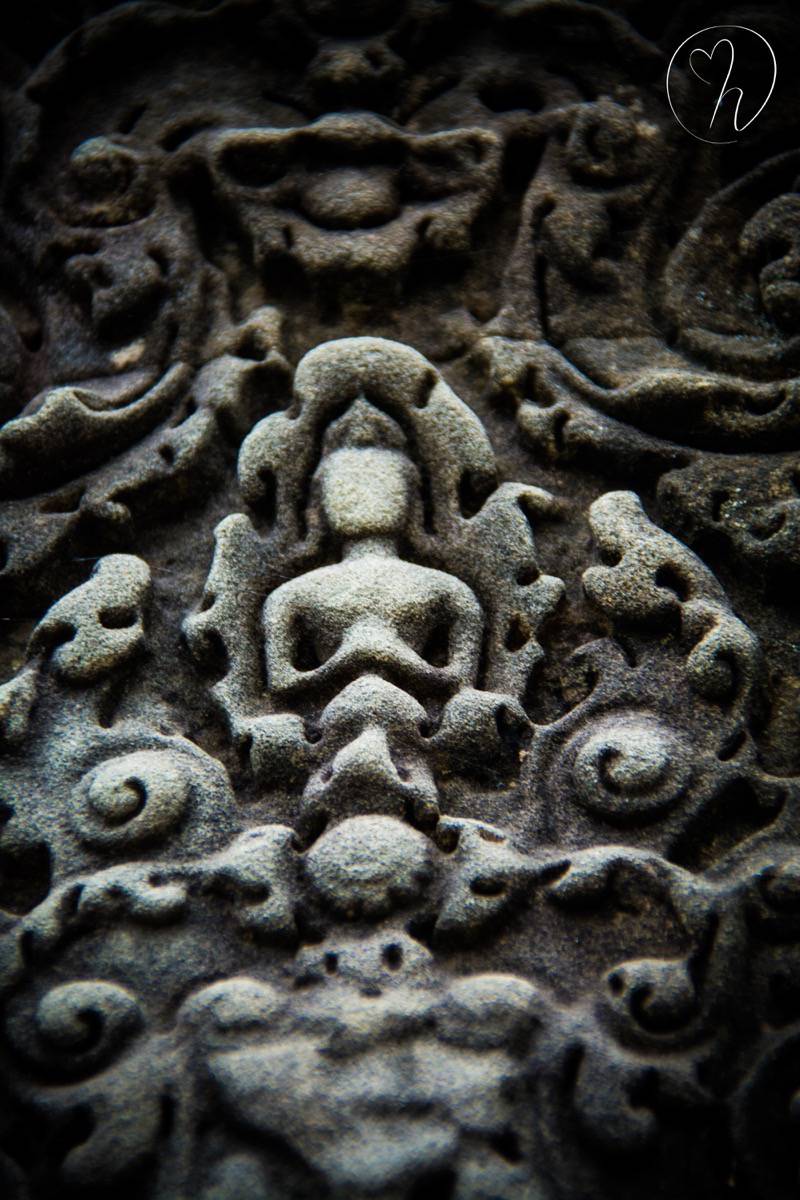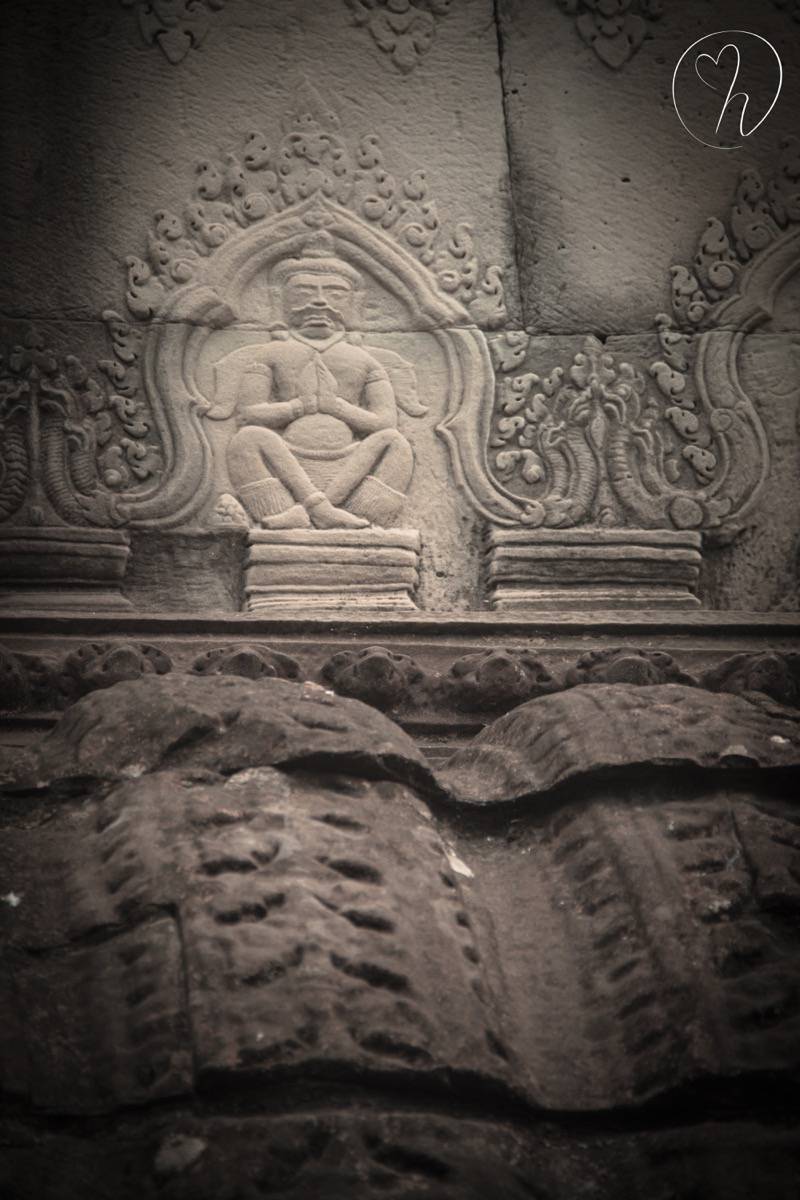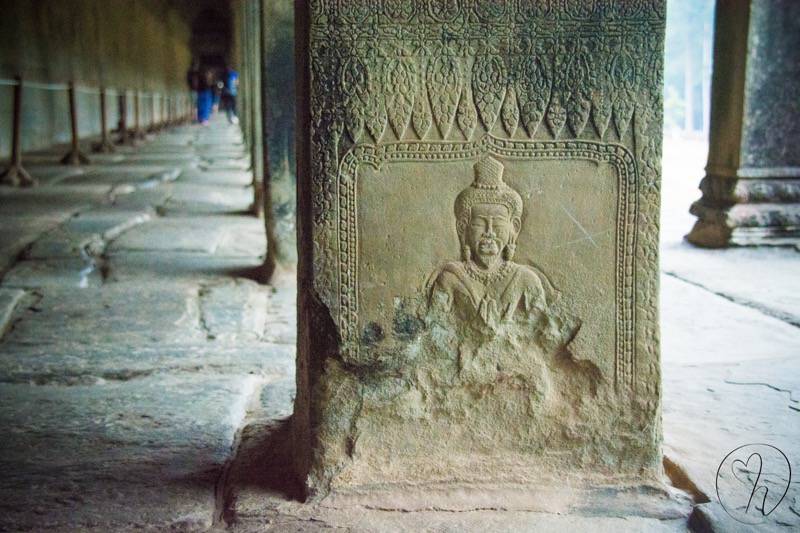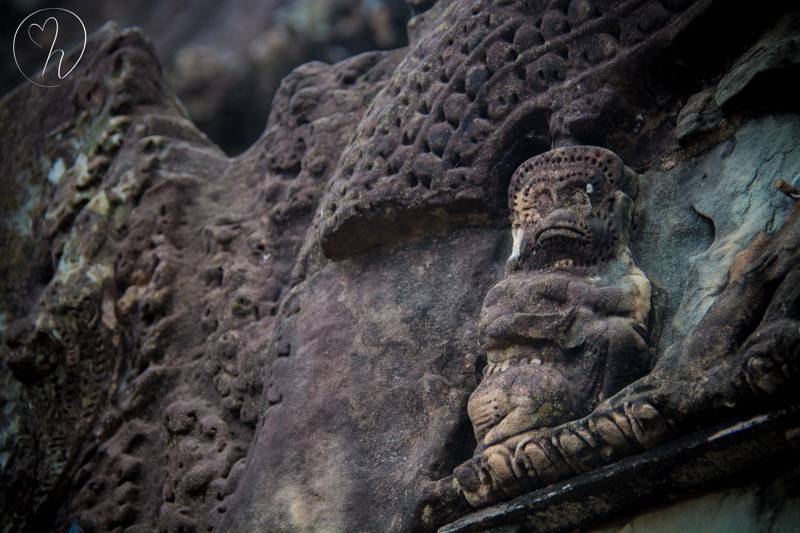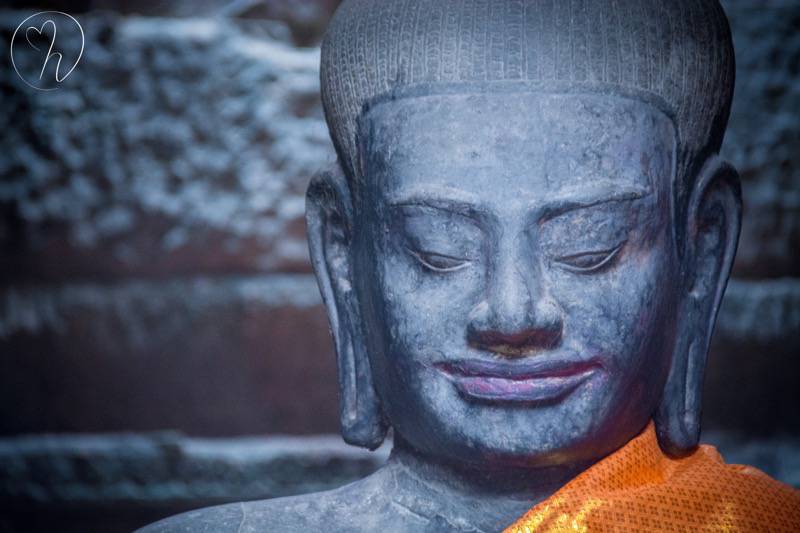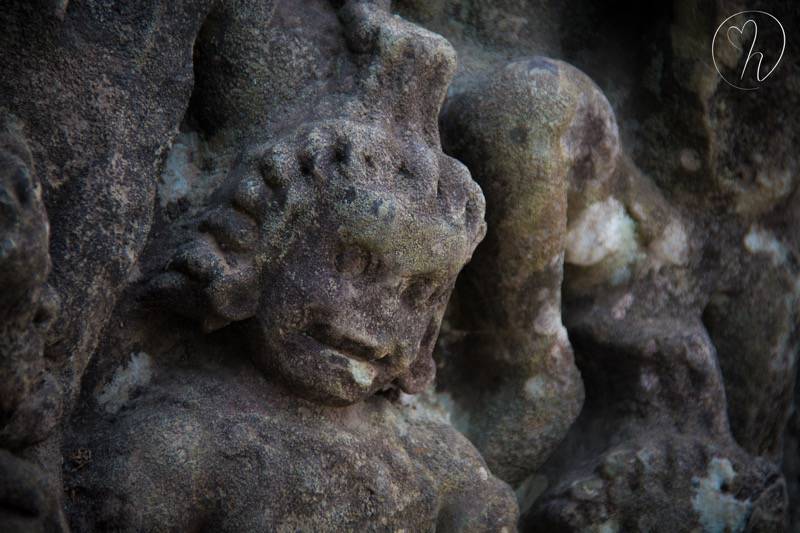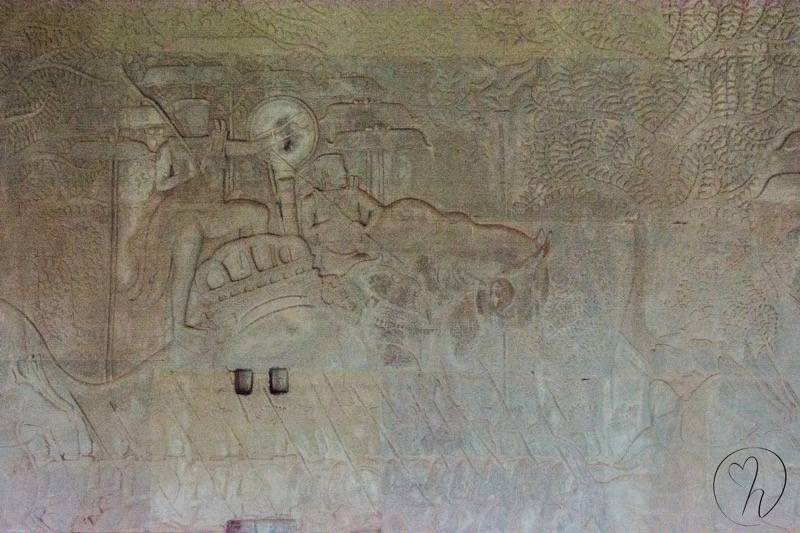 As the sun came up, it started to get hot. Really hot. I mean seriously. I live in Houston. I should be used to this kind of heat. But I wasn't. That didn't stop us, we loaded up on water and continued to explore while soaking our cloths with sweat.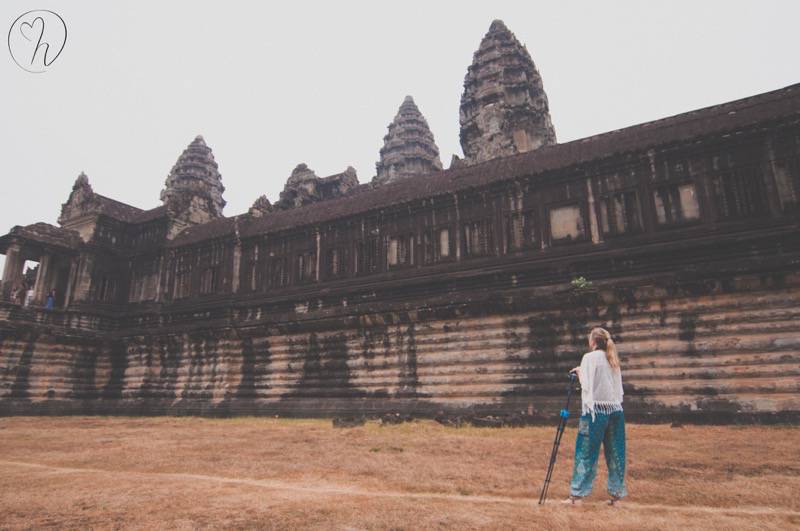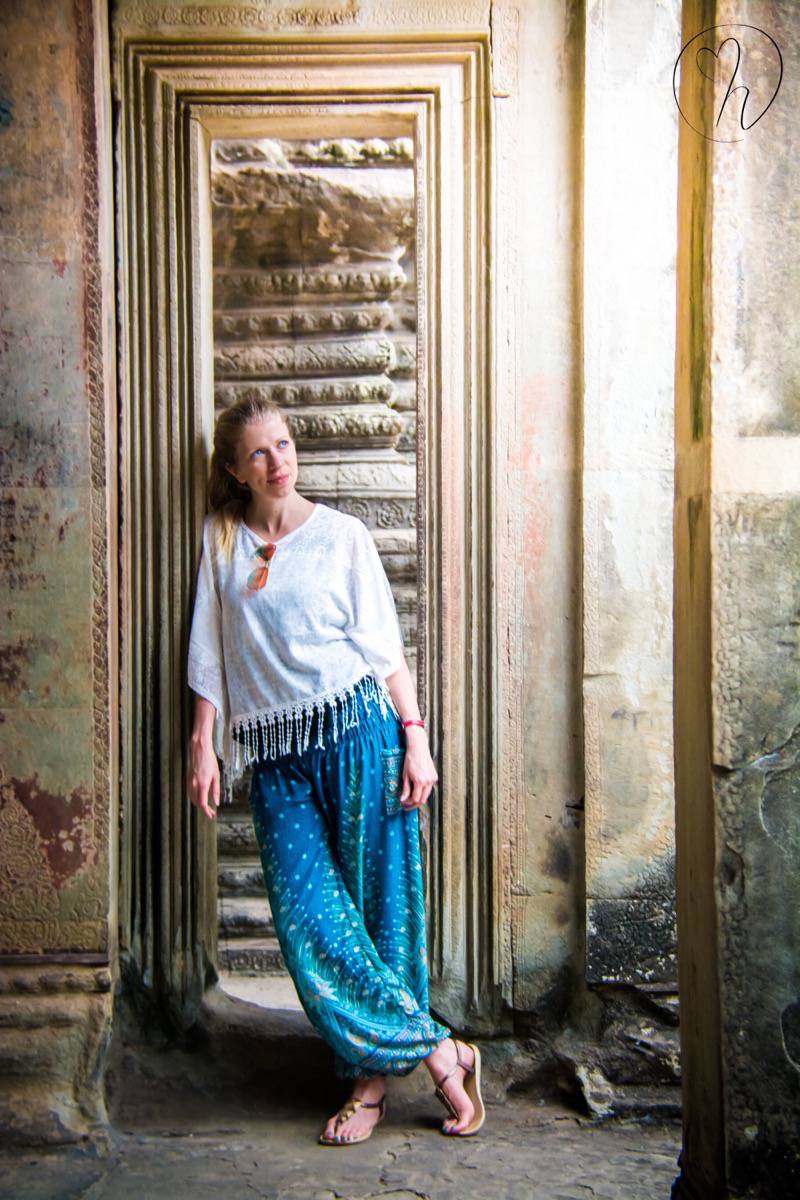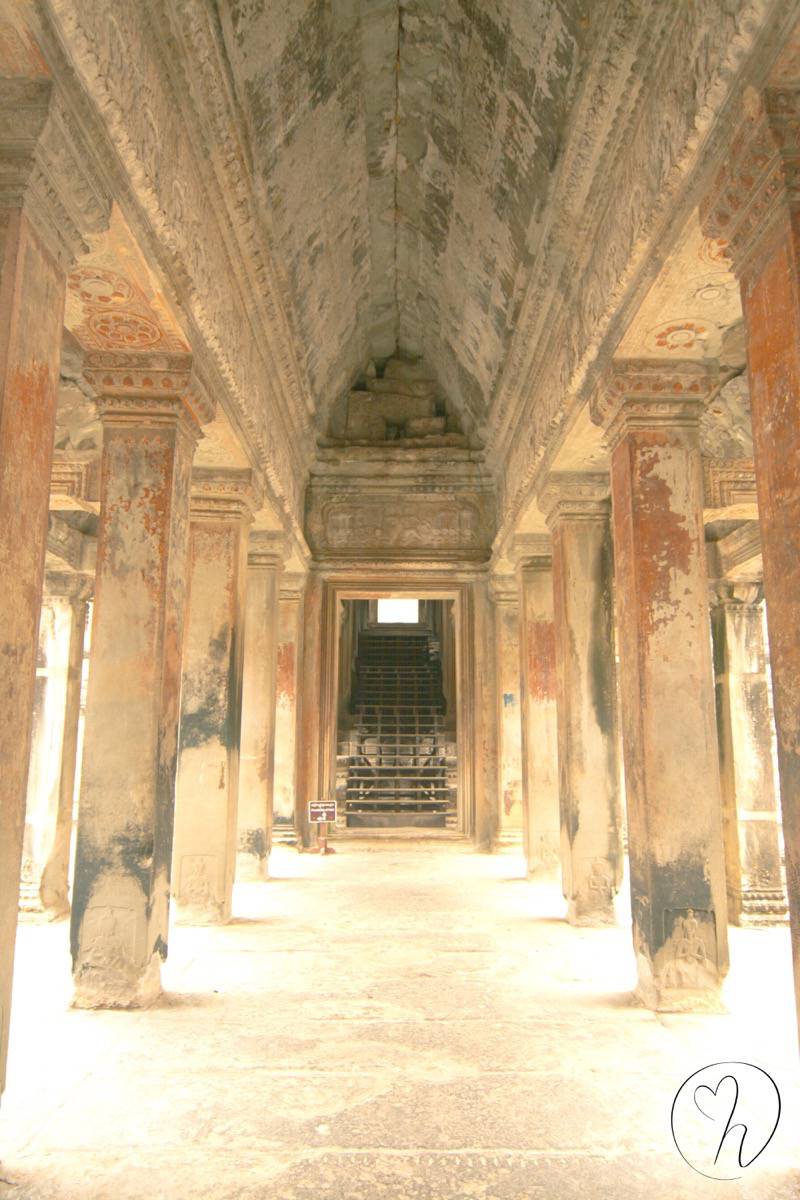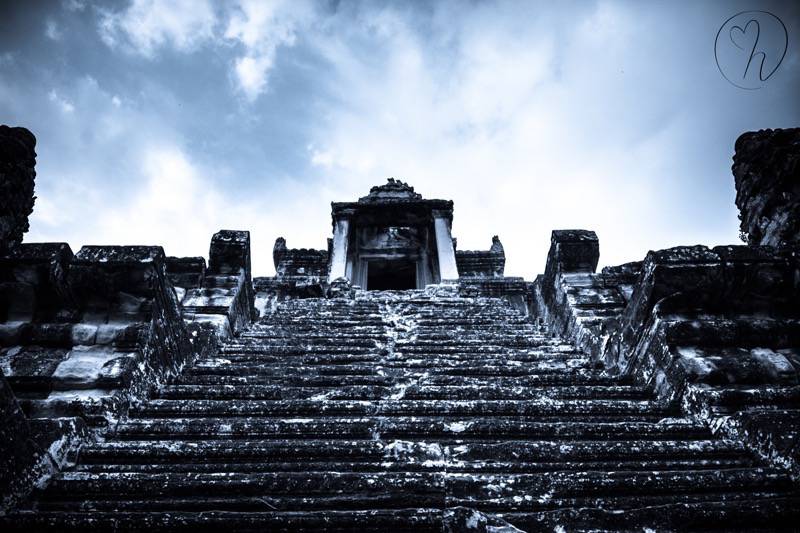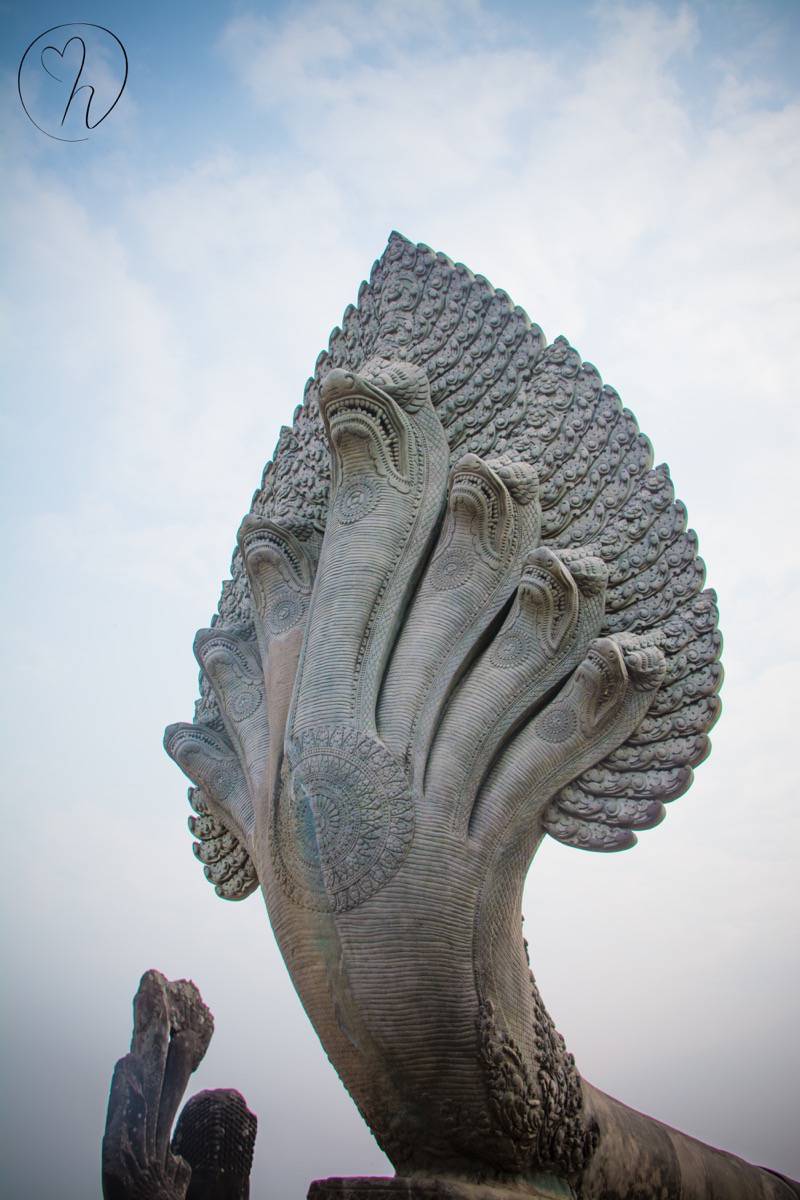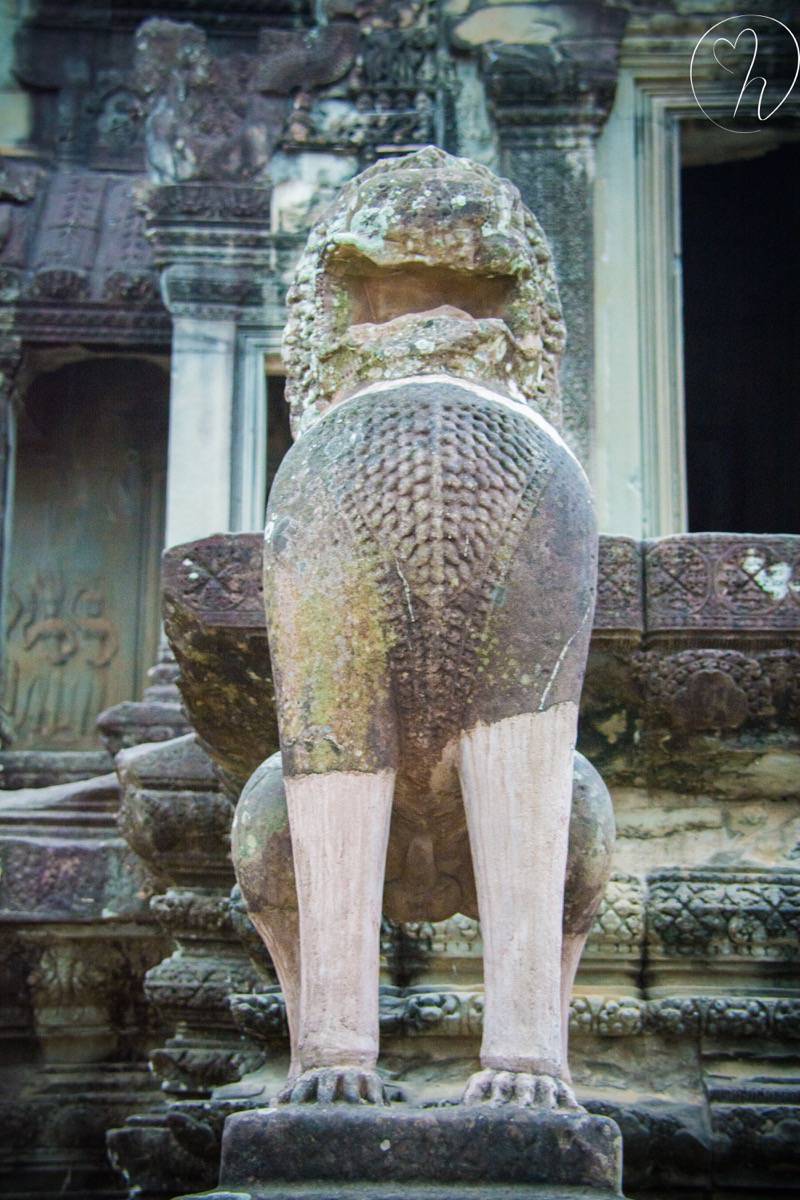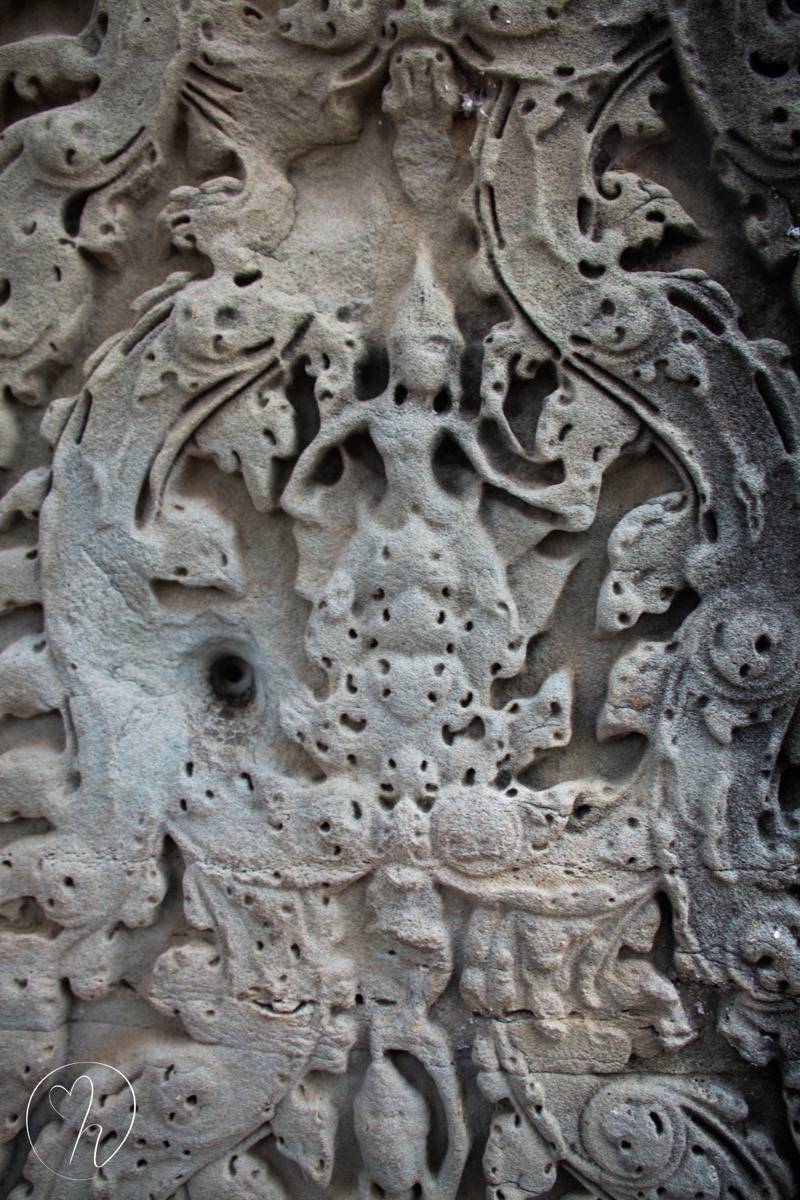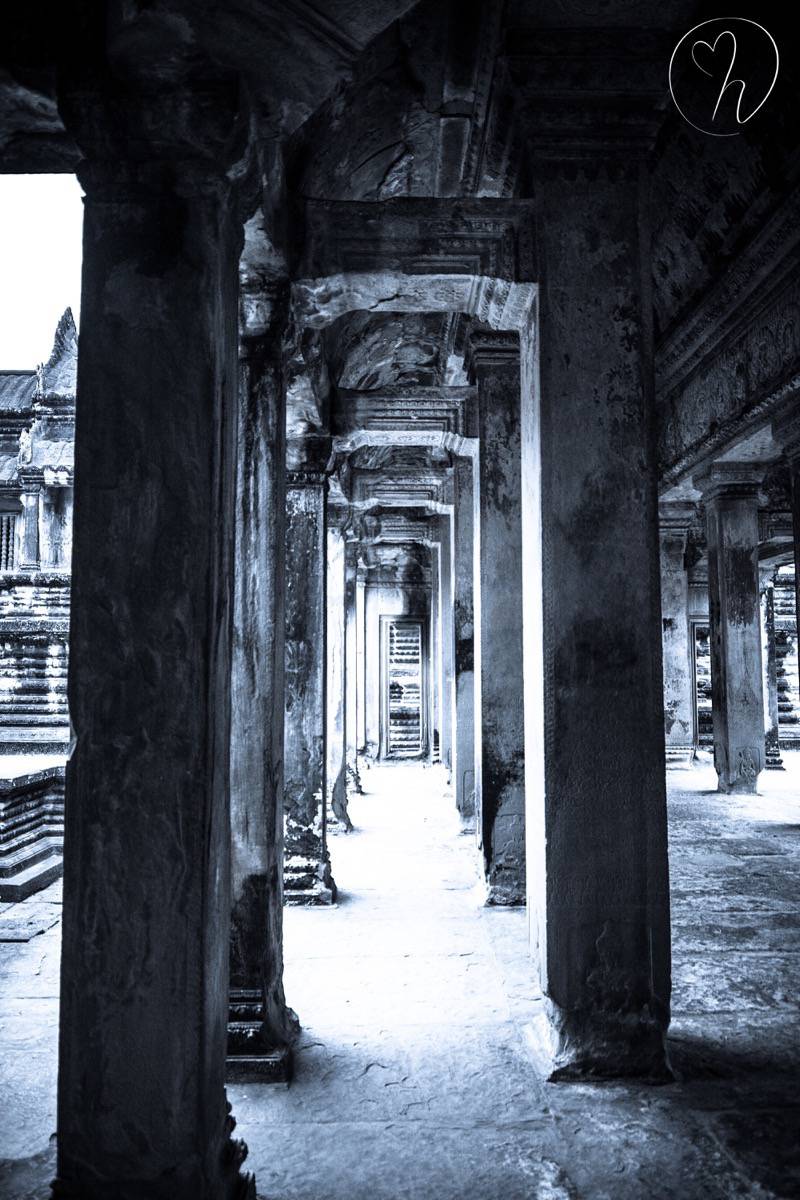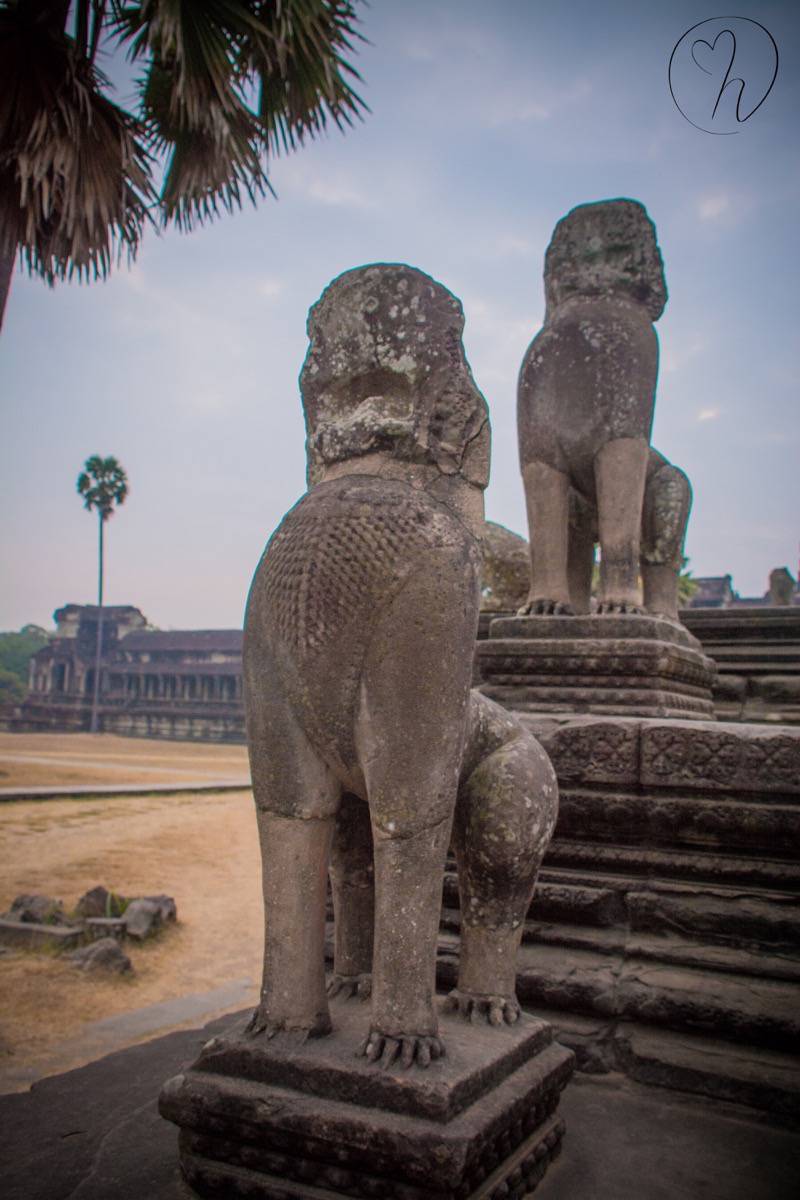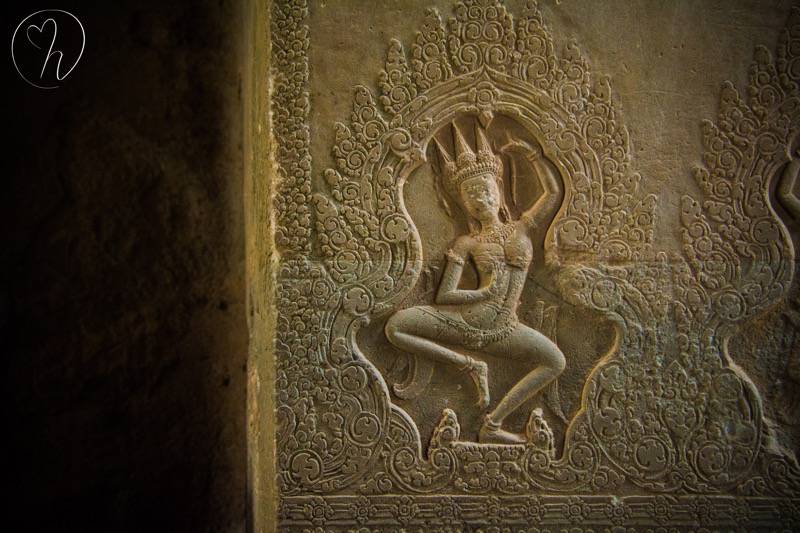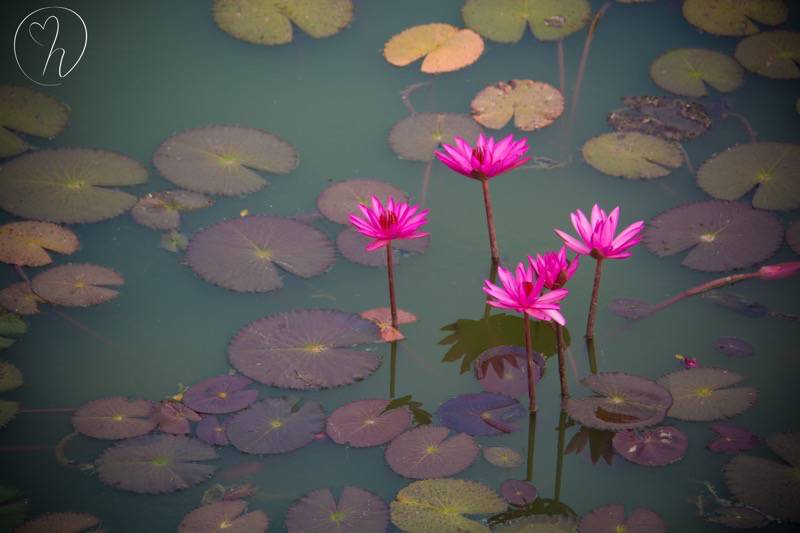 Our next stop was the ancient capital city, Angkor Thom, which contained many small temples (well, small compared to Angkor Wat but still rather large). We started by exploring the temple Bayon, most characterized by the dozens of faces carved into the temple towers. This may have been my favorite temple, although it is really hard to pick. The other temples in the area paled in comparison to Bayon, but that didn't stop us from exploring each one of them. At one point we did get somewhat lost in the jungle. We wondered around on a beaten path hoping we didn't stumble upon any landmines.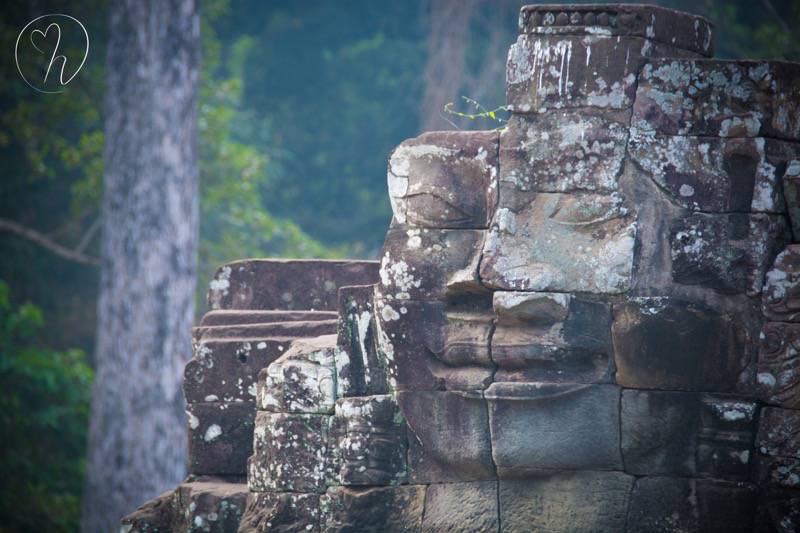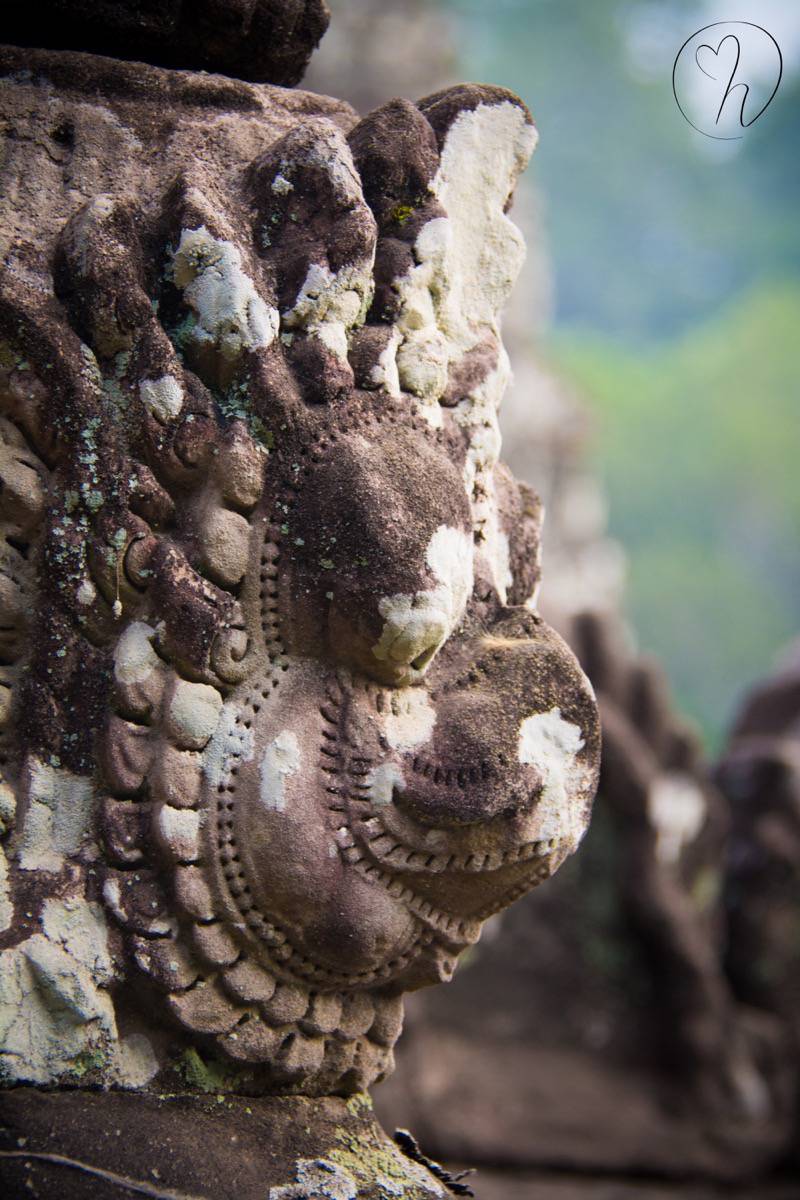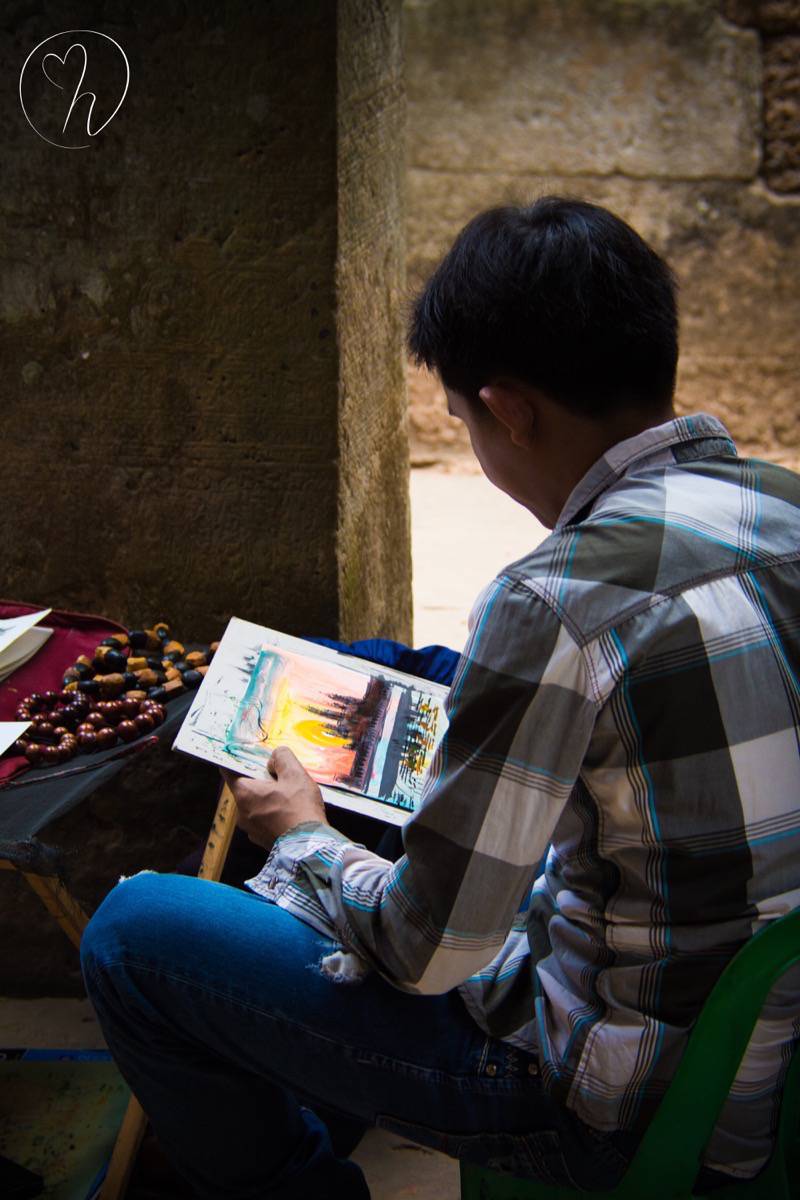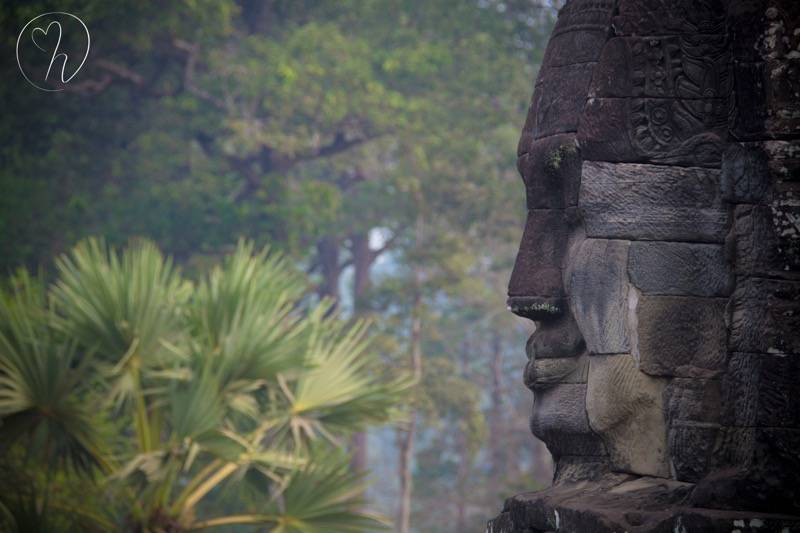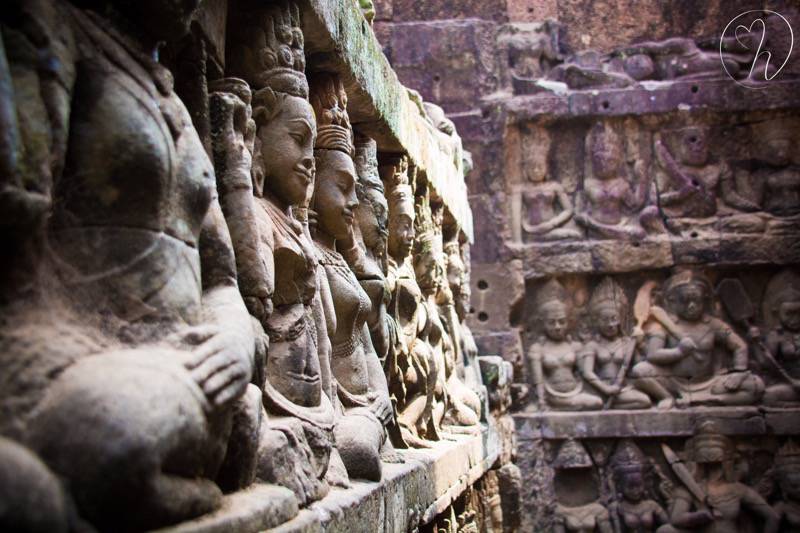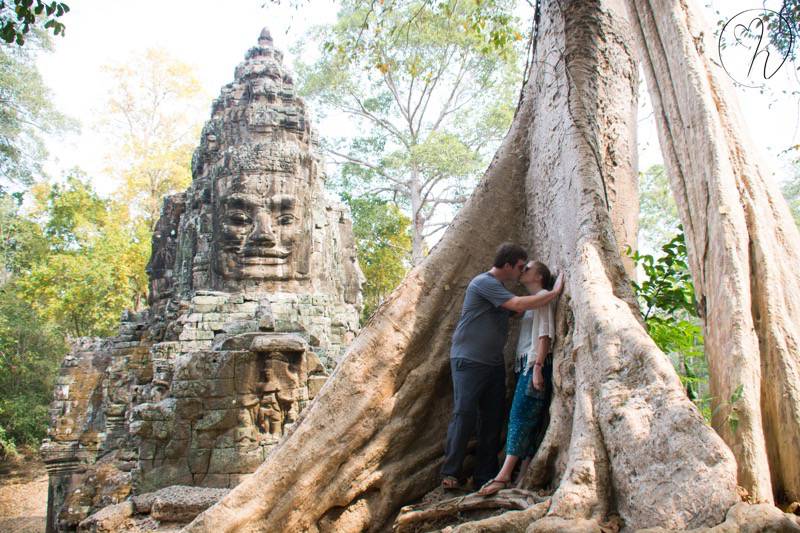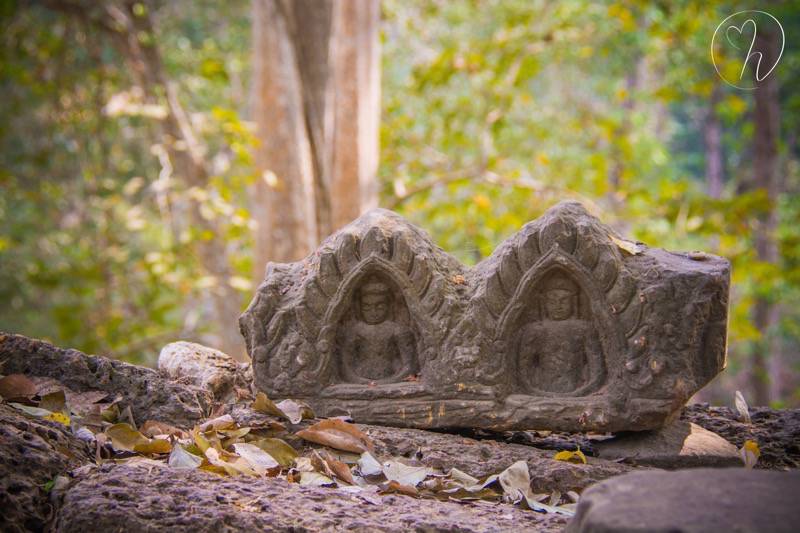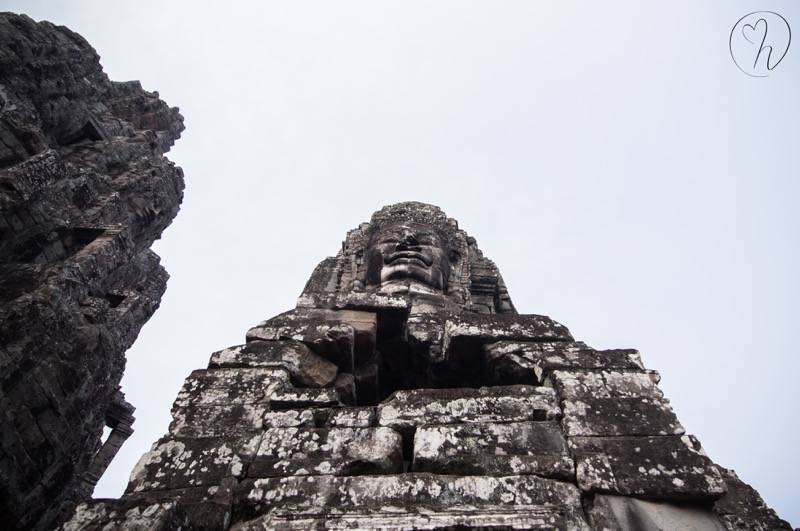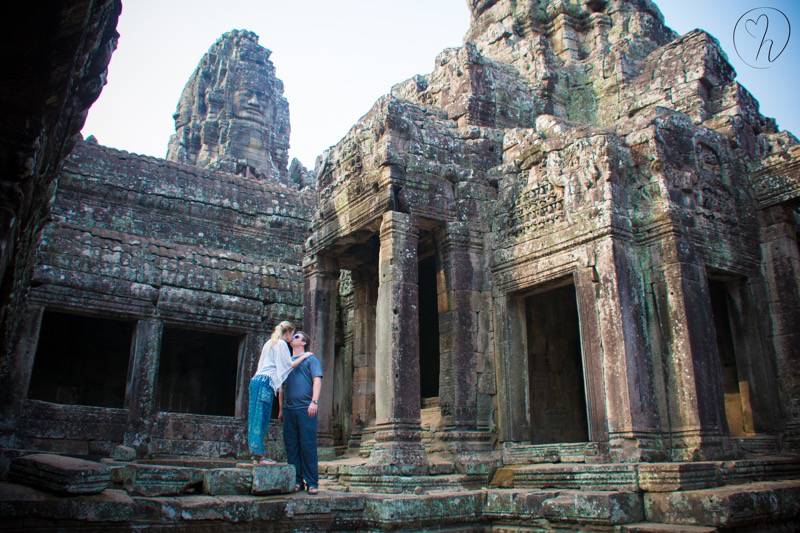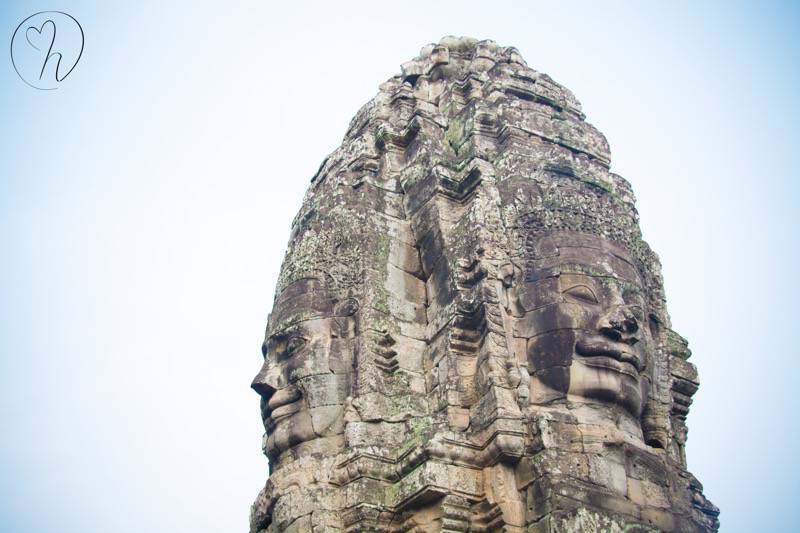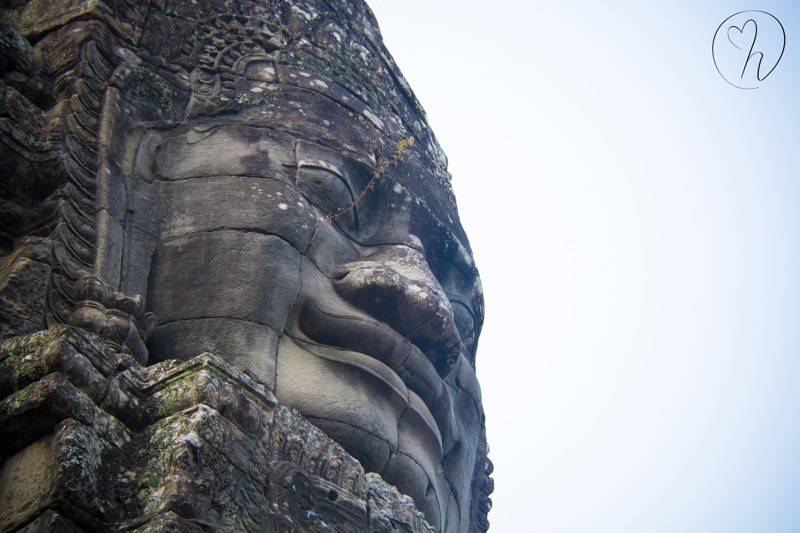 After making our way through the entire city in the high noon heat, we could have called it a day. However, we didn't have time for that. So, we climbed into our tuk tuk, and Mr Theon drove us to the next temple, Ta Prohm. This temple is best known as the Tomb Raider Temple. It was a smaller temple then some of the others we had explored, but it had its own charm about it. It was overtaken by the forest. Huge tree roots had dug their way into the stone and started to bring the temple down. I really did feel like Angelina Jolie, well minus the hundreds of other people crowding the temple with me.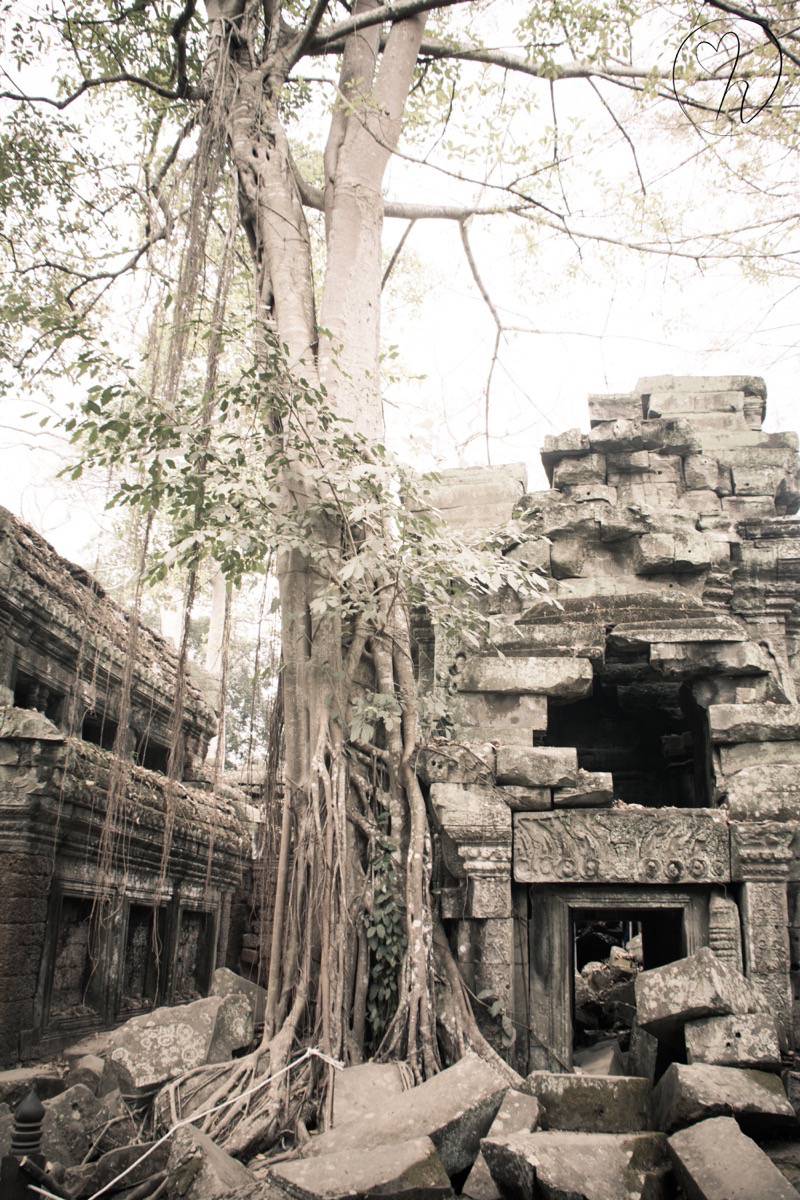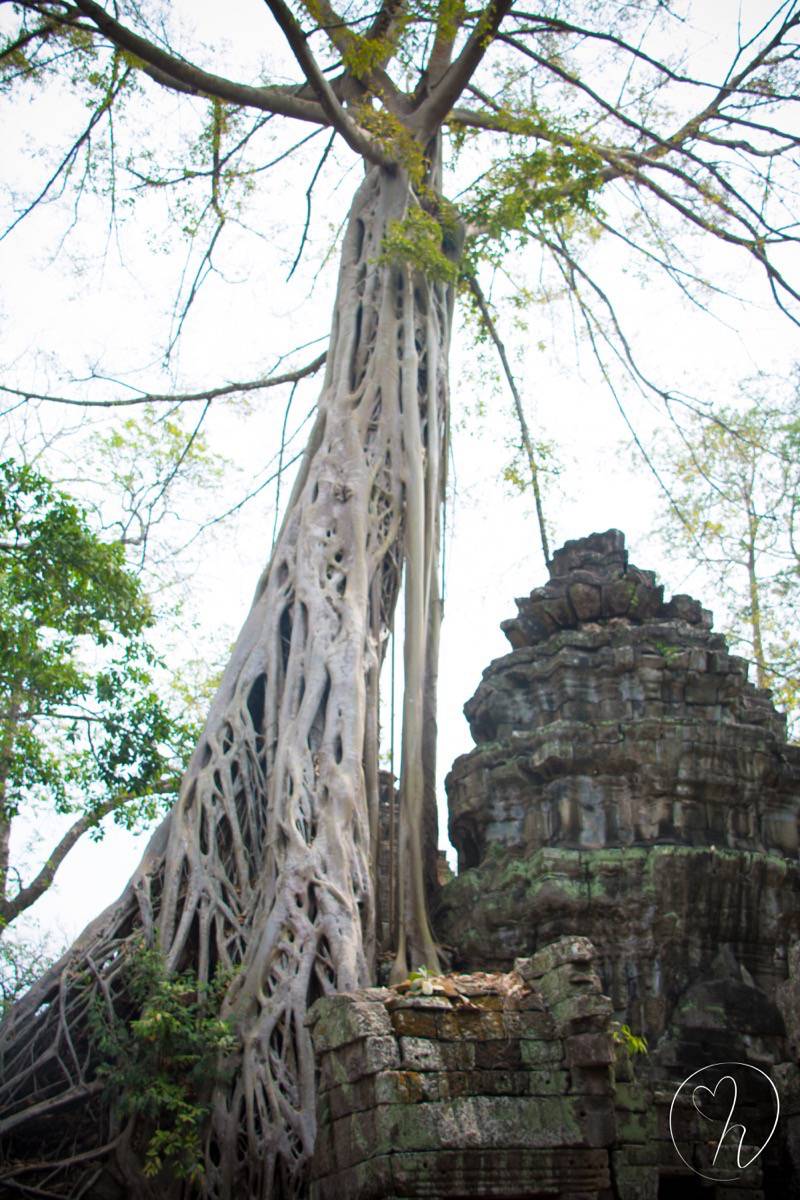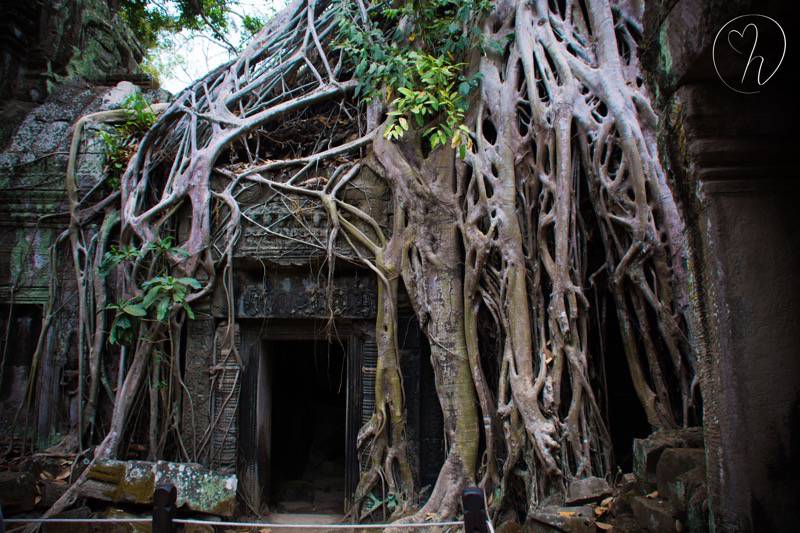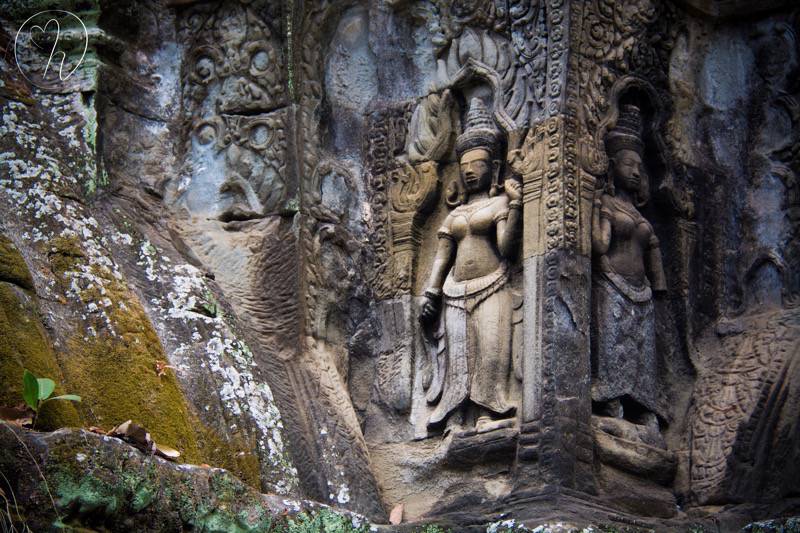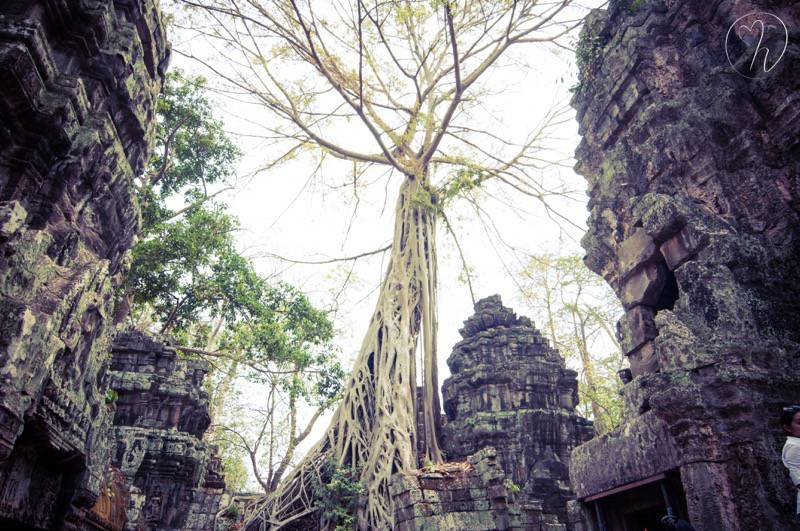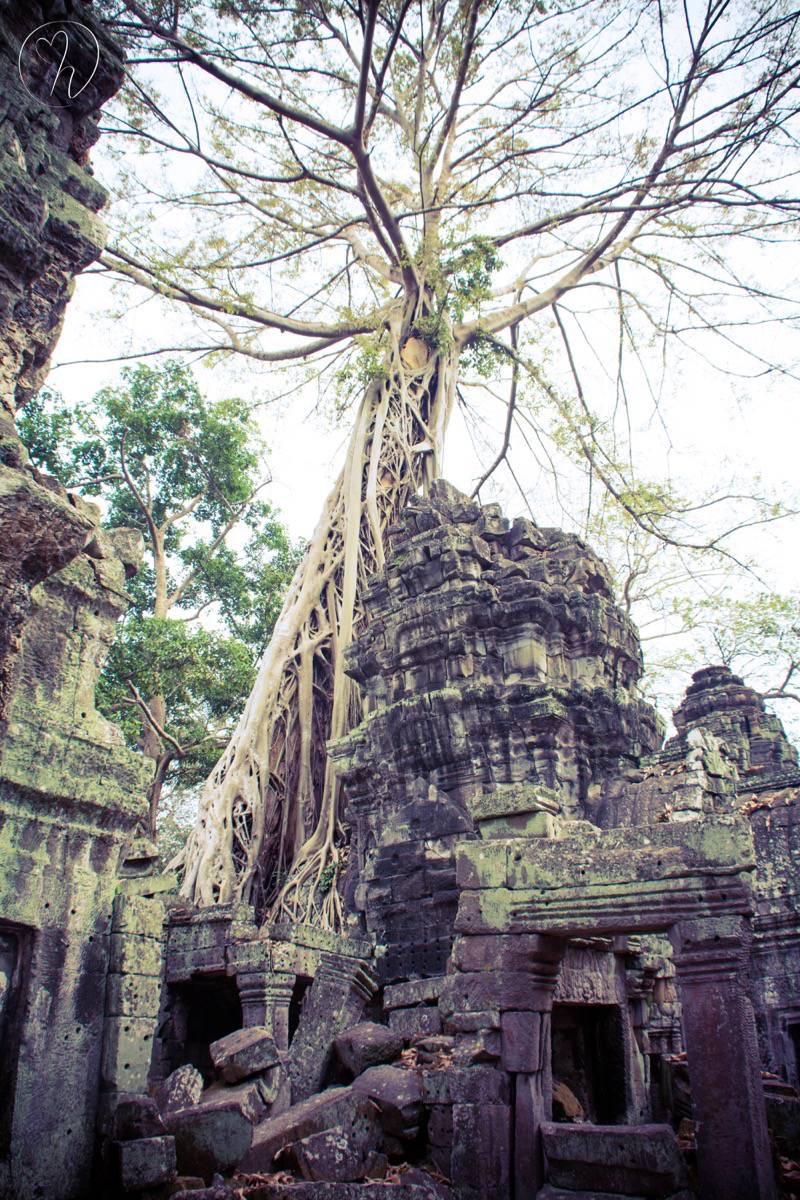 And after climbing through the ruined temple pretending we were in an Indiana Jones movie, we were exhausted. Mr. Theon dropped us off at a restaurant where we re-fueled and debated calling it a day. No time though. So, back in the tuk tuk we went. We hit up multiple more temples, all too small to remember their names, before we couldn't take the site of another temple and finally called it a day.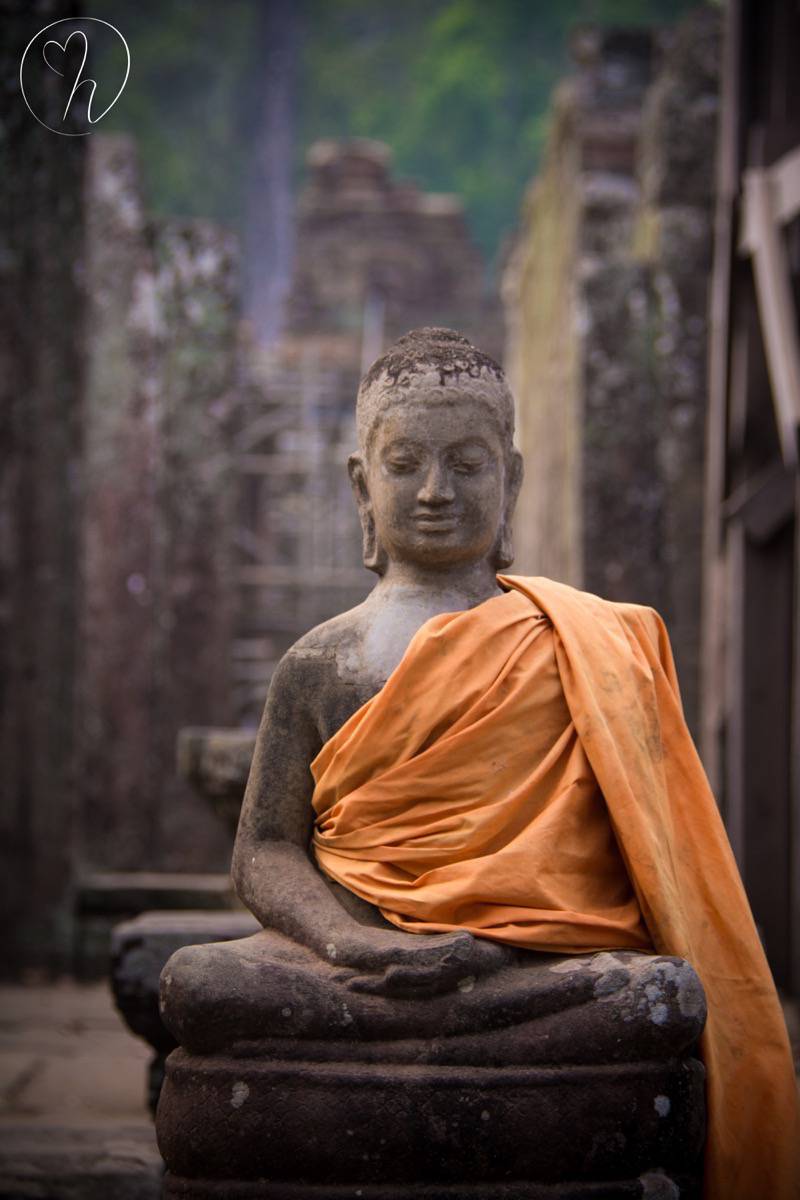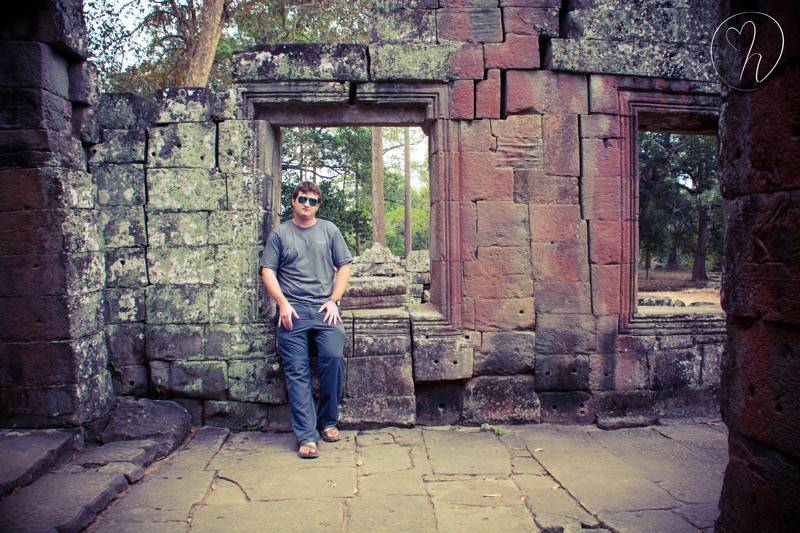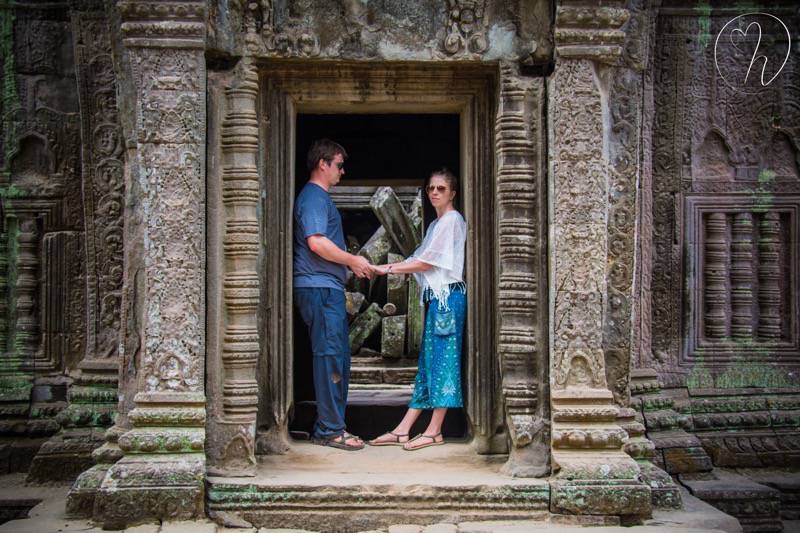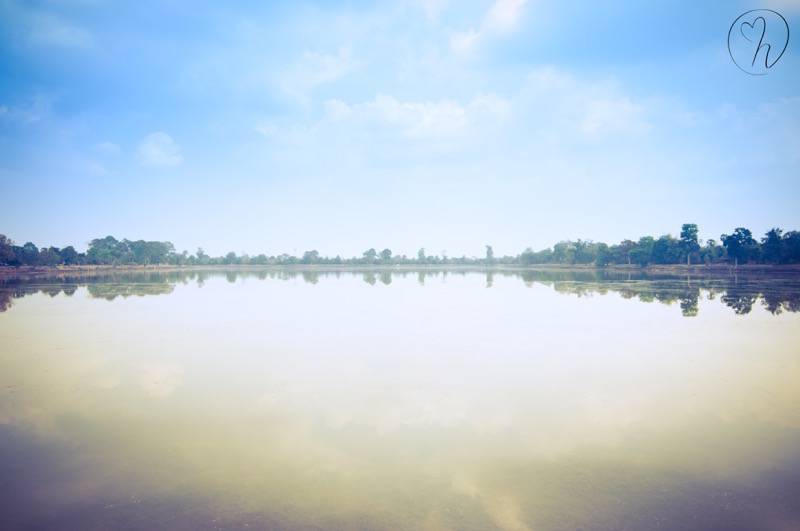 Back in the hotel, we showered the red dirt and sweat off and relaxed our aching feet. Then, a bit refreshed, we ventured out to find food. We landed on Pub Street, which was bustling a bit more like what we encountered in Thailand. There was a pretty vast market in the area. So, we shopped and ate some street food snacks before settling in at a restaurant and filling up with beer.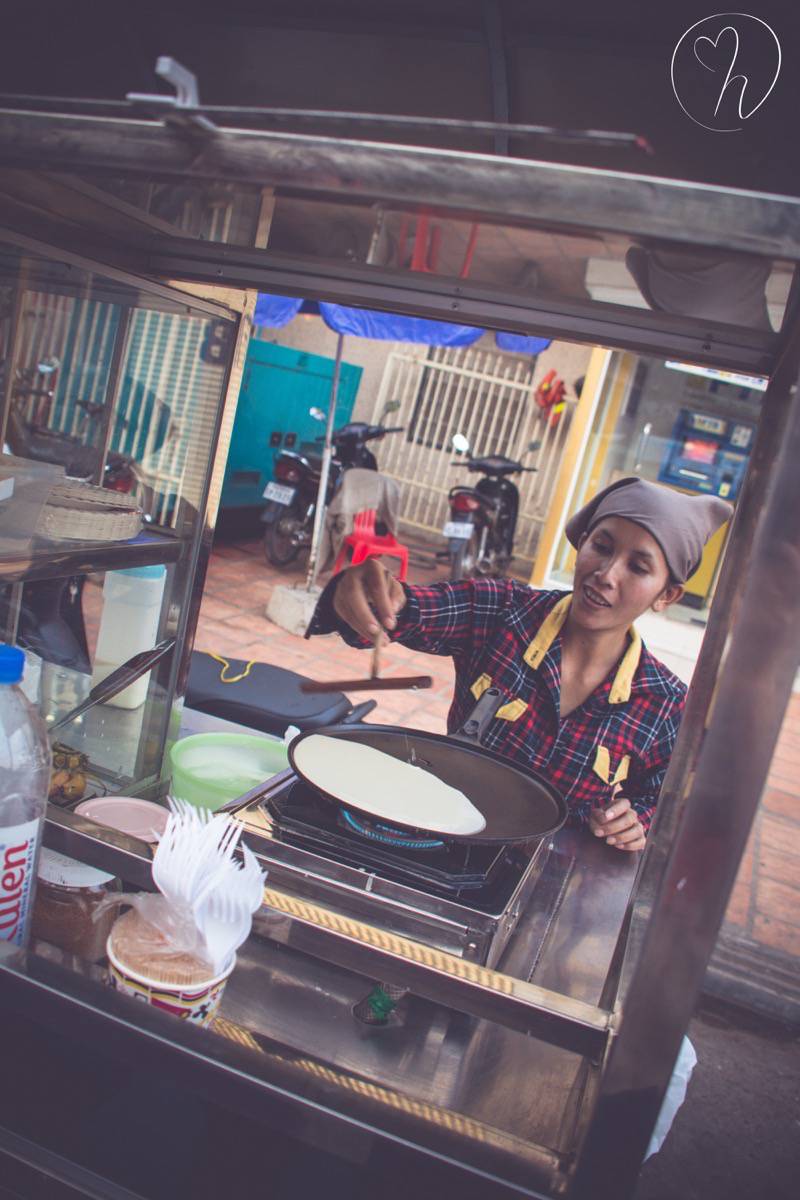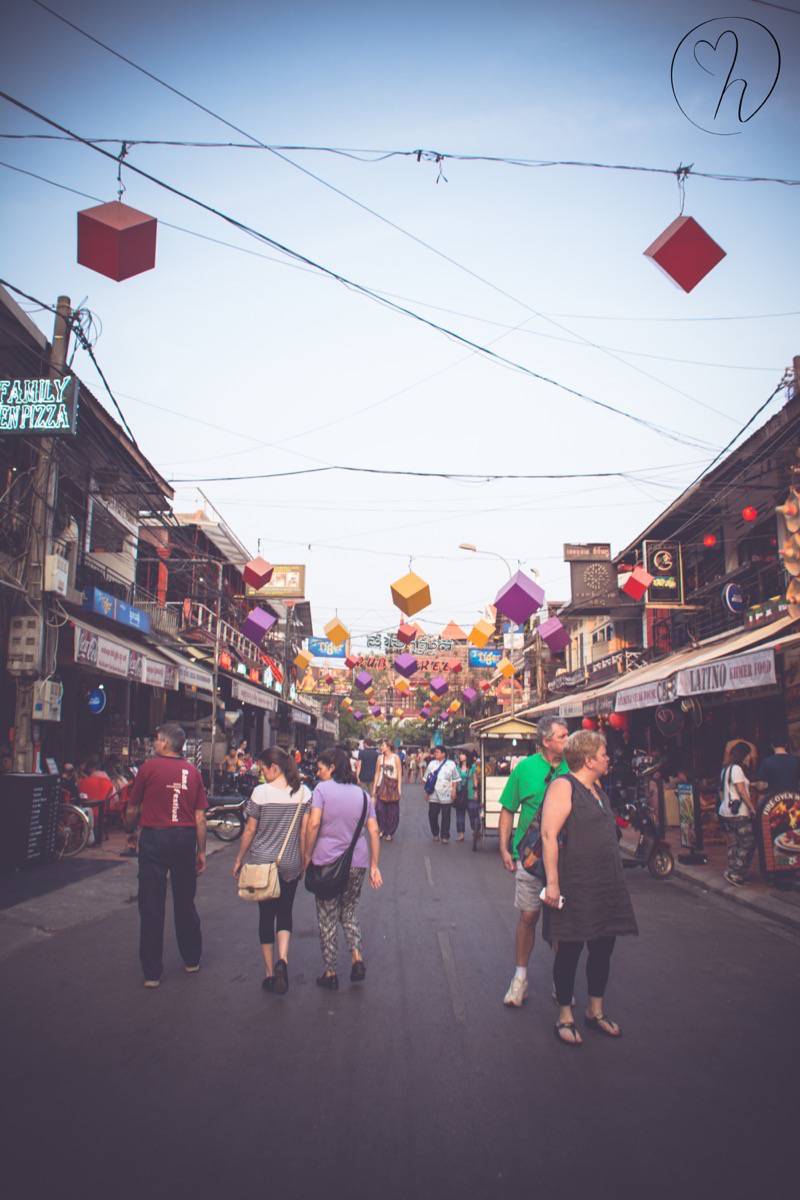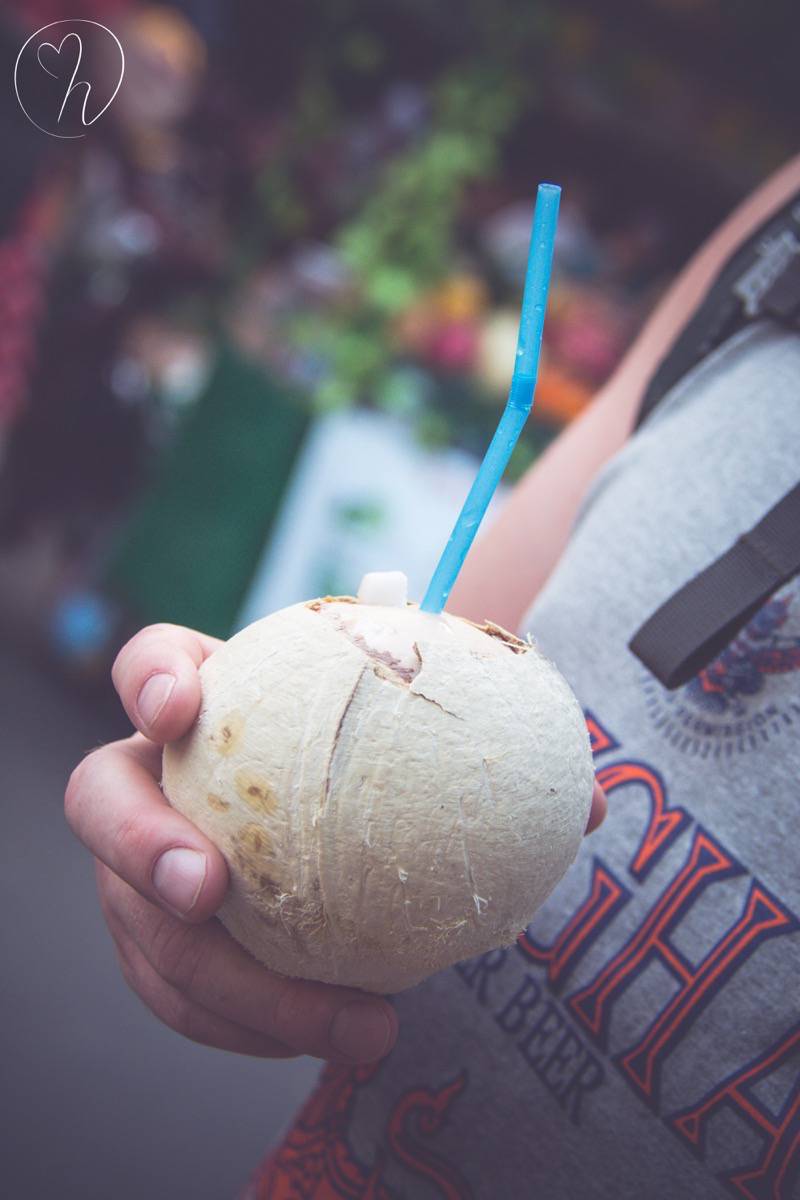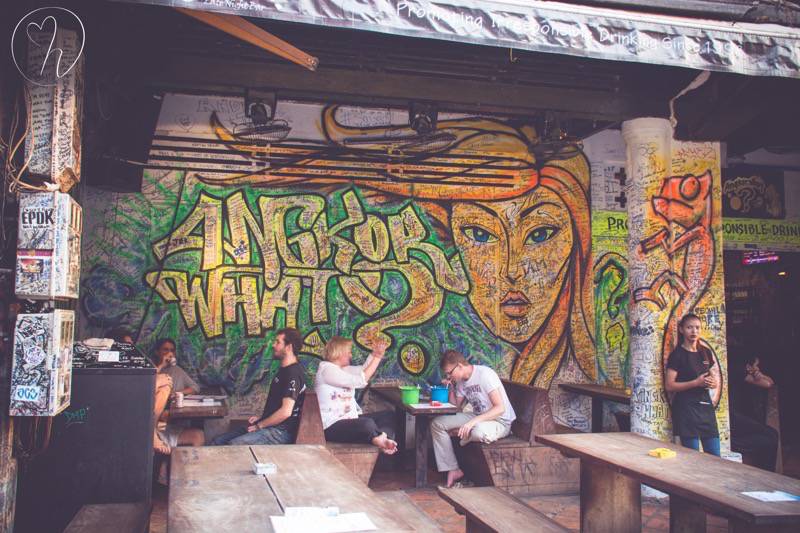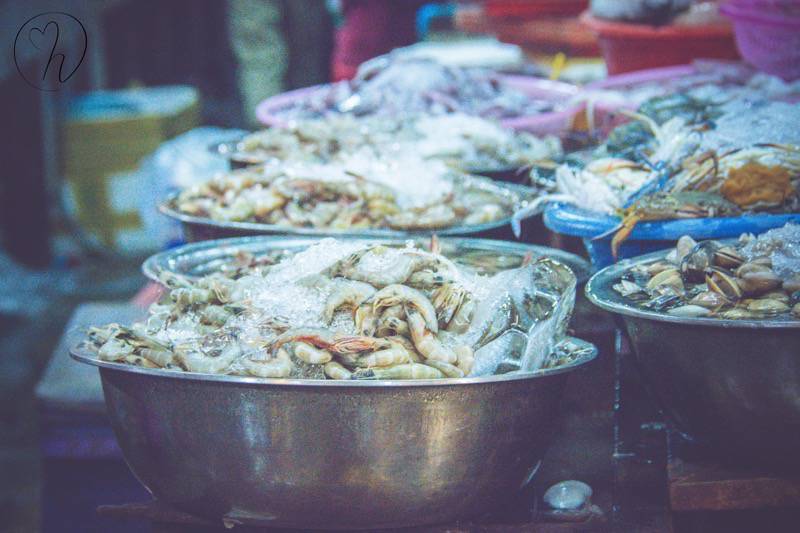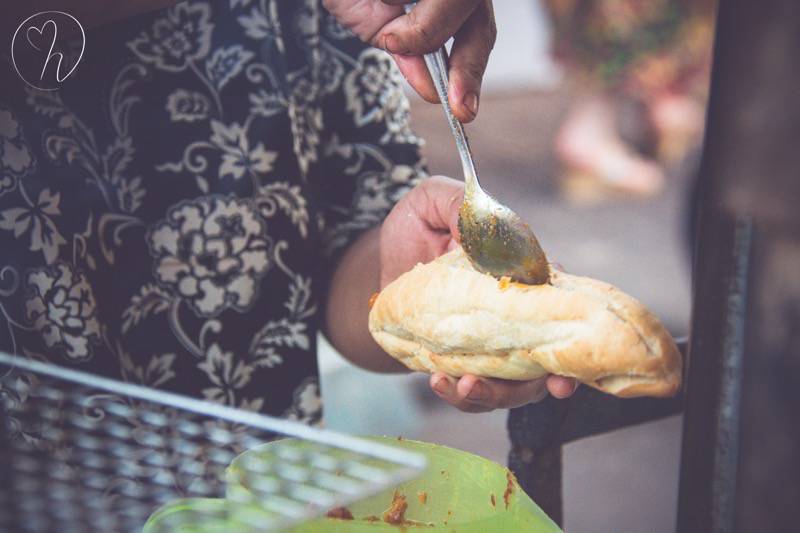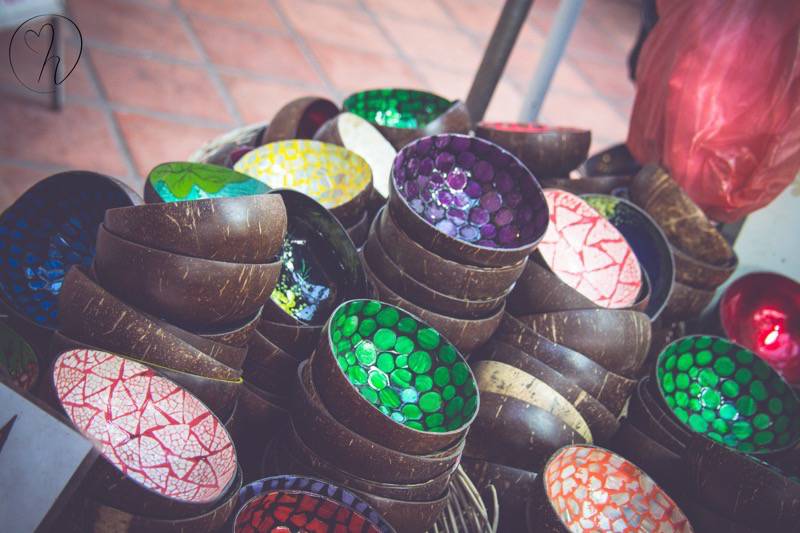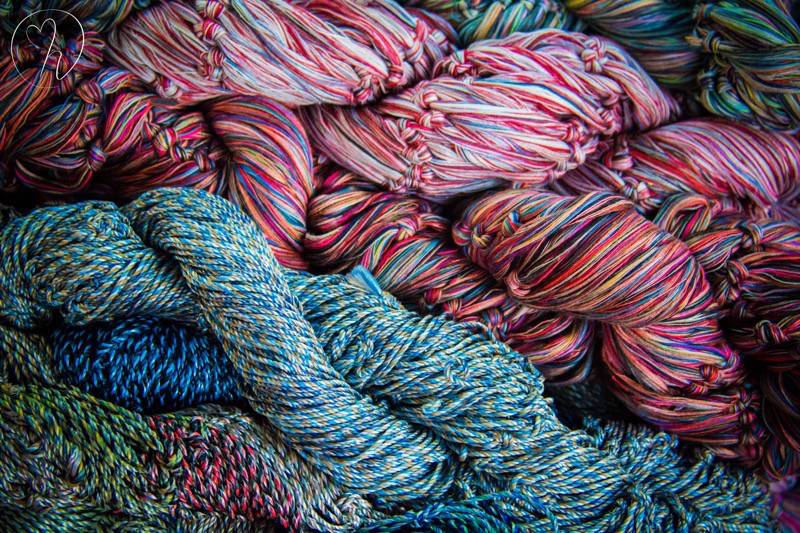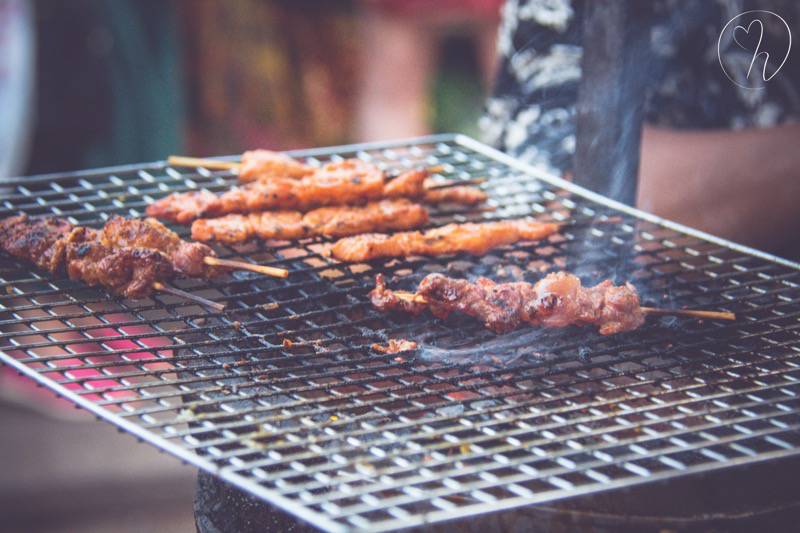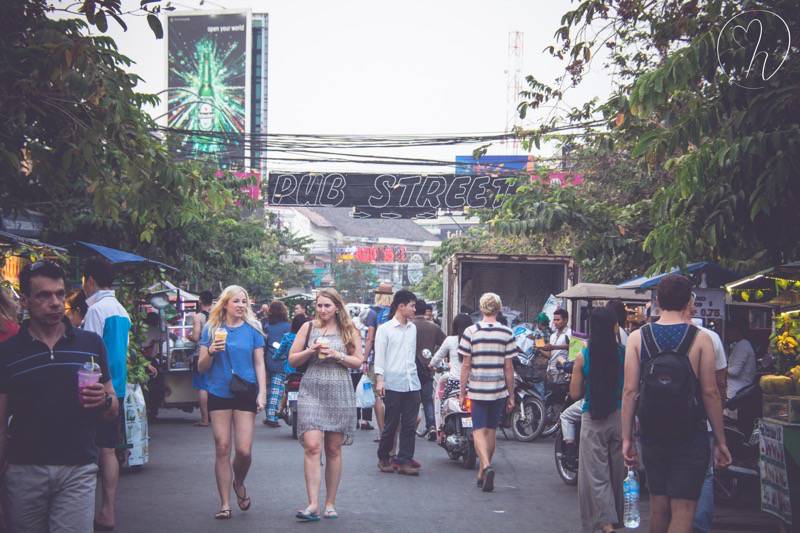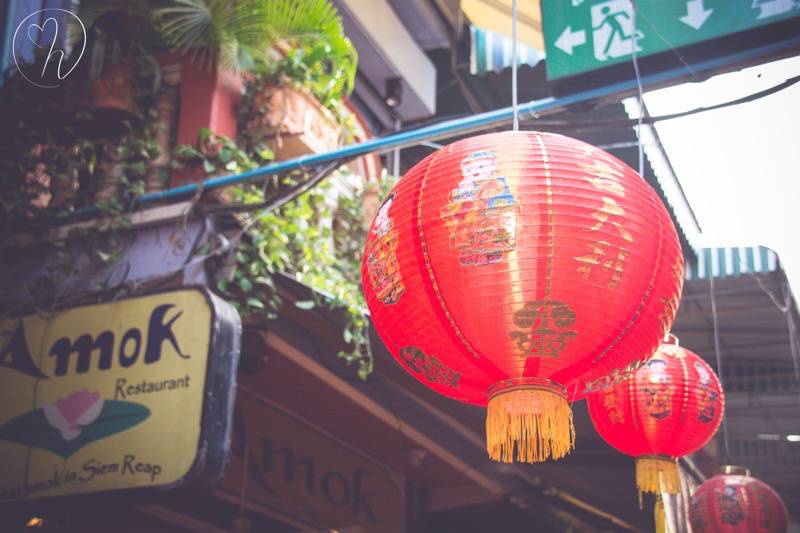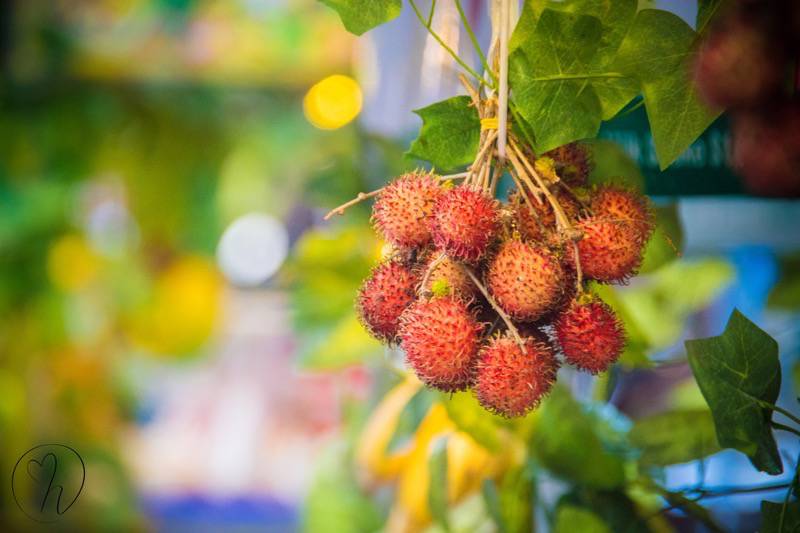 The next morning, we met Mr. Theon at 6:30 AM and headed out to finish up the last of the temples. We stopped by Angkor Wat one last time to catch a few shots of the sunrise. And then took our time through the remaining last temples, soaking it all in. We bought some Cambodian treats, including tiny little clams in a spicy sauce. And then we were through. We were all templed out. It was an exciting three day trip. Perhaps, not the relaxing end to the long vacation one might of hoped for. But that just isn't our style. We made our way back to Bangkok for one last night before returning to reality.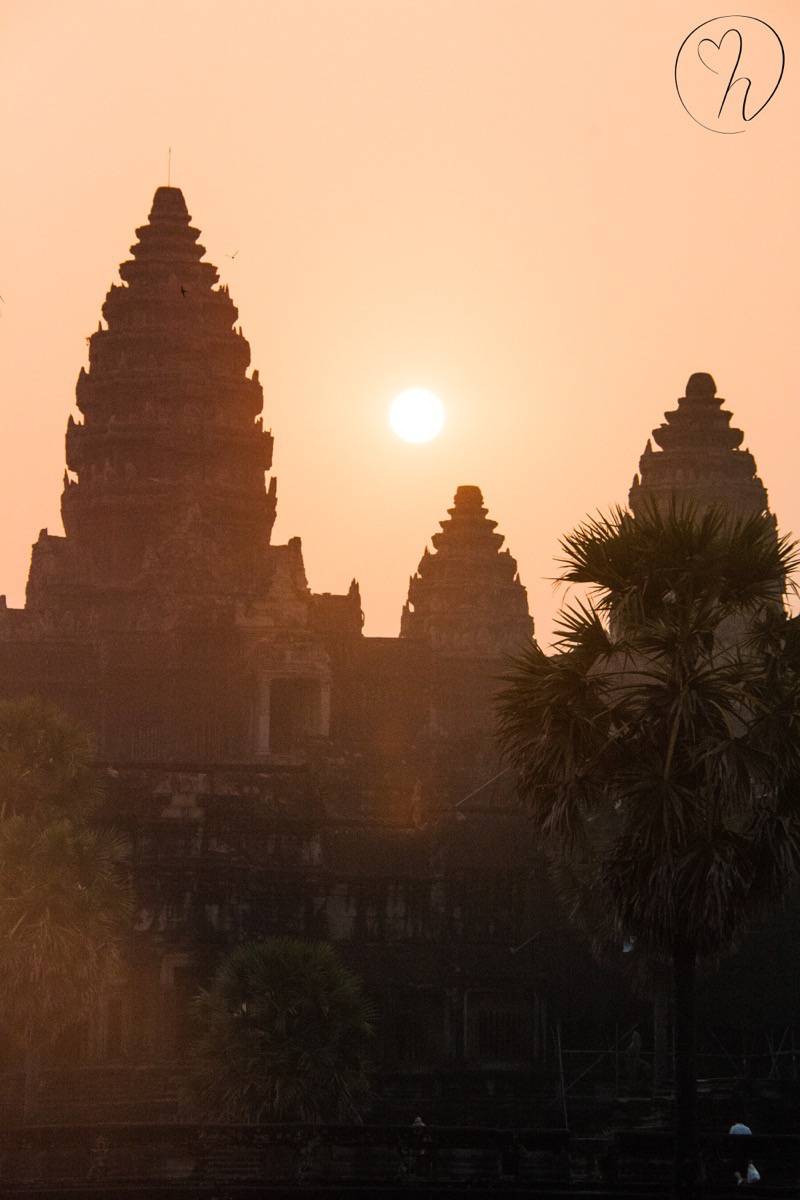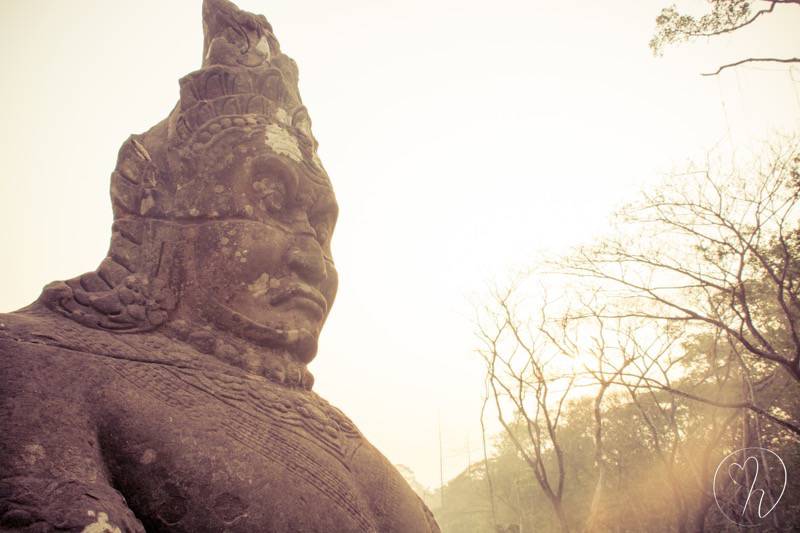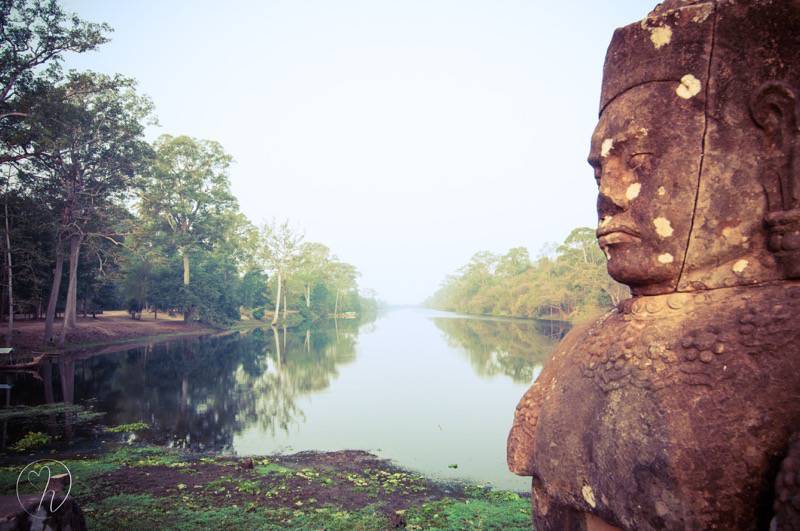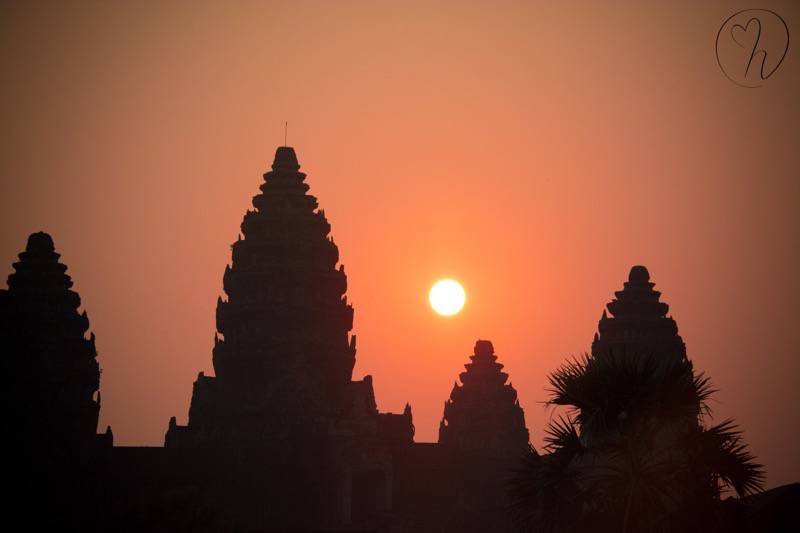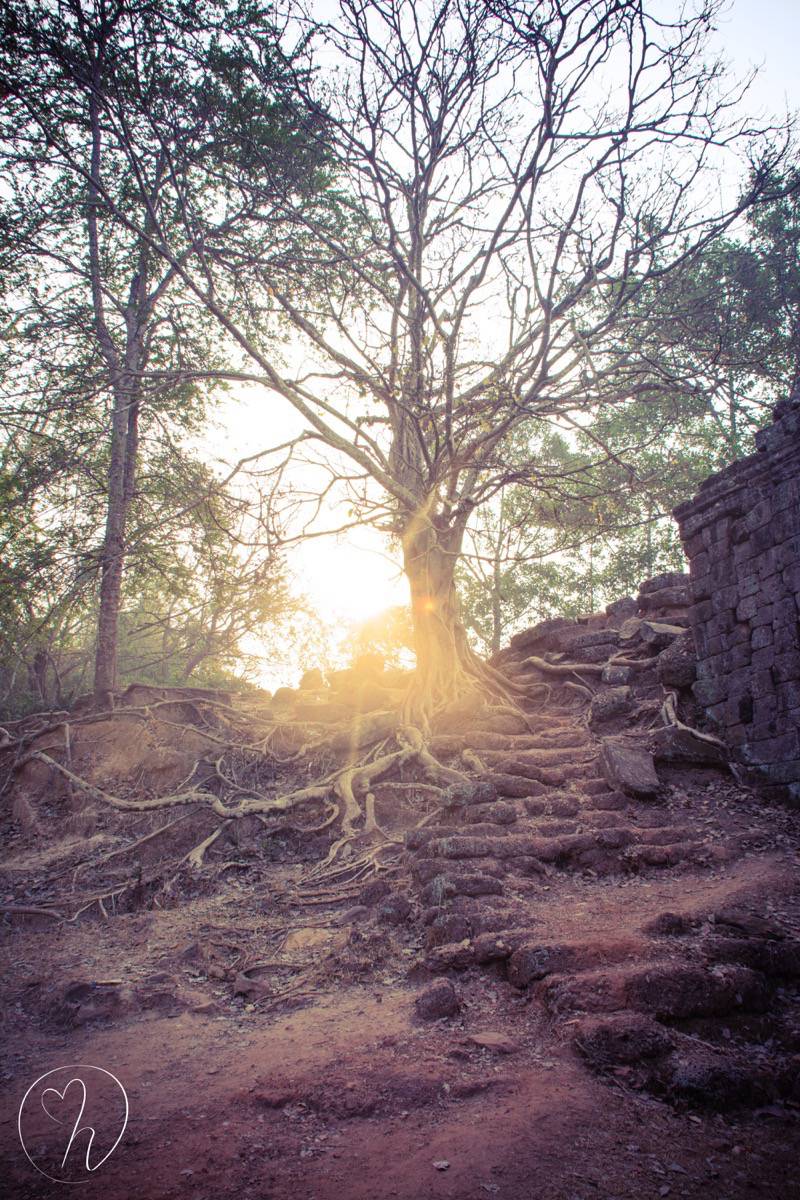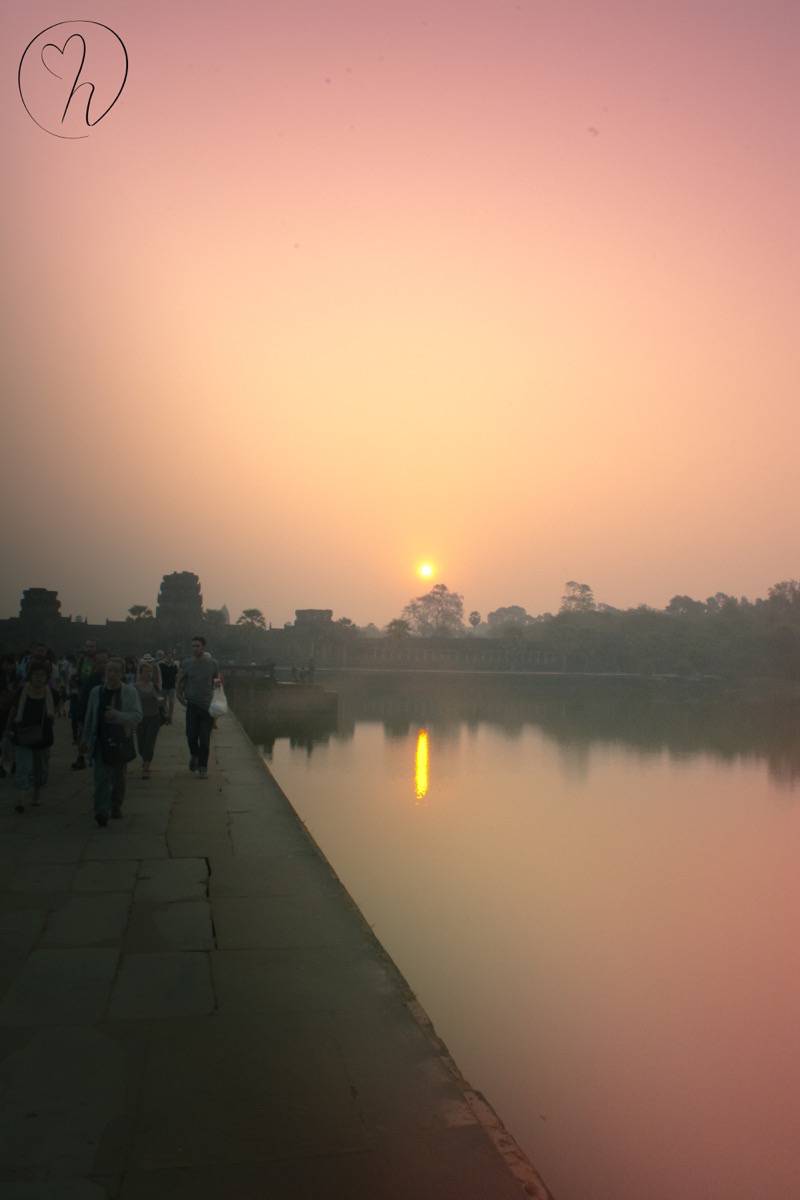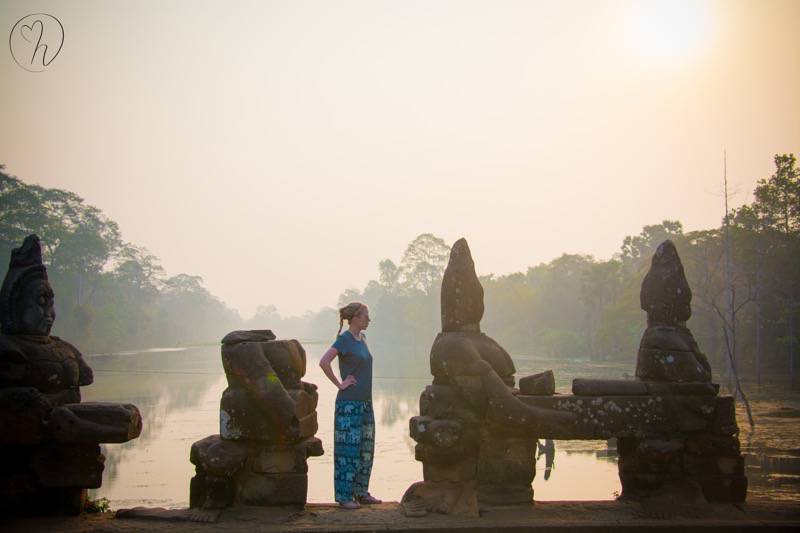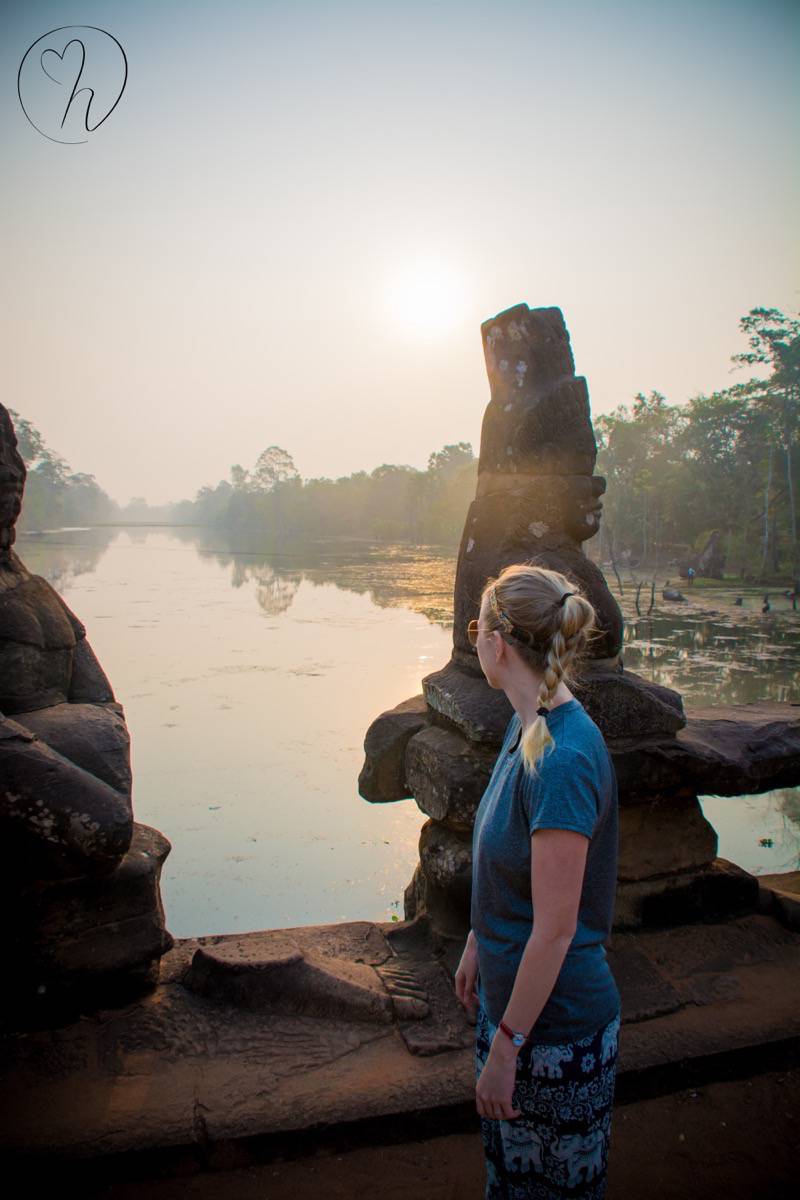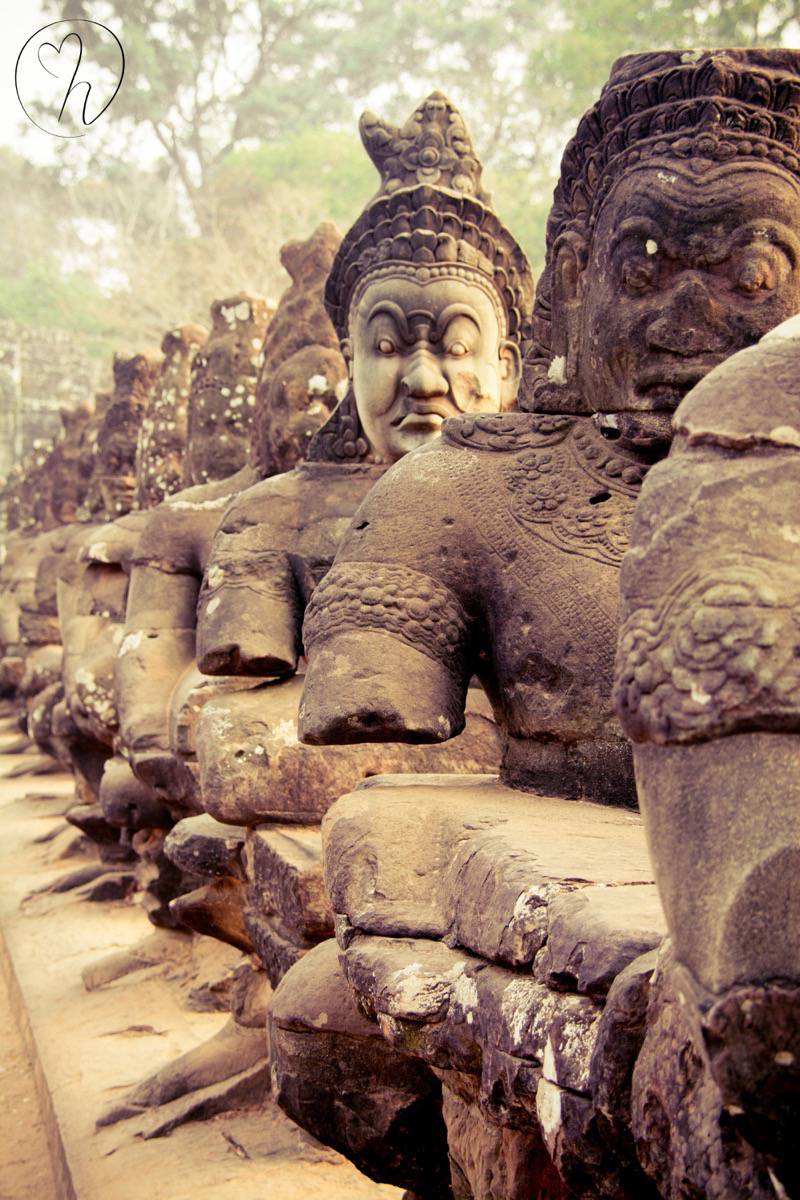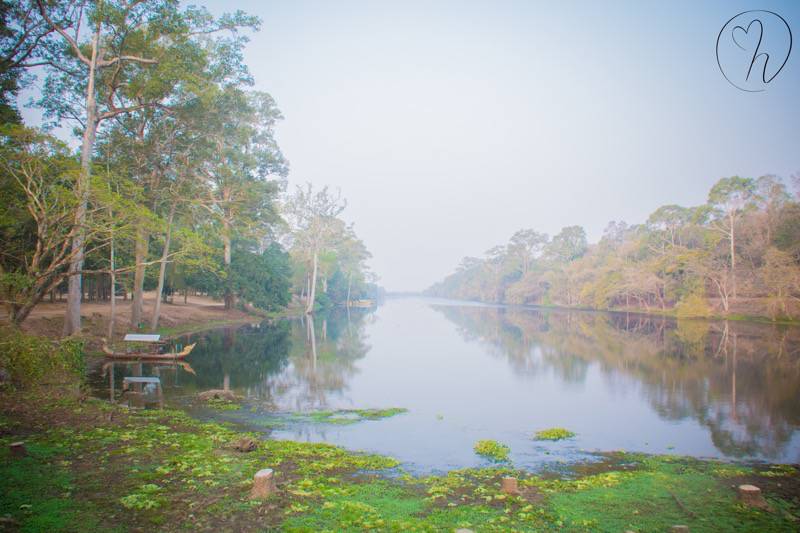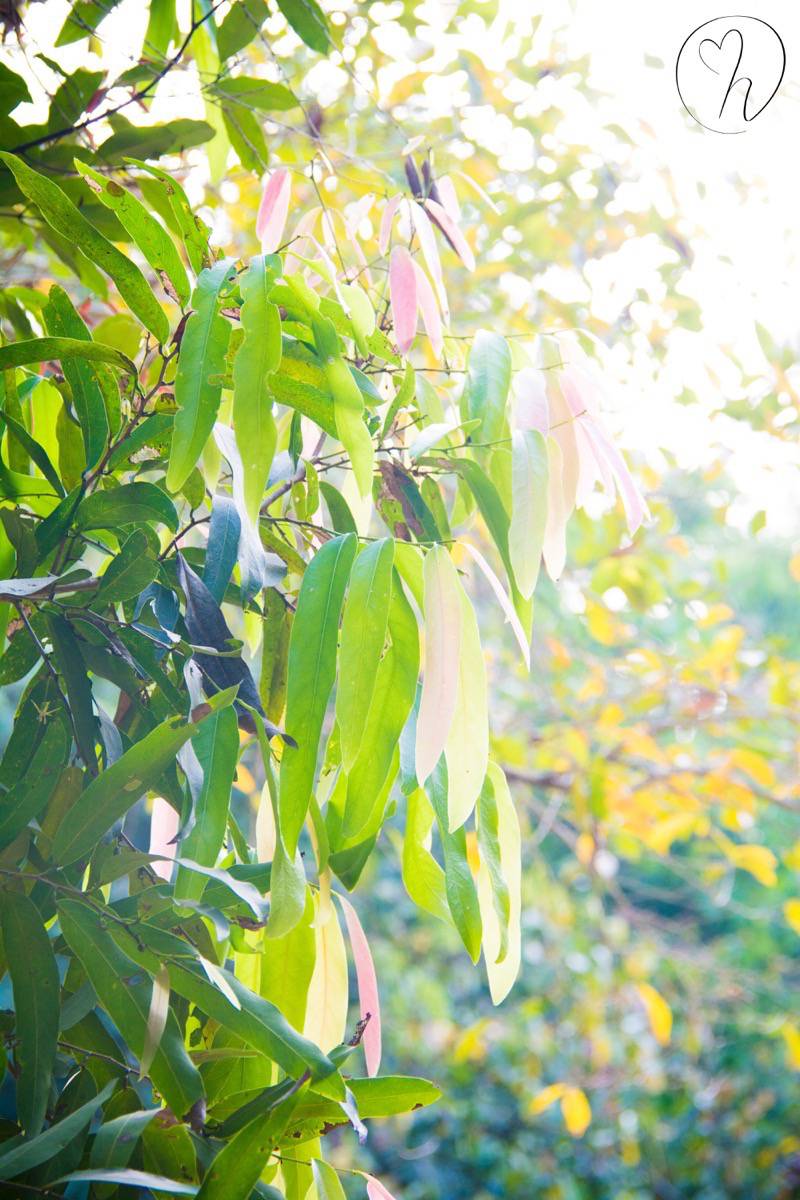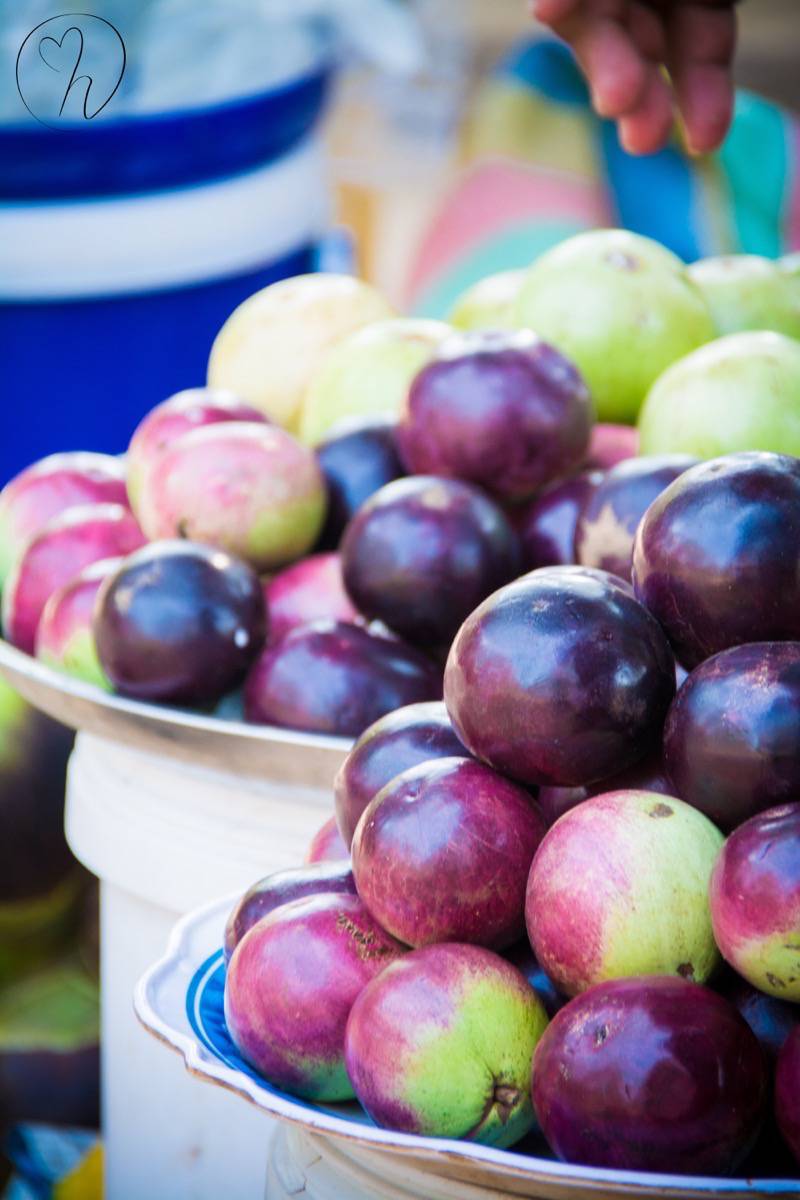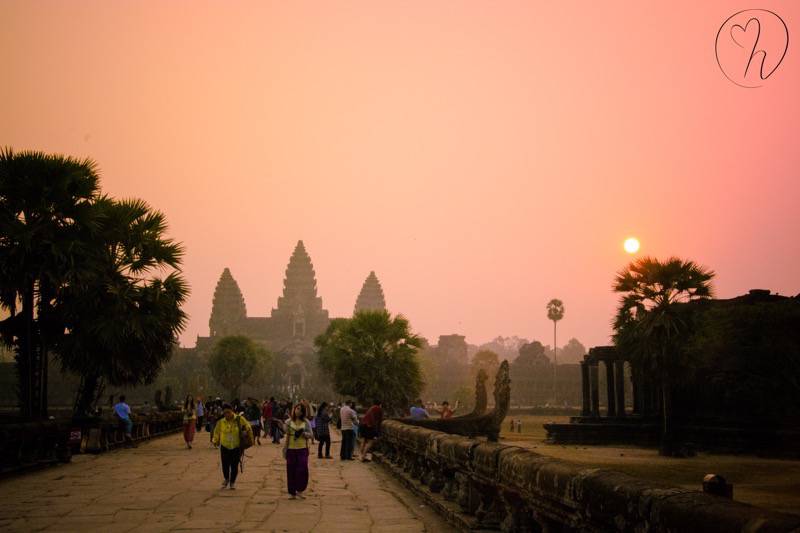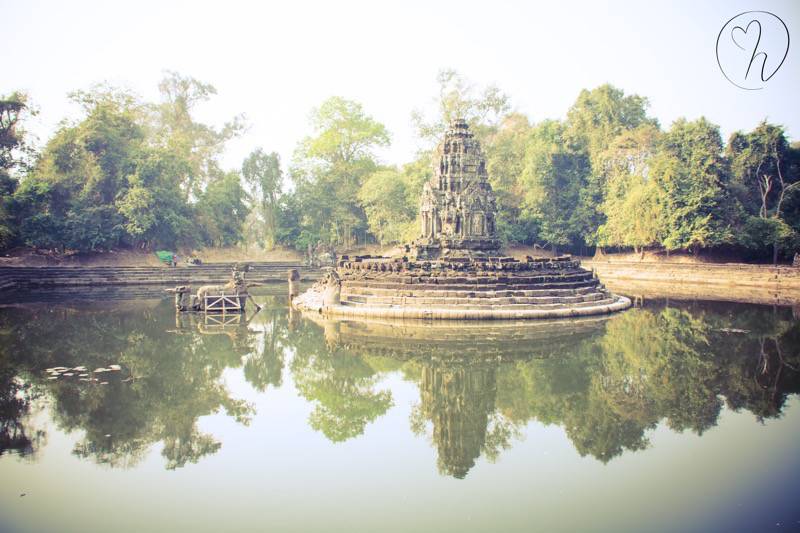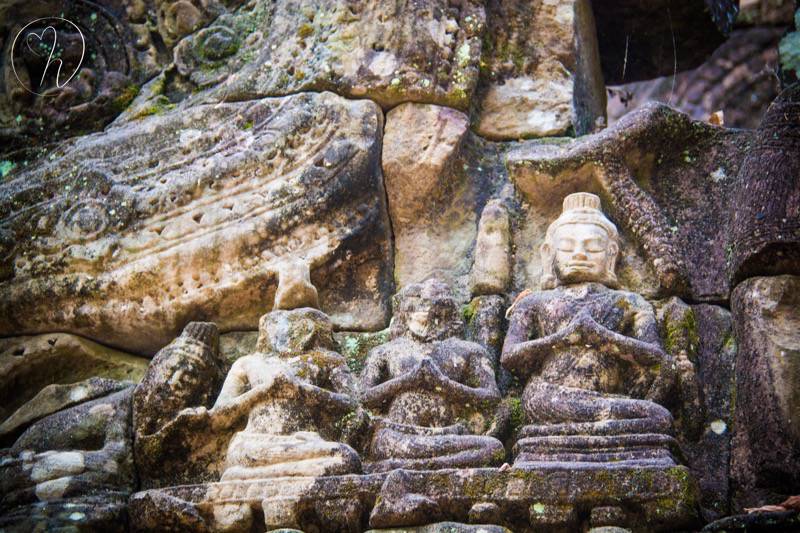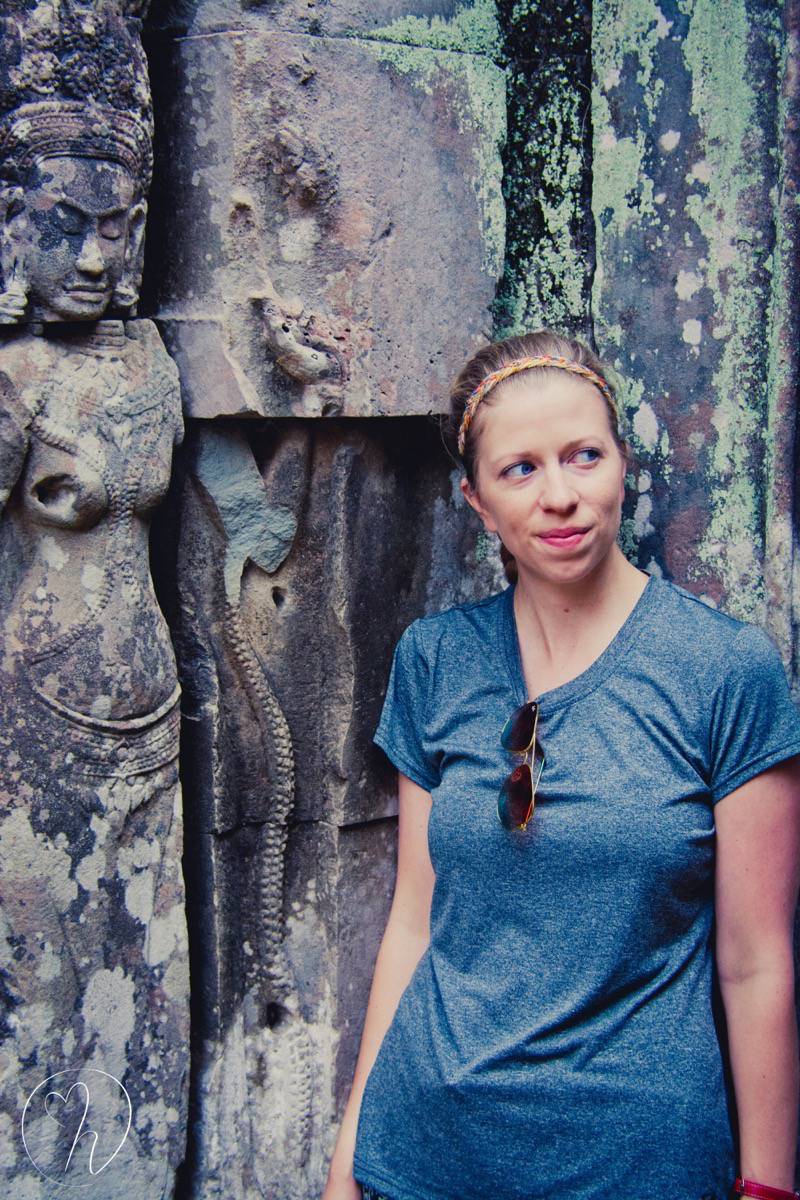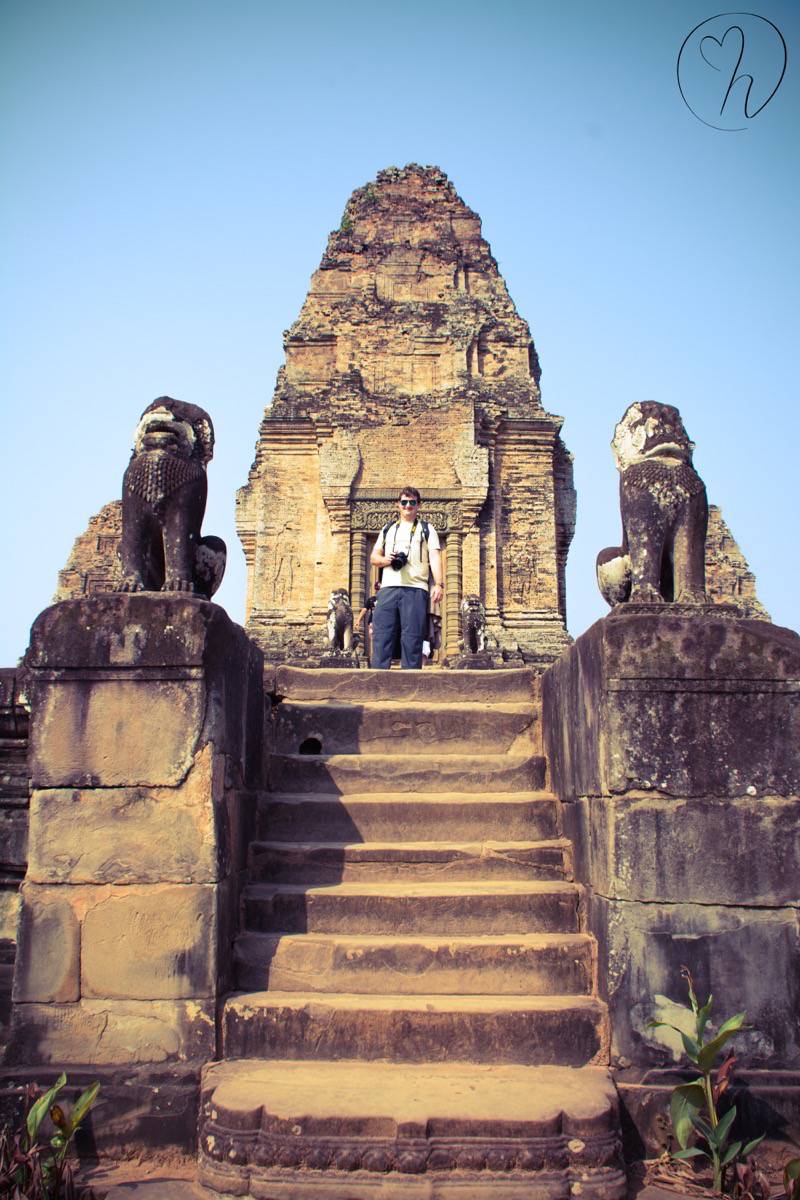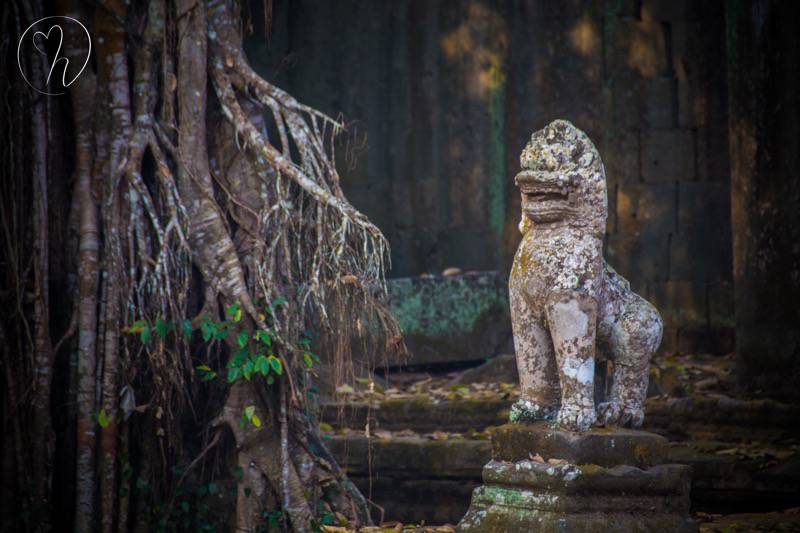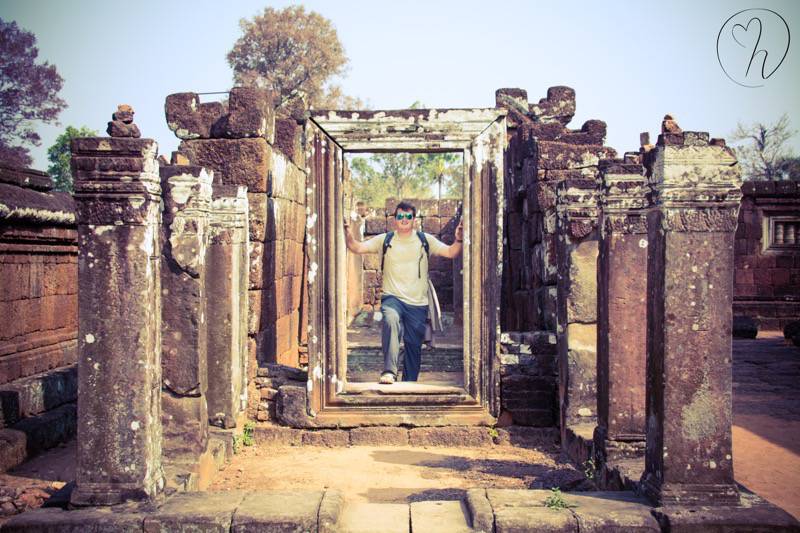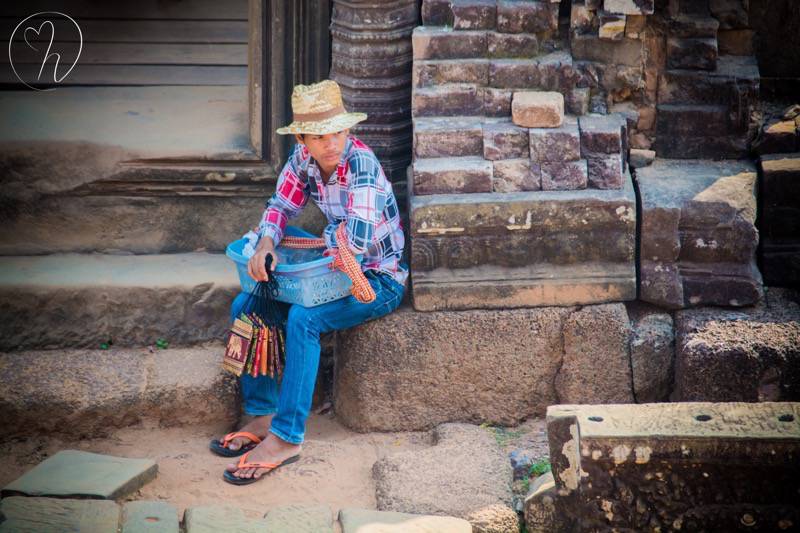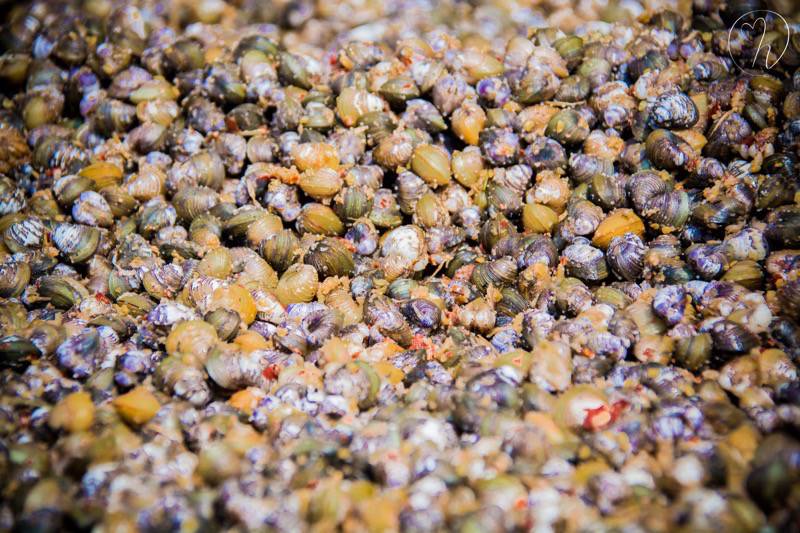 And now, I sit on a rough turbulent plane ride on yet another boring work trip, dreaming of the day I can return. Southeast Asia has won our hearts. And there is still so much more to see.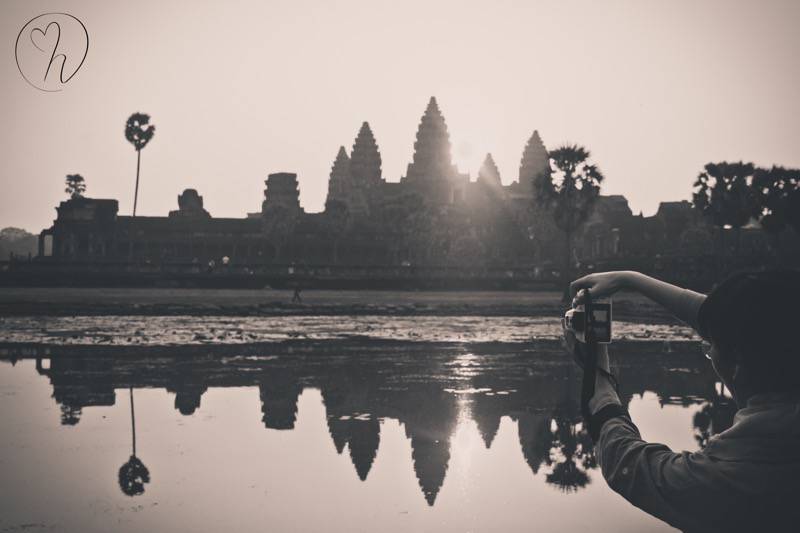 Until next time,