As the weather continues to get hotter and the days continue to get longer, I find myself daydreaming about my next adventure. Sadly, our next scheduled trip isn't until November. What was I thinking when I decided to skip this year's summer vaca so that we could spend the holidays in Europe? I must have been crazy thinking that I could last that long in between travels! Now, all I have is my memories of last year's summer vacation spent in the perfect mild weather of the Mediterranean Sea to feed my wanderlust.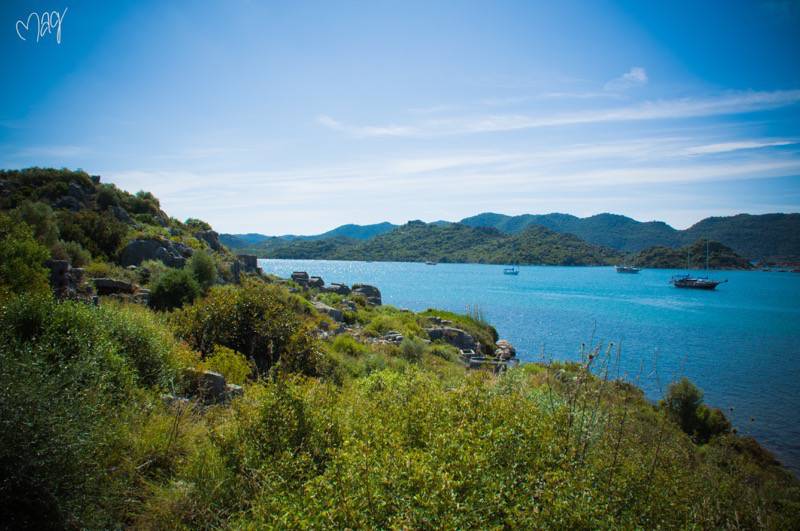 When Jason told me that his number one bucket list country was Turkey, I thought to myself, why? OK, maybe not to myself. Maybe, very openly and rather bluntly. "Turkey, how boring! What about Paris?! What about Rome?!" But he quickly made me feel pretty sheltered and naïve. And all it took was a few Google image searches of Istanbul and the Mediterranean Sea. It was time for this small town country girl to step outside her comfort zone and experience something completely different.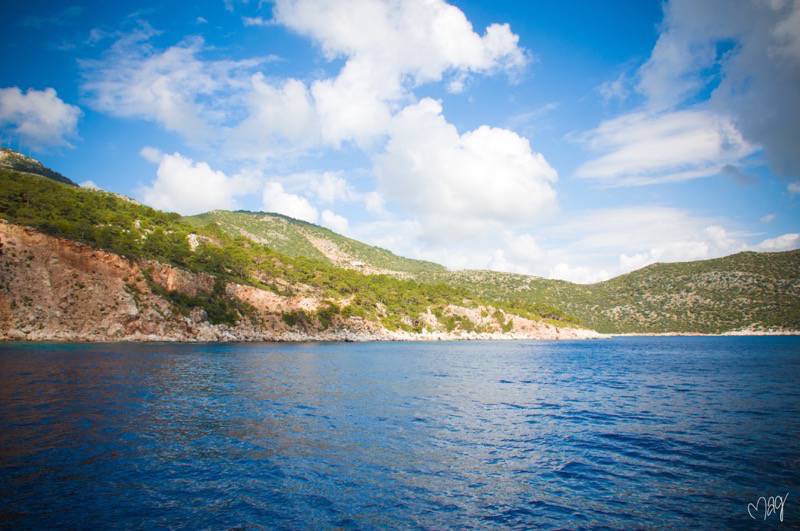 So, after convincing our family that visiting Turkey was perfectly safe, we packed up and headed on a non-stop flight to Istanbul. And one more short flight and bumpy bus ride later brought us to the coastal village of Fethiye staring into the pure blue waters of the Mediterranean Sea.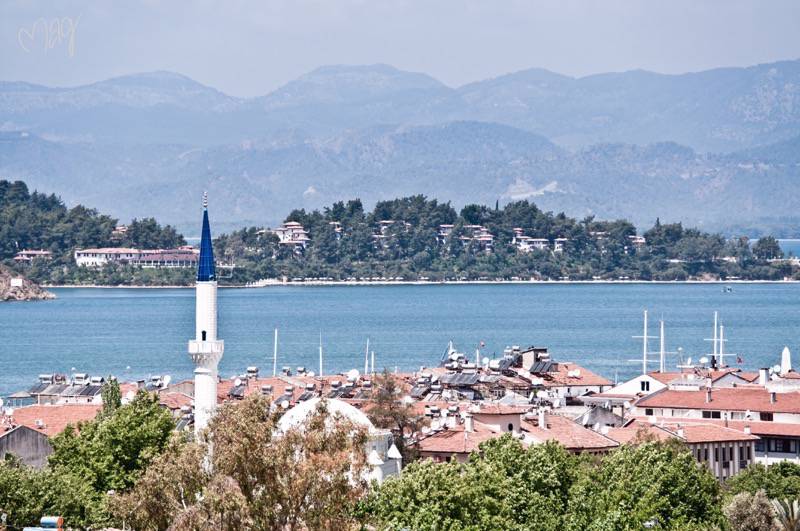 We had just enough time to explore Fethiye's famous tombs before our sail boat left the docks. These 2,400 year old tombs were carved into the mountainside by the Lycians. These were the first of the many tombs we saw scattered throughout the Turkish coastline. As we gazed up at the massive rock structures, we couldn't help but feel a sense of awe and amazement. Plus, the view of the city with the blue sea backdrop was breathtaking.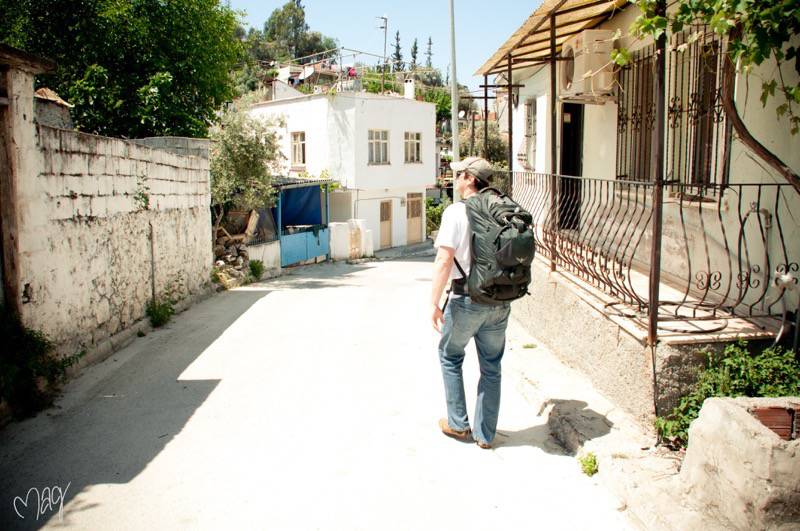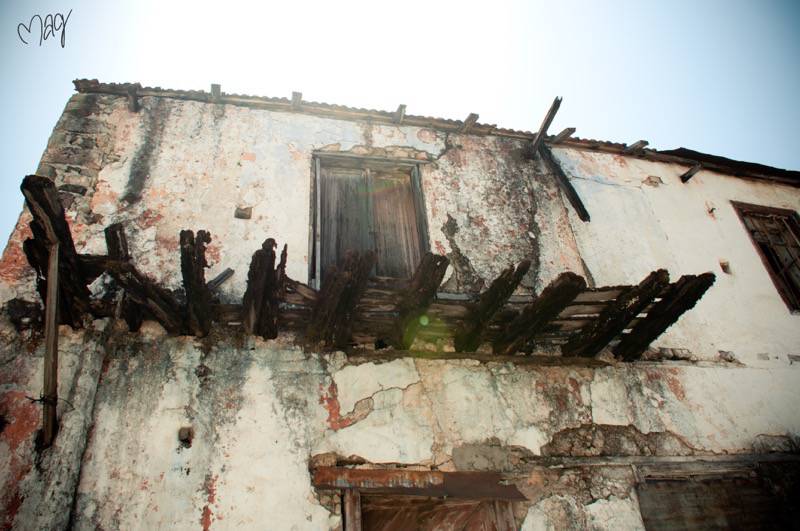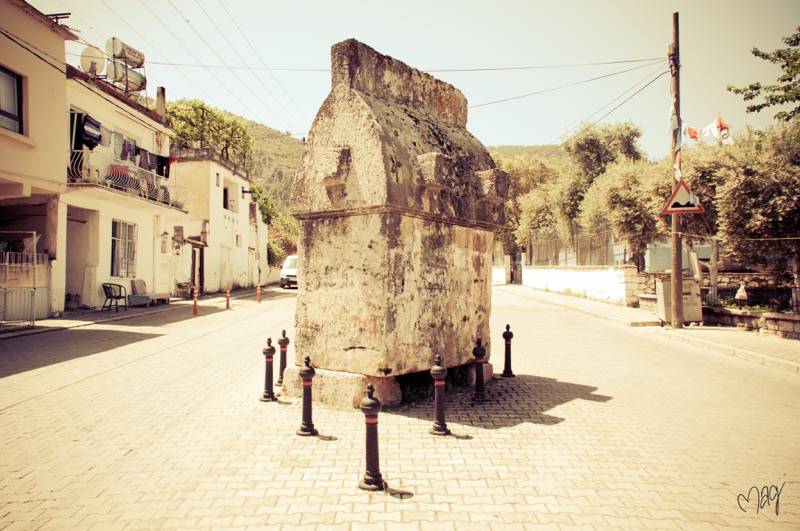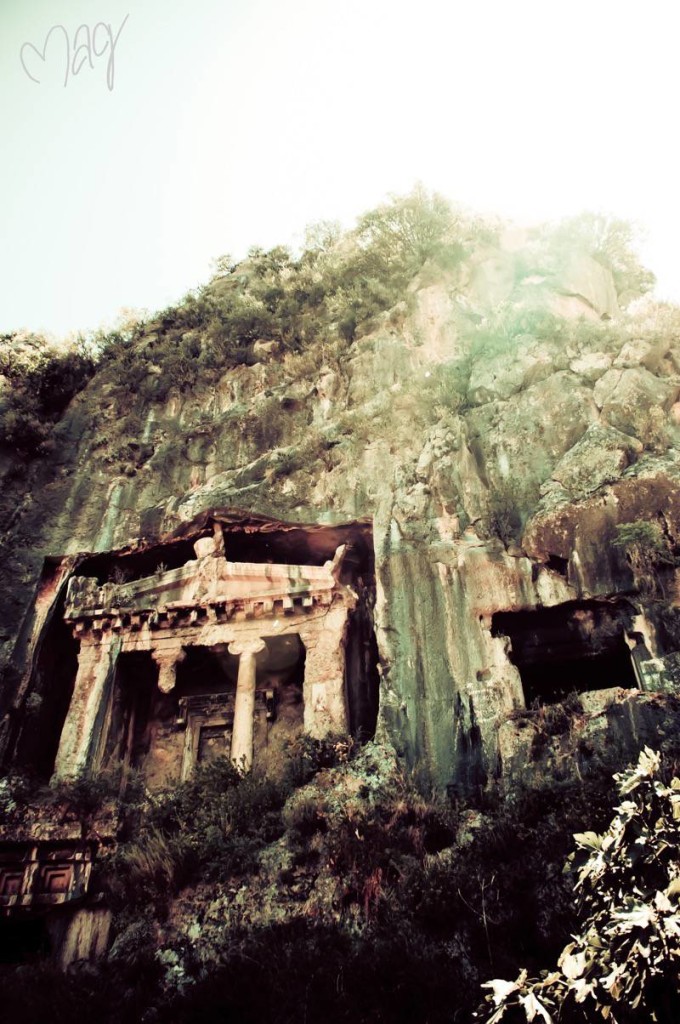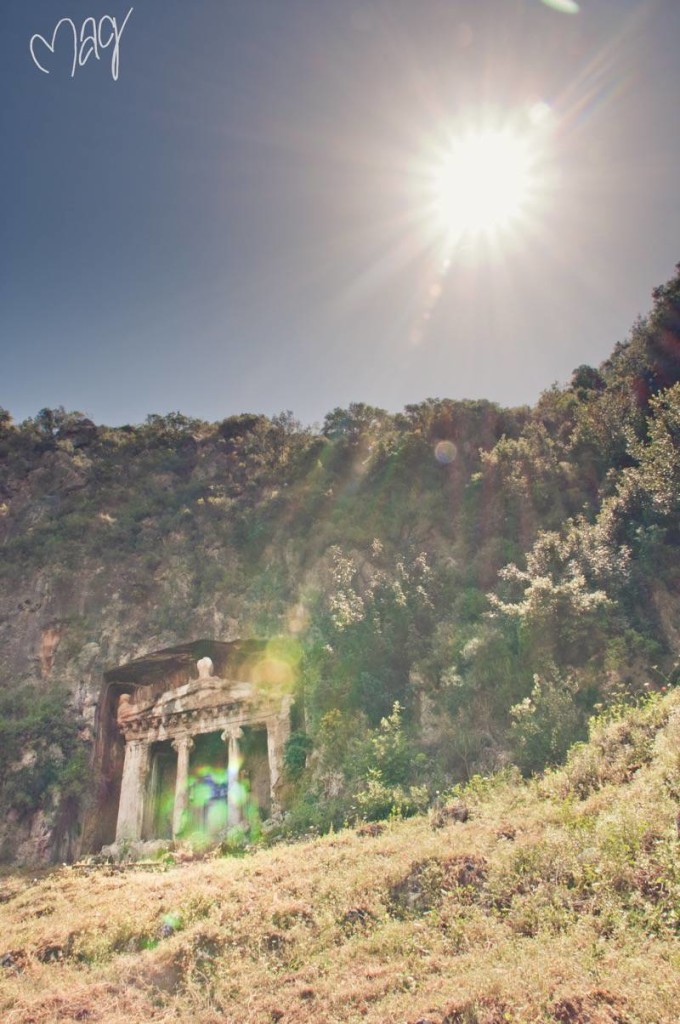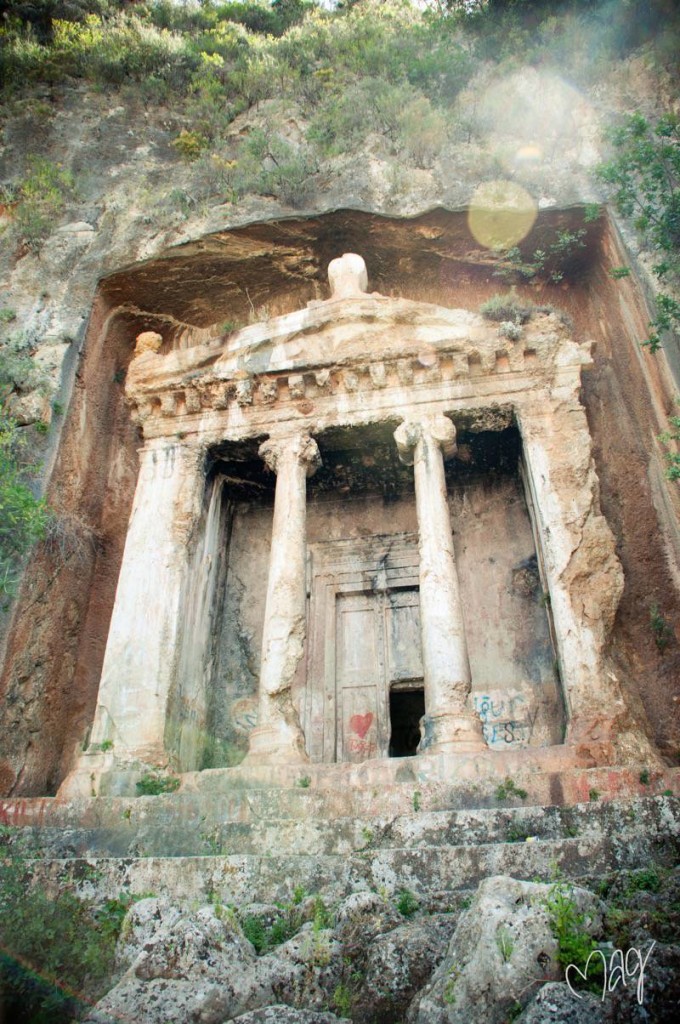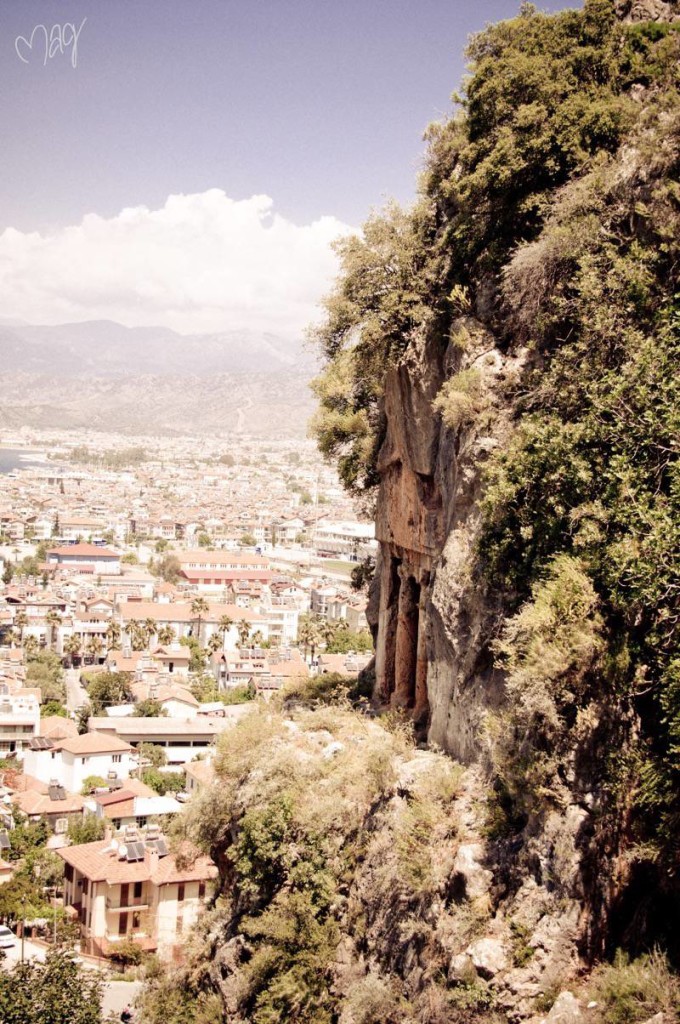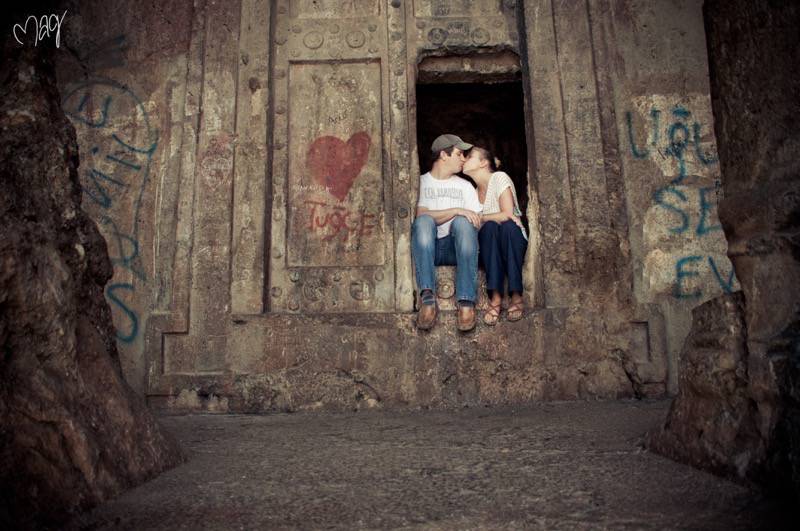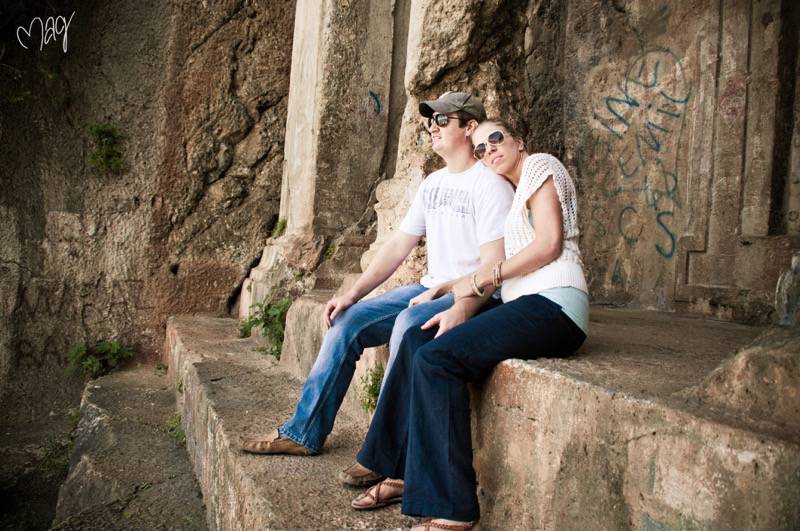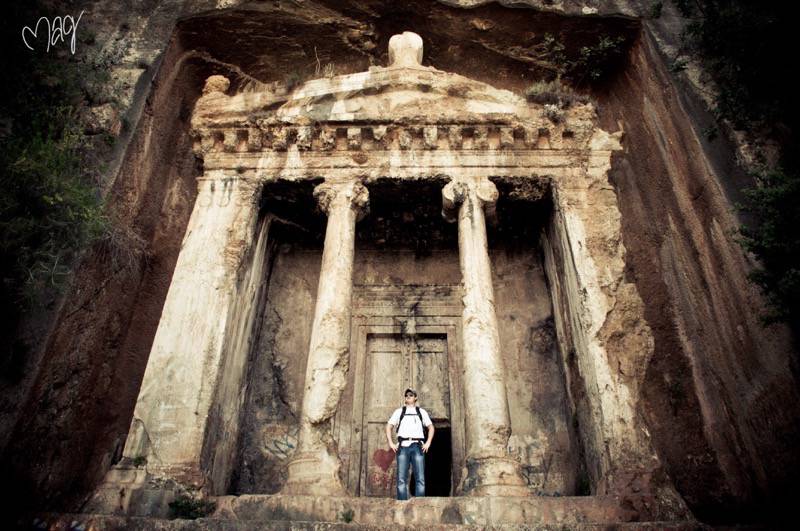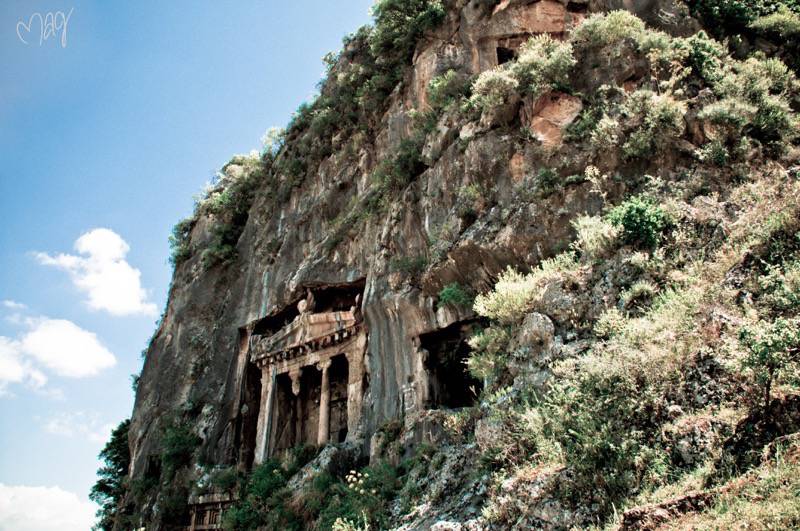 We could have stayed up here all day, but we had a boat to catch. So we walked the small curvy roads towards the coast until we found the docks. And excitingly, we boarded our boat ready to meet our new boat mates. We had 8 days at sea ahead of us. Which was a little nerve-racking as we had no idea if we would get along with the other 12 people on the boat. However, it didn't take long for that worry to go away. We had an amazing group of people from Australia, Canada, Ireland, South Africa, and of course the US.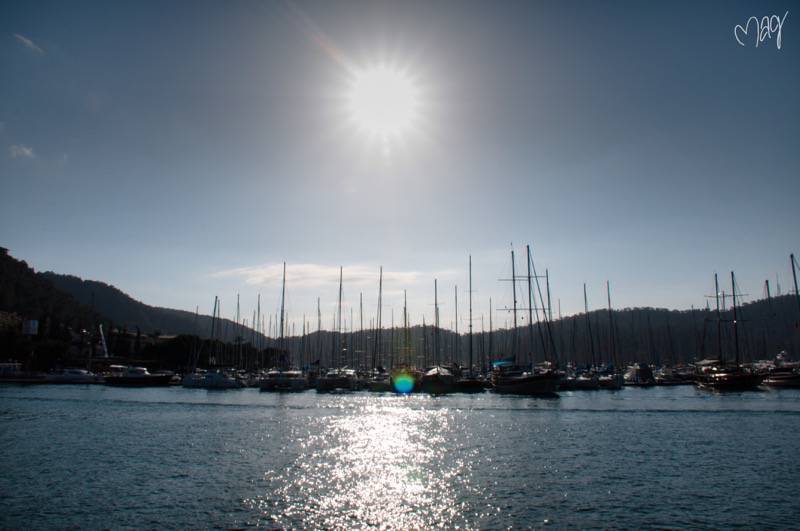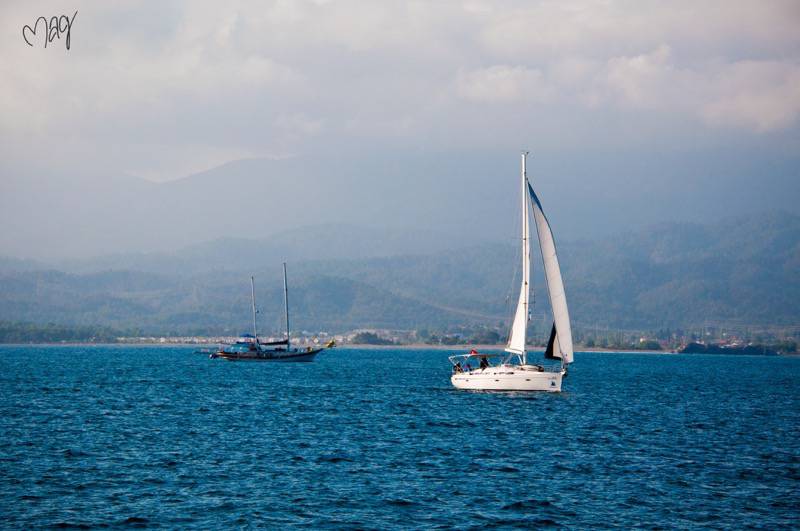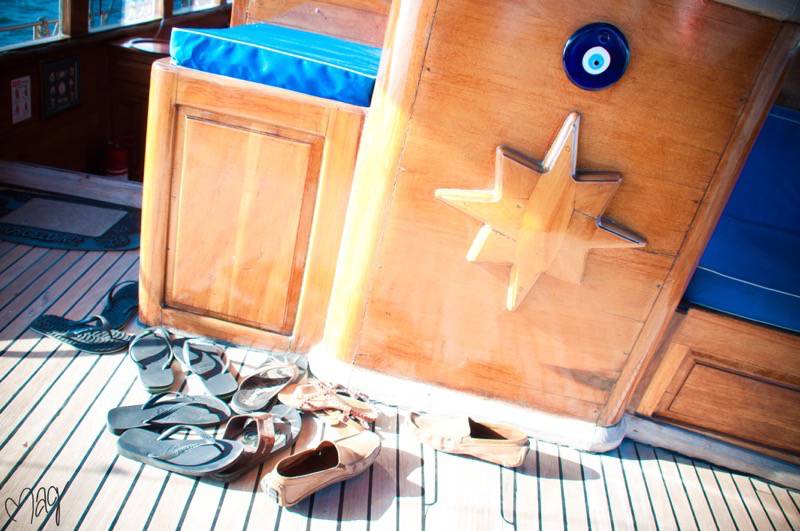 After introductions and learning the house rules, we began our sail. We spent the night anchored in a quiet cove where we swam in the Mediterranean water for the first time. Then, we had a delicious fish dinner on the boat and a night of drinking games to wrap up our first day at sea. That night, we were rocked to sleep in our cabins by the soft ocean waves while we dreamt of our adventures to come.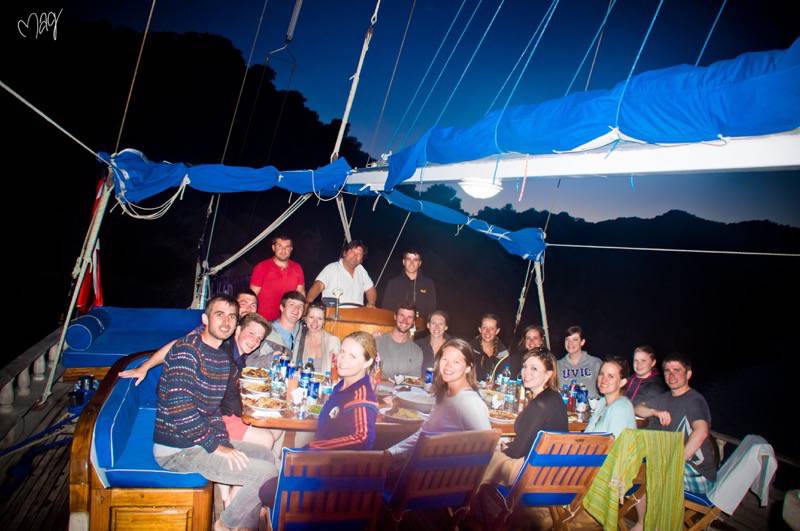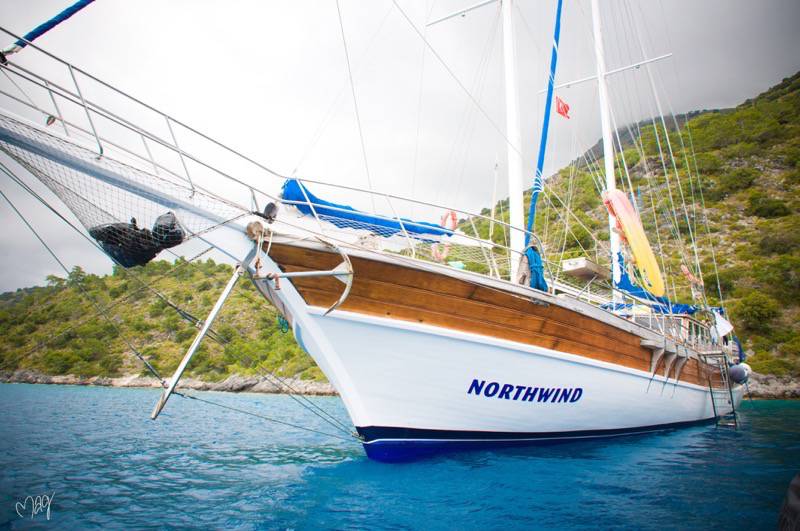 Those dreams were interrupted by the sound of the boat's motor at first light that morning. I rolled onto my side to ignore the loud hum, and for a second, I thought I would go back to sleep. Then the boat started to move, and as it gained speed causing it to rock heavily, I quickly learned I was not going to sleep any longer. So, I stumbled my way to the deck and found a resting spot at the back of the boat. Soon everyone else joined, all looking quite green. The captain brought us loaves of bread, which seem to help with the sea sickness, and we all loaded up on Dramamine, which seemed to help a little more. And after a few heaves over the side of the deck, we all started to question how exciting our adventure at sea would actually be. However, despite the sea sickness, we still were in awe at the beauty that surrounded us. Eventually, we came to stop and had a wonderful Turkish breakfast which was perfect for refueling our now empty bellies. Then another short ride later, we arrived at Butterfly Valley, our first stop on the coastline tour.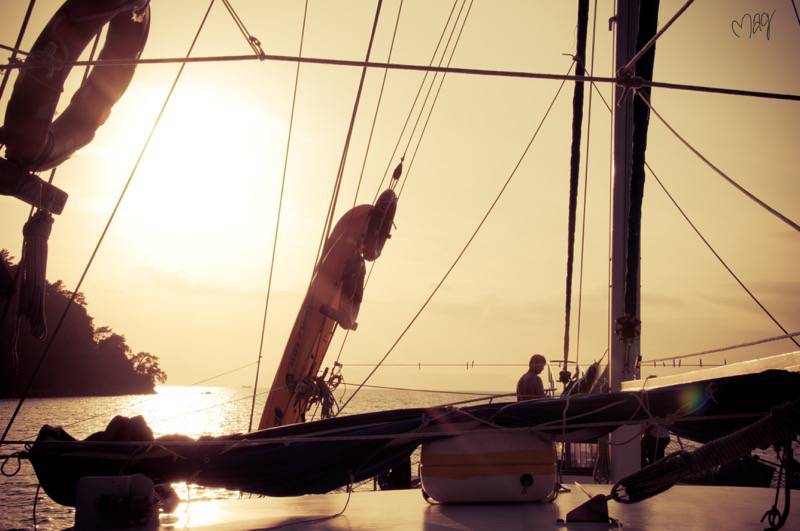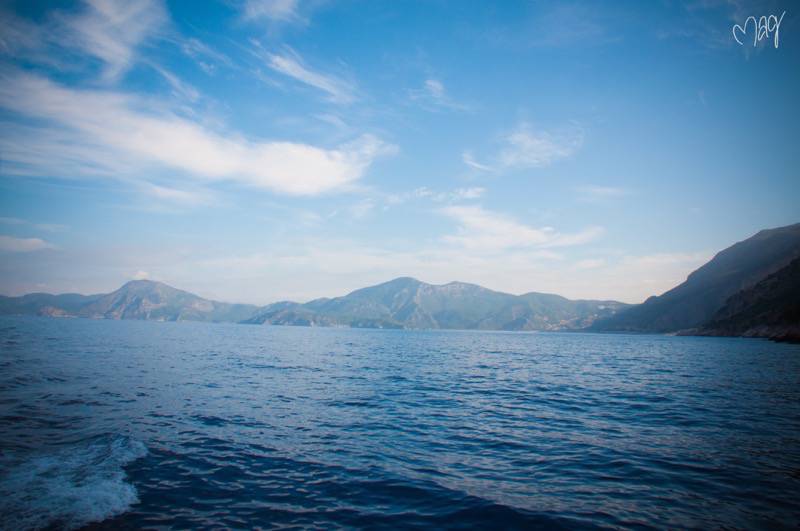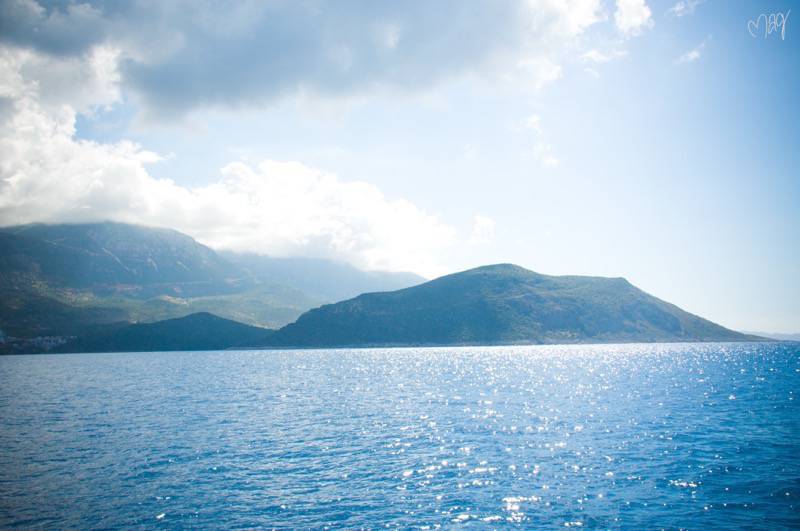 Butterfly Valley is exactly what the name claims. A huge valley in which butterflies migrate to every year. Unfortunately, we were not visiting during butterfly season. However, that did not diminish the spine tingling views. As we neared the valley masked by a layer of morning fog I felt like we were about to step foot into Jurassic Park.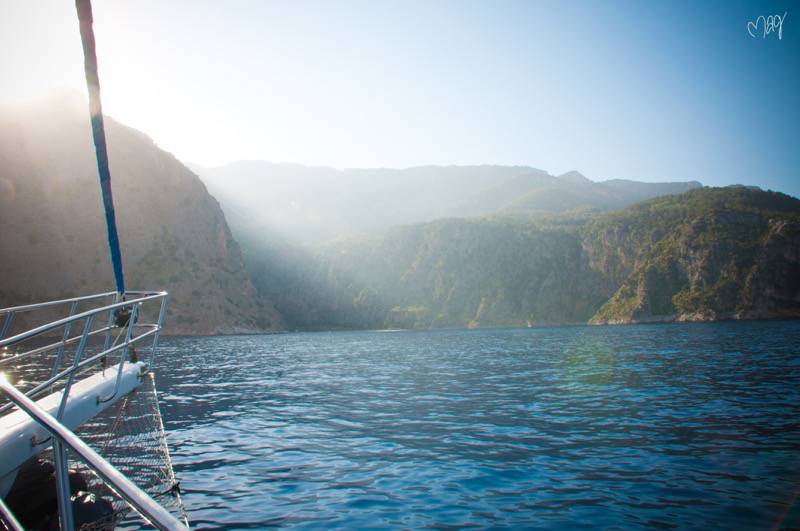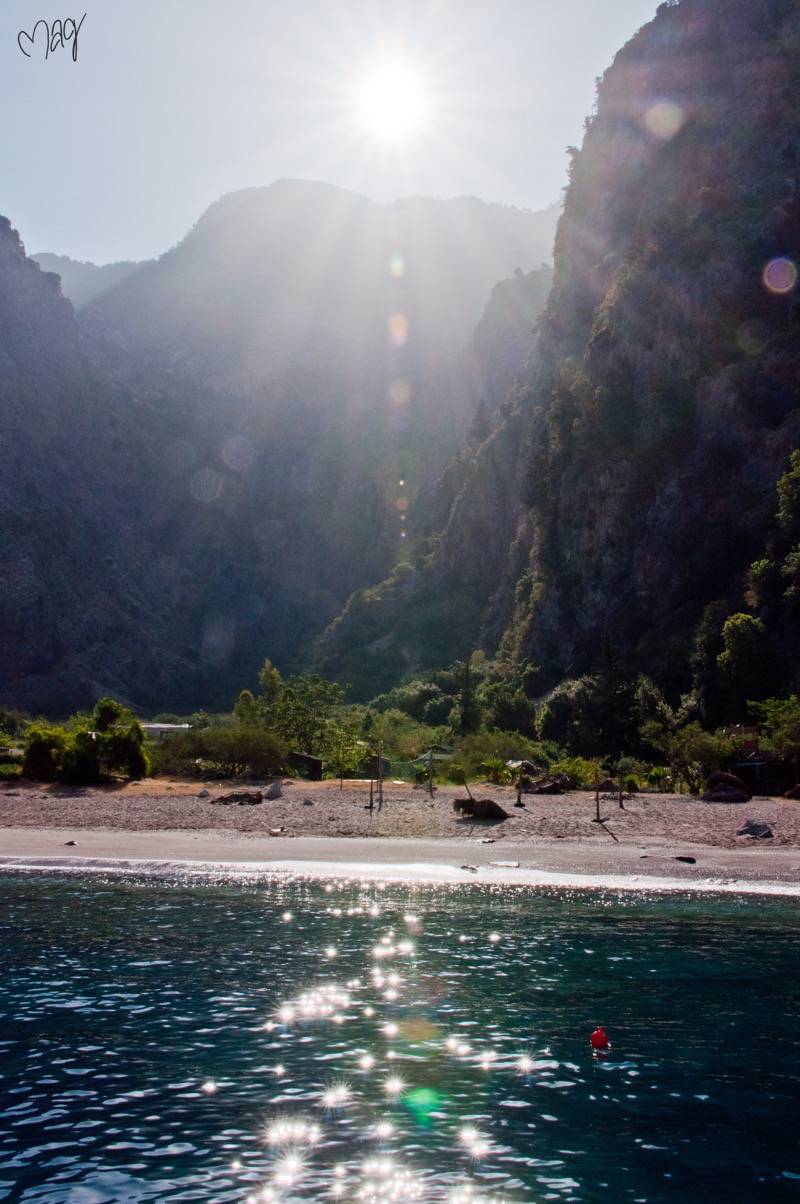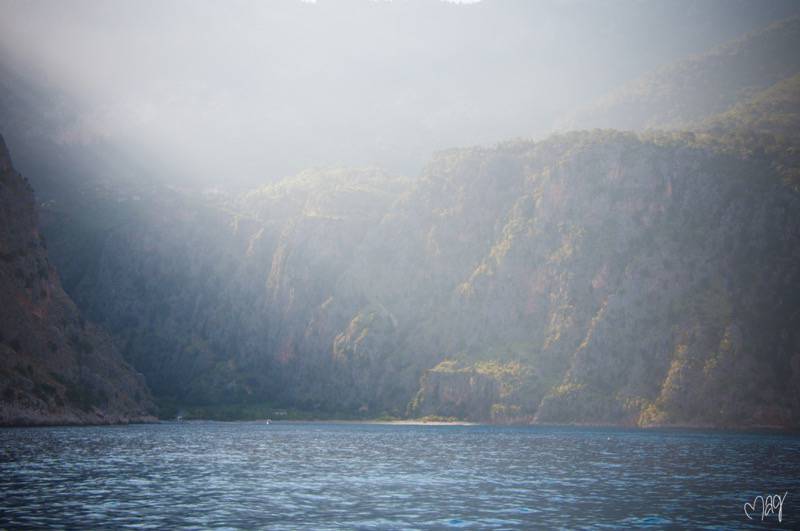 Once ashore, we took a short beautiful hike into the valley where we found a small waterfall. We climbed up the waterfall and were rewarded with an amazing view of the valley and sea. We didn't have a lot of time to spend in this one location. So, we all reluctantly re-boarded the boat and started back at sea once more, this time better prepared for the oncoming sea sickness.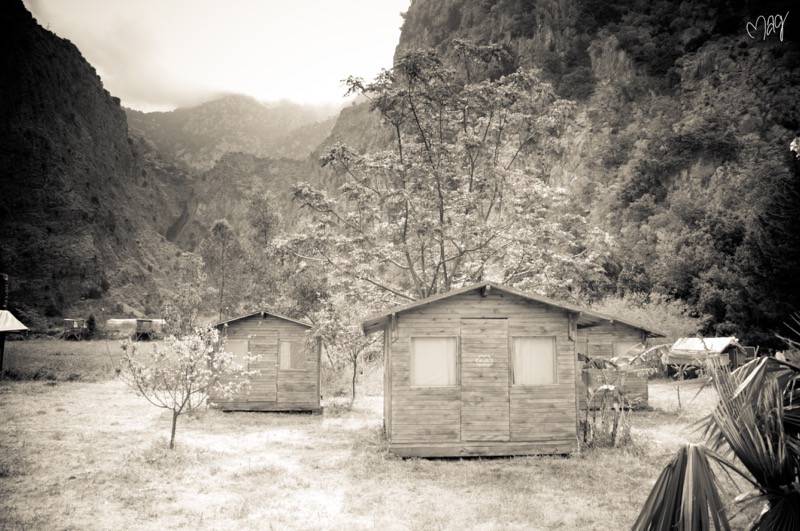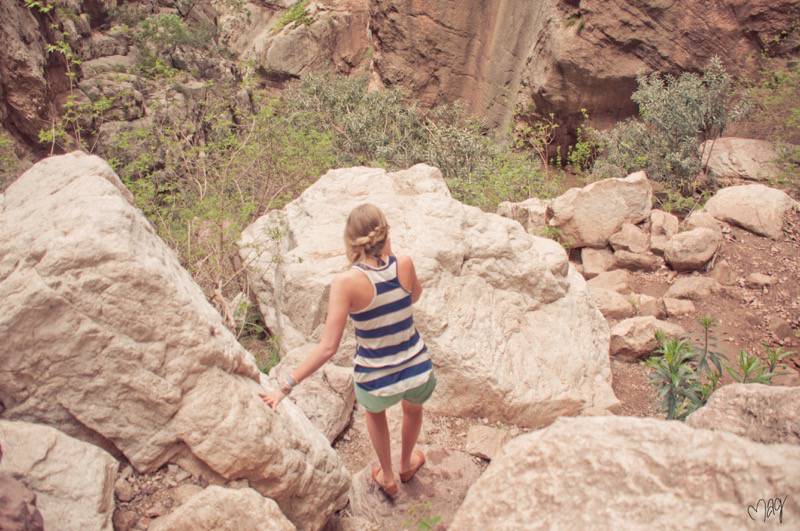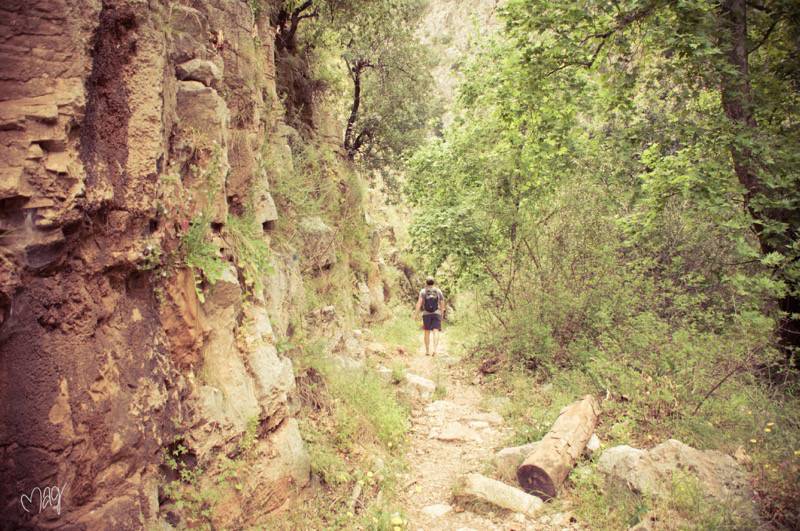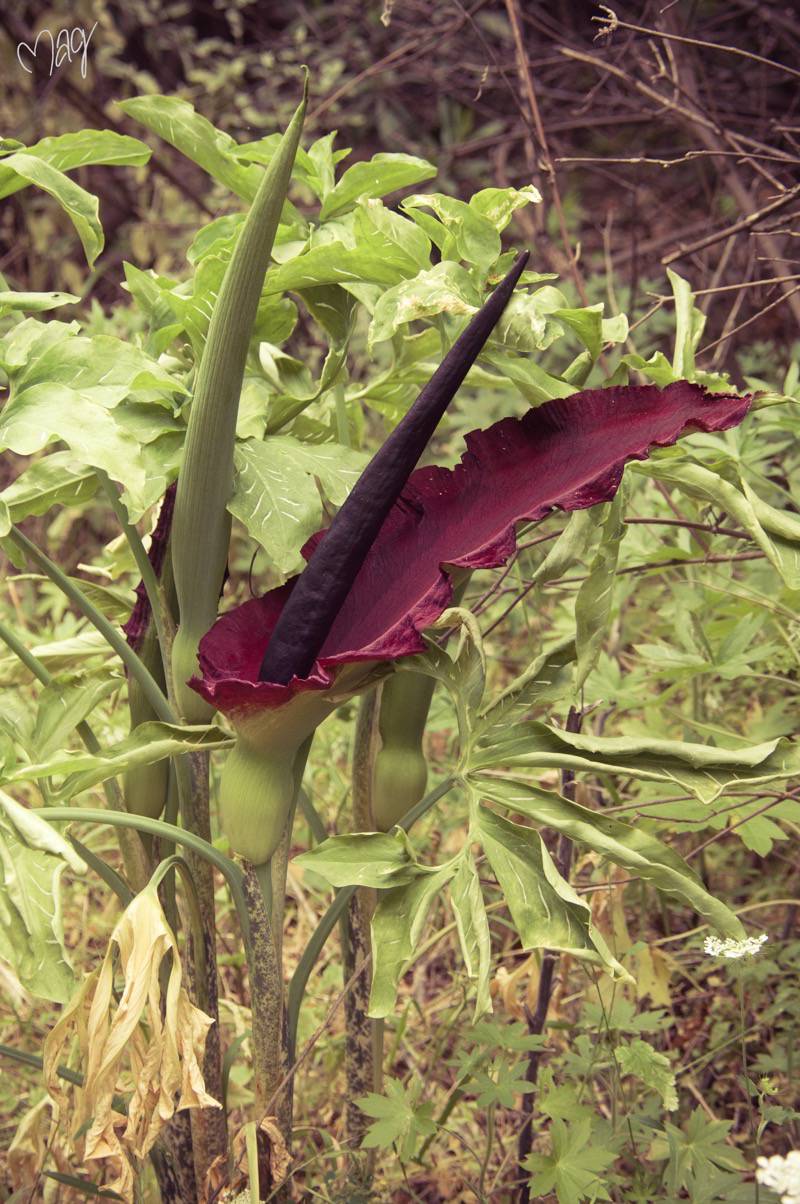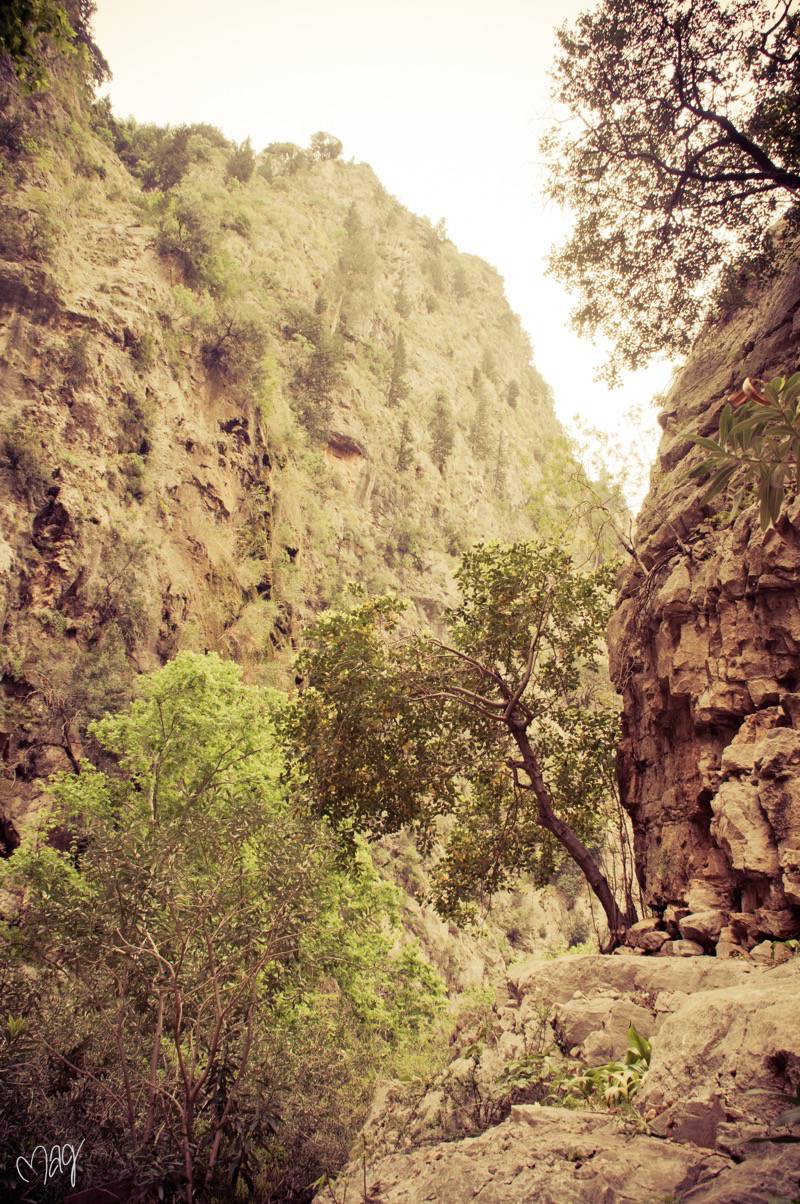 Our next stop was Gemiler Island, also known as St. Nicholas Island. Yes, Santa Clause himself. The island contains the ruins of five Byzantine churches. We spent our afternoon trekking through the ruins. Every corner we turned brought something new and exciting.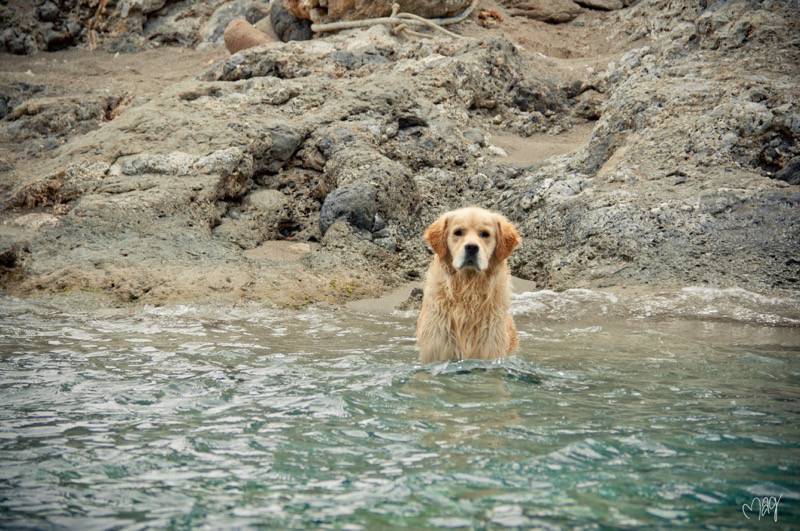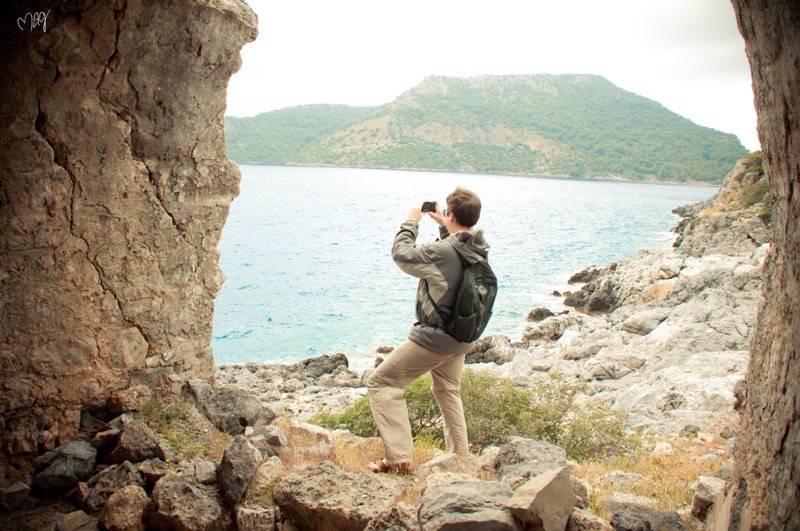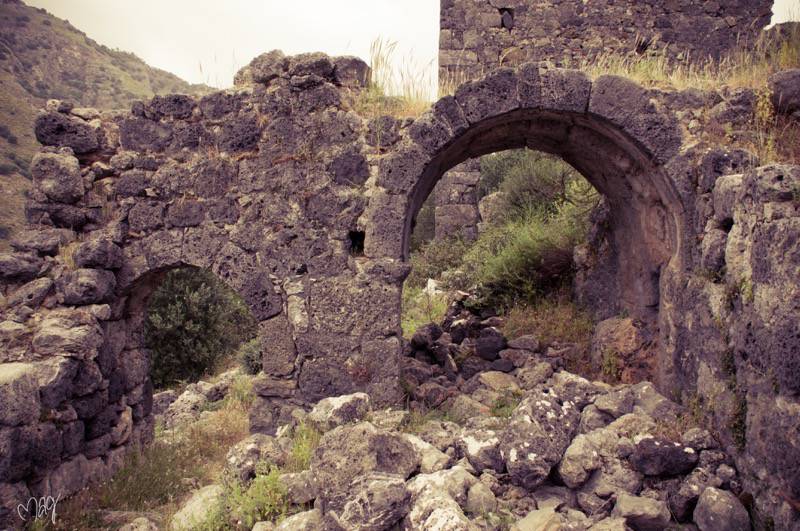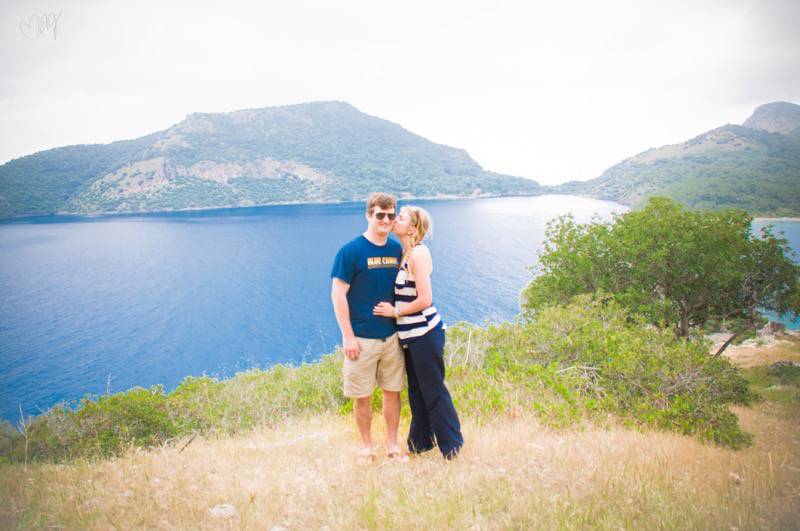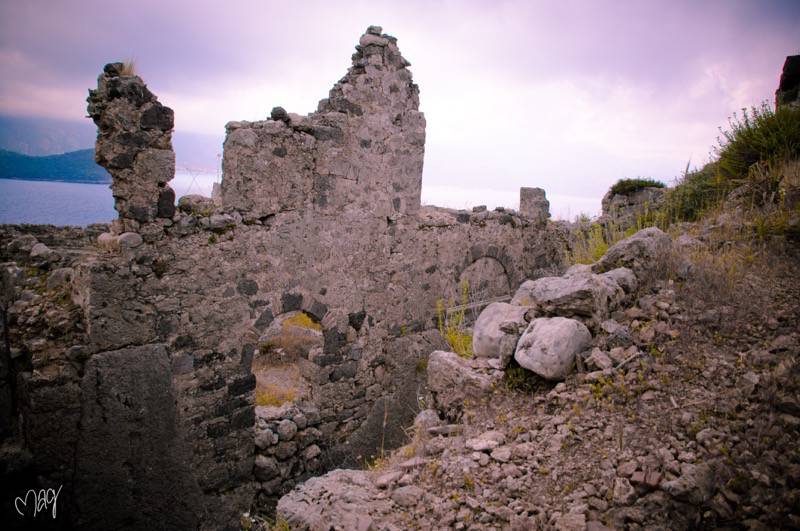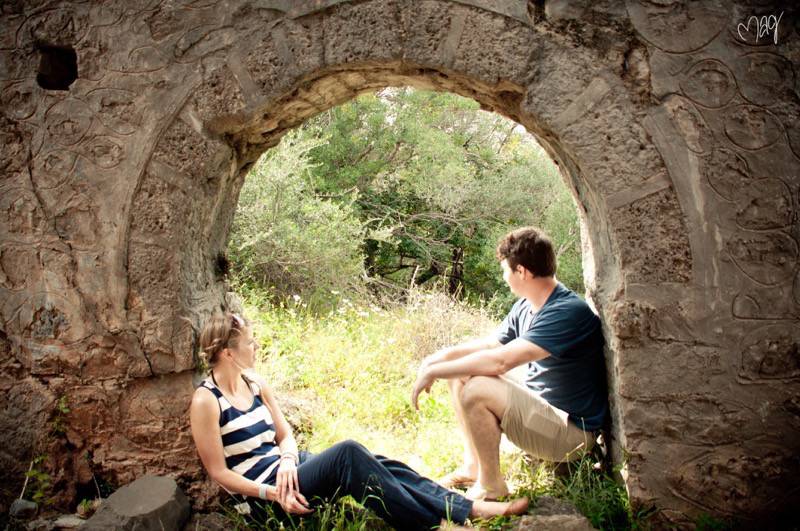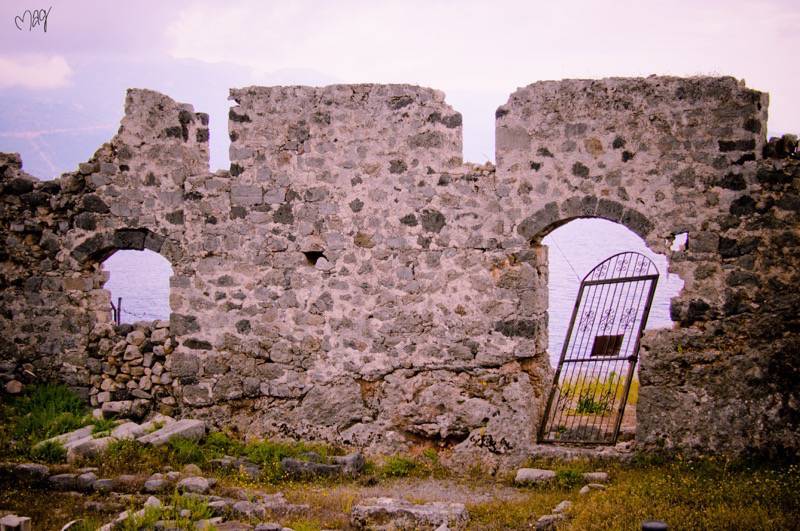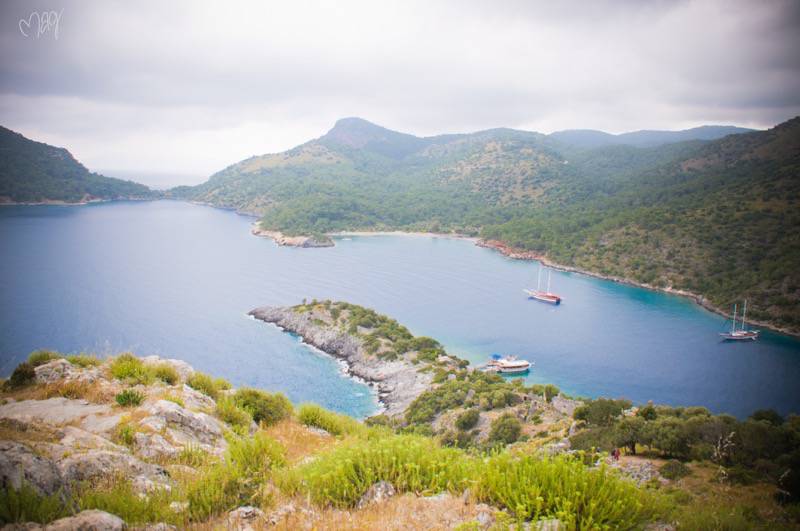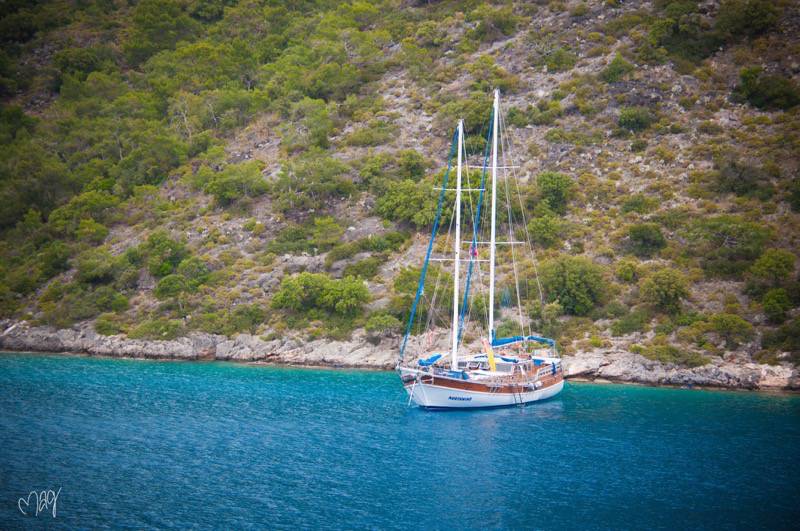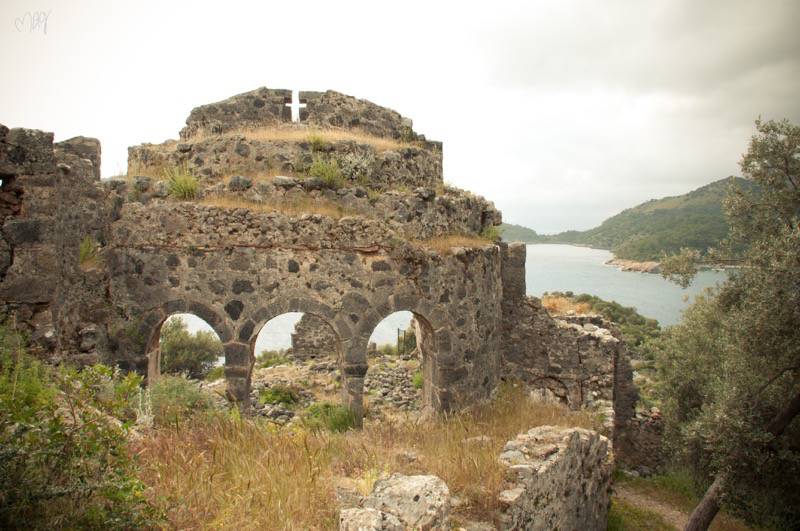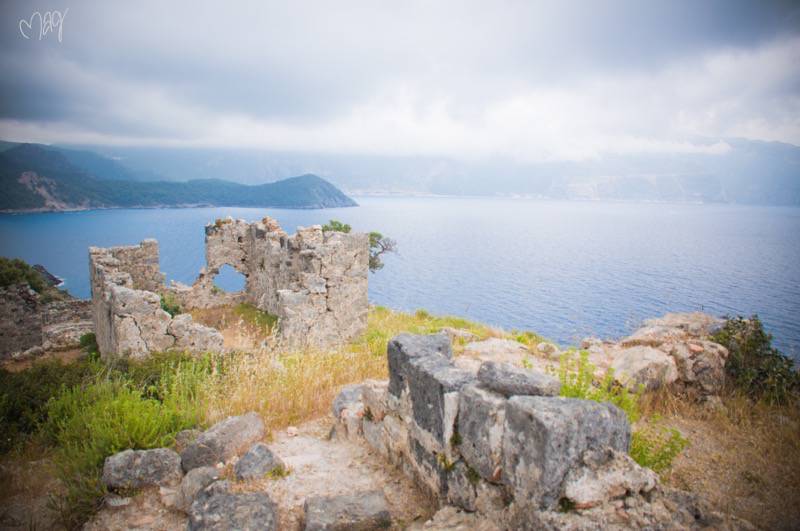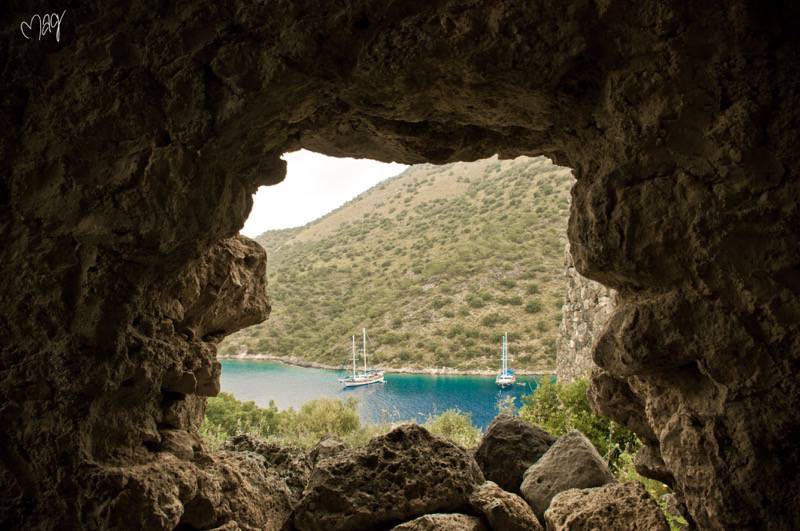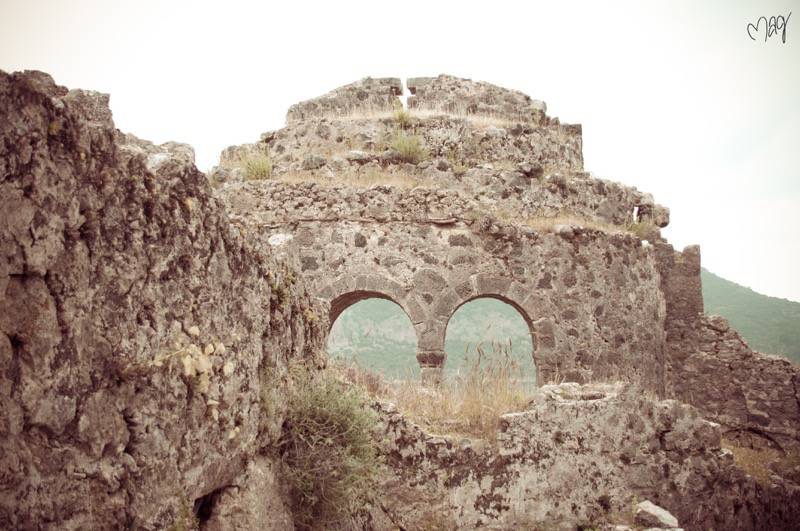 We spent the night anchored outside Gemiler Island. We had a pretty easy night as everyone was still feeling a little queasy from the first day of sailing. We settled in our cabins for a much needed good night's rest. That was the idea anyhow. Mother Nature had other plans. I woke up that night with the boat heavily rocking back and forth. I could hear the hard rain hitting the deck above and the loud roars of thunder. I wondered if we were safe. Surely the captain and crew would let us know if we in danger, right? As the boat creaked from the heavy rocking, I feared it would rip apart. But there was nothing I could do, other than curl up and try to think of better things. Eventually the storm passed and the boat survived. And once again I was awoken by the loud hum of the motor at first light. I made my way to the deck and found my wet seat. A few minutes later, we were off to sea.
That day we were awarded with a walk through the village of Kas. It was nice to get our feet on solid ground for a bit. Then, we spent the clear night under that stars enjoying life.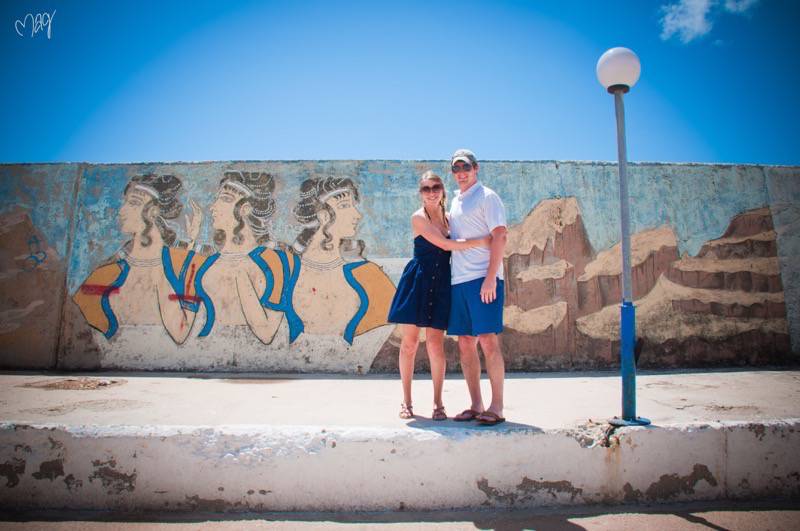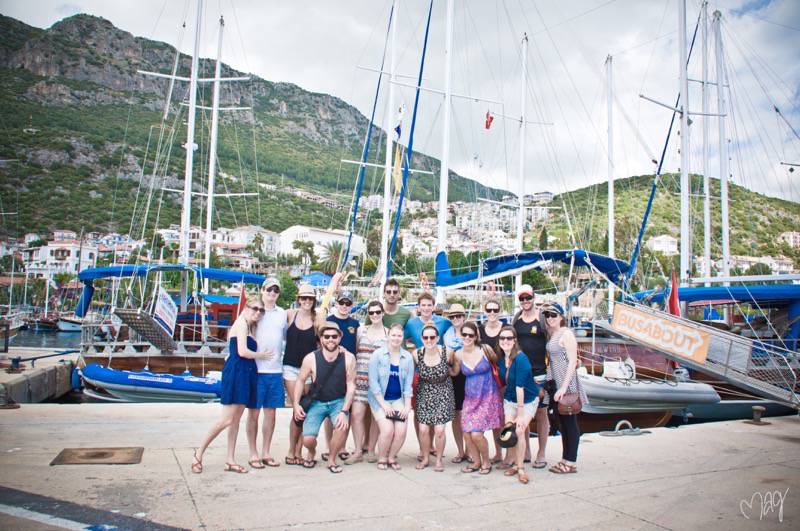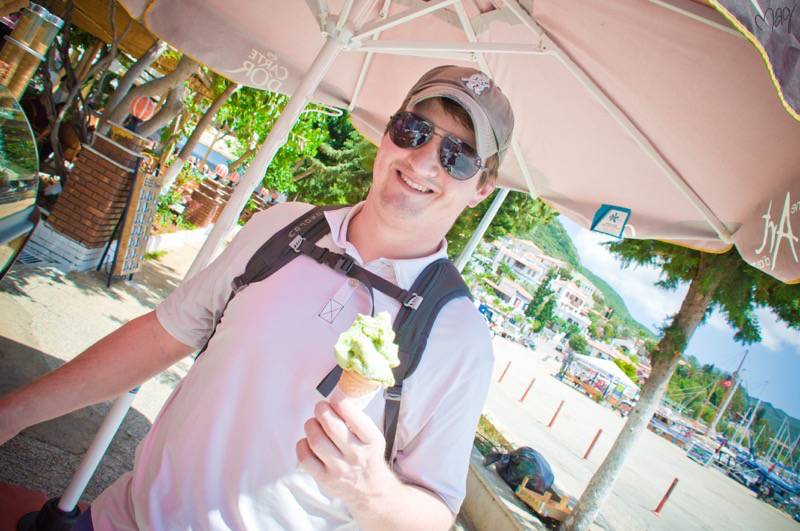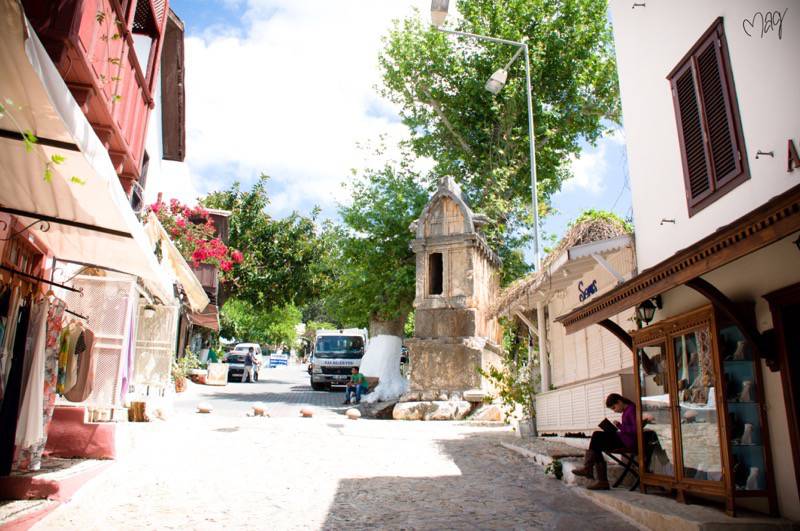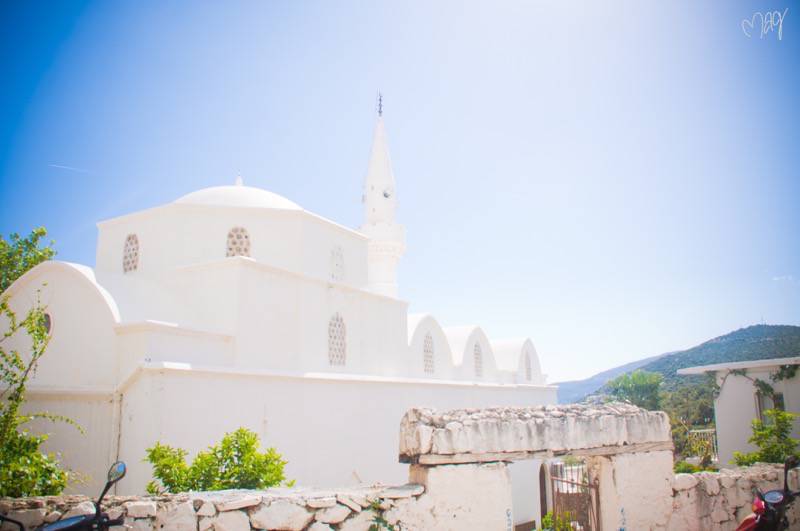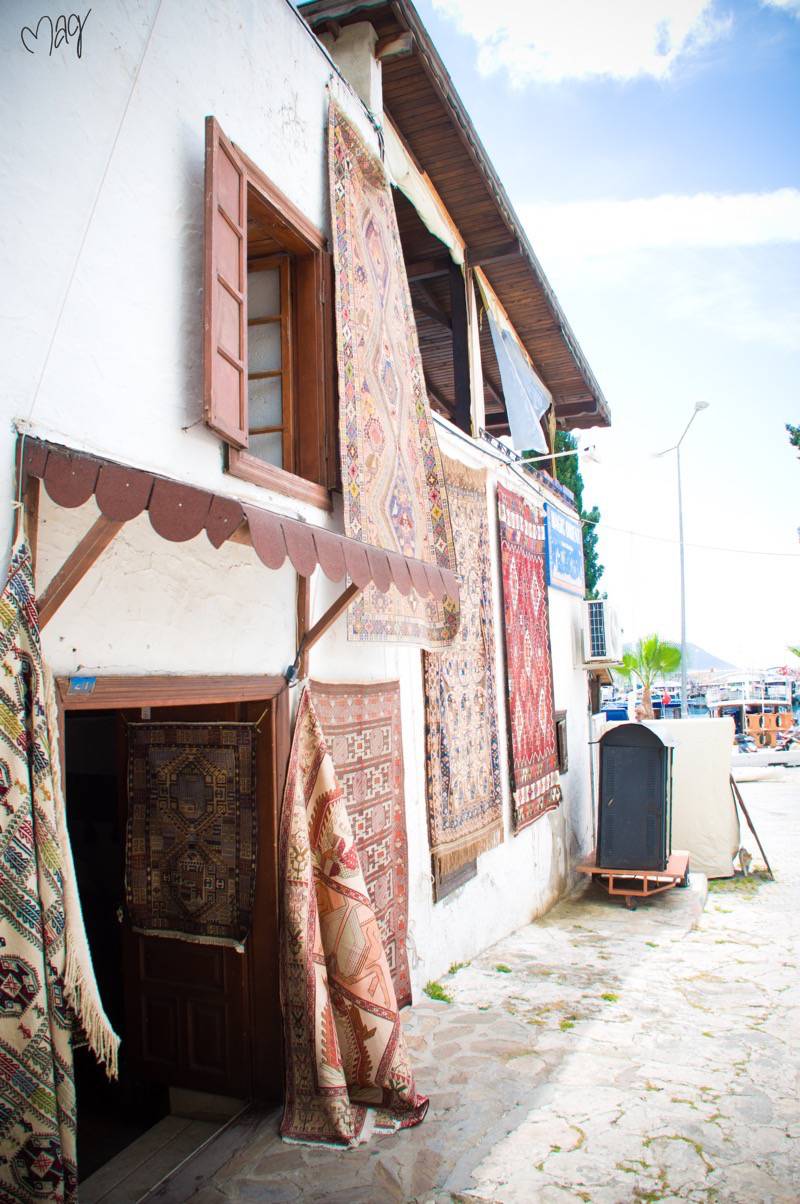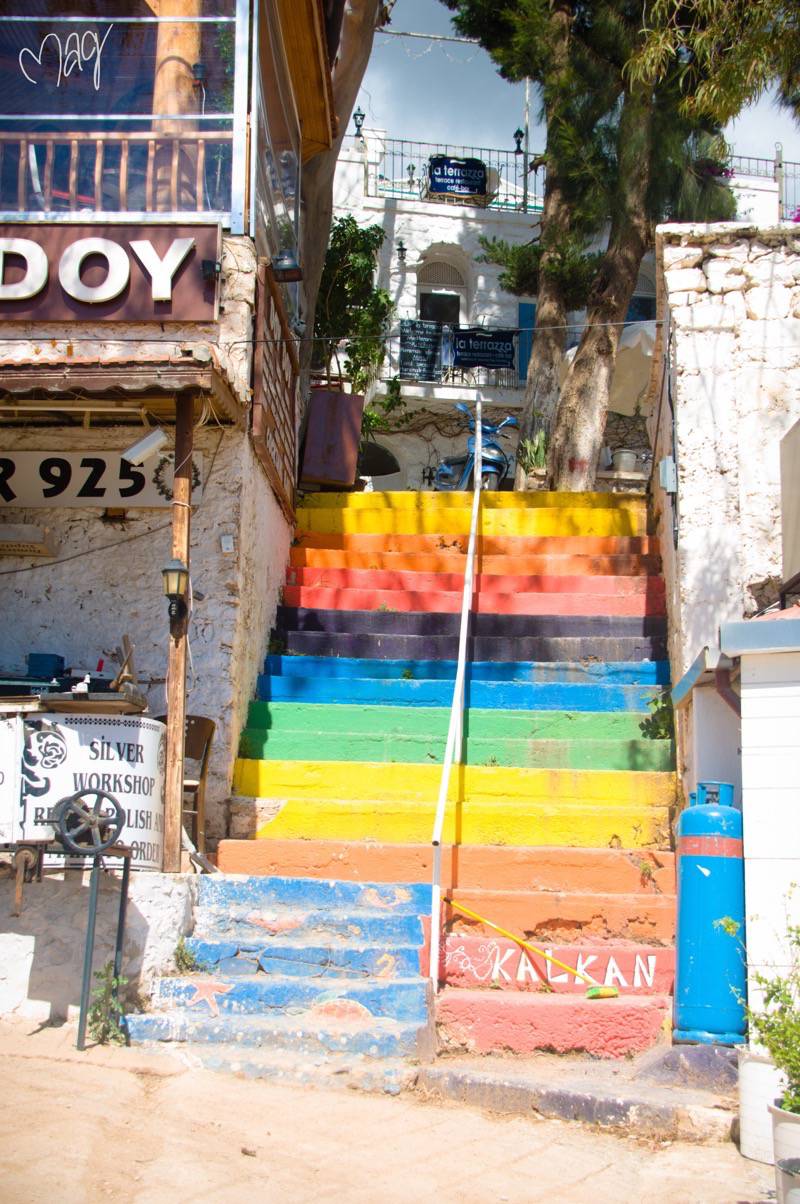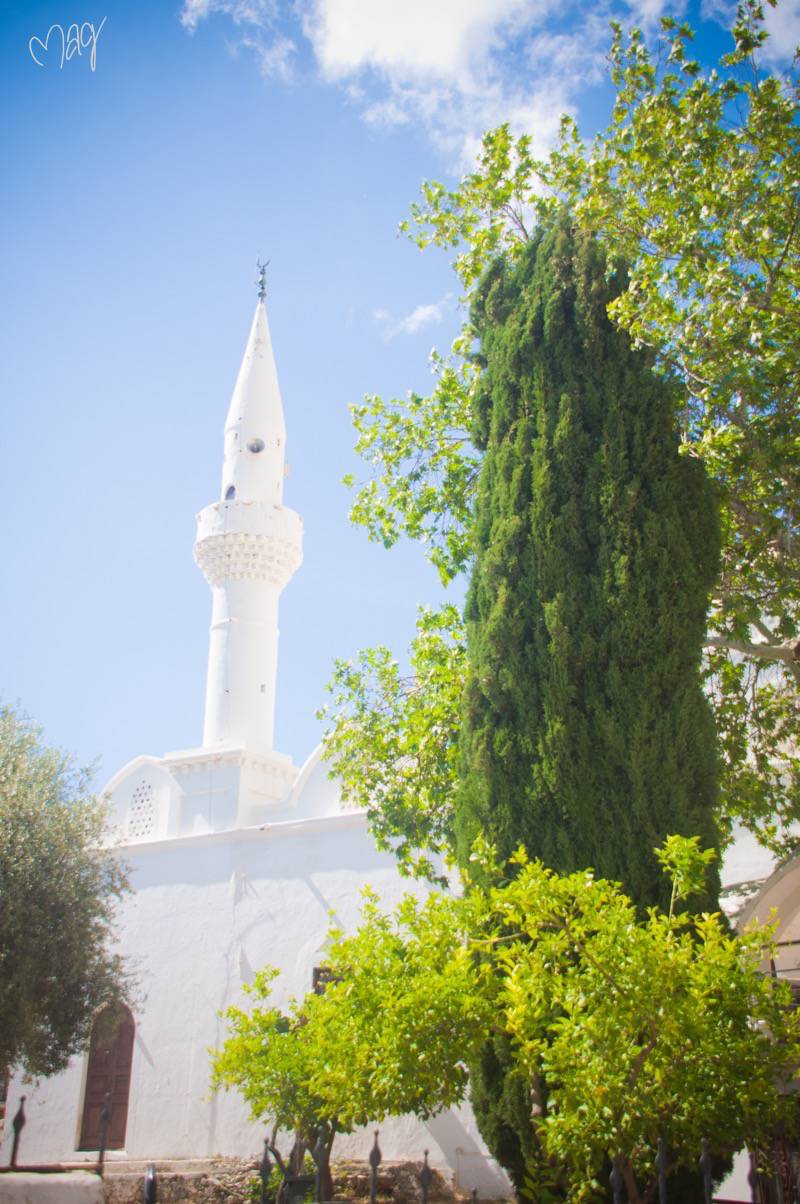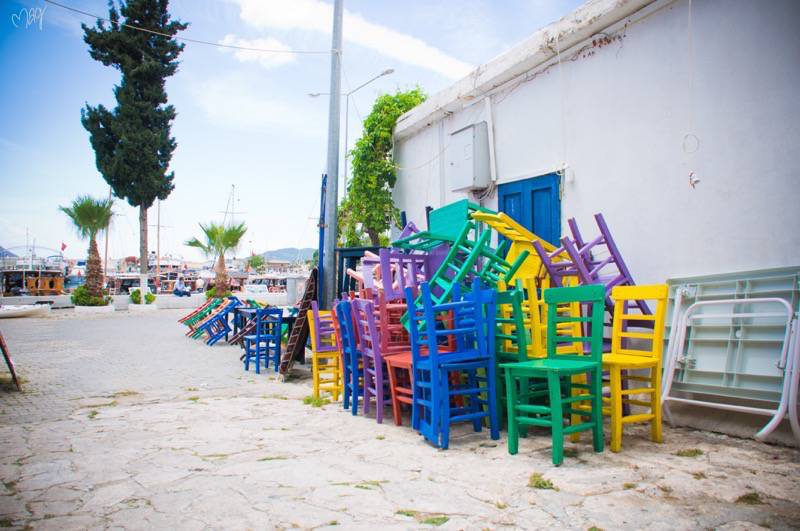 The next morning, we started our day in a small village called Ucagiz. It seemed like nothing more than a fishing village, until we wondered across these tombs.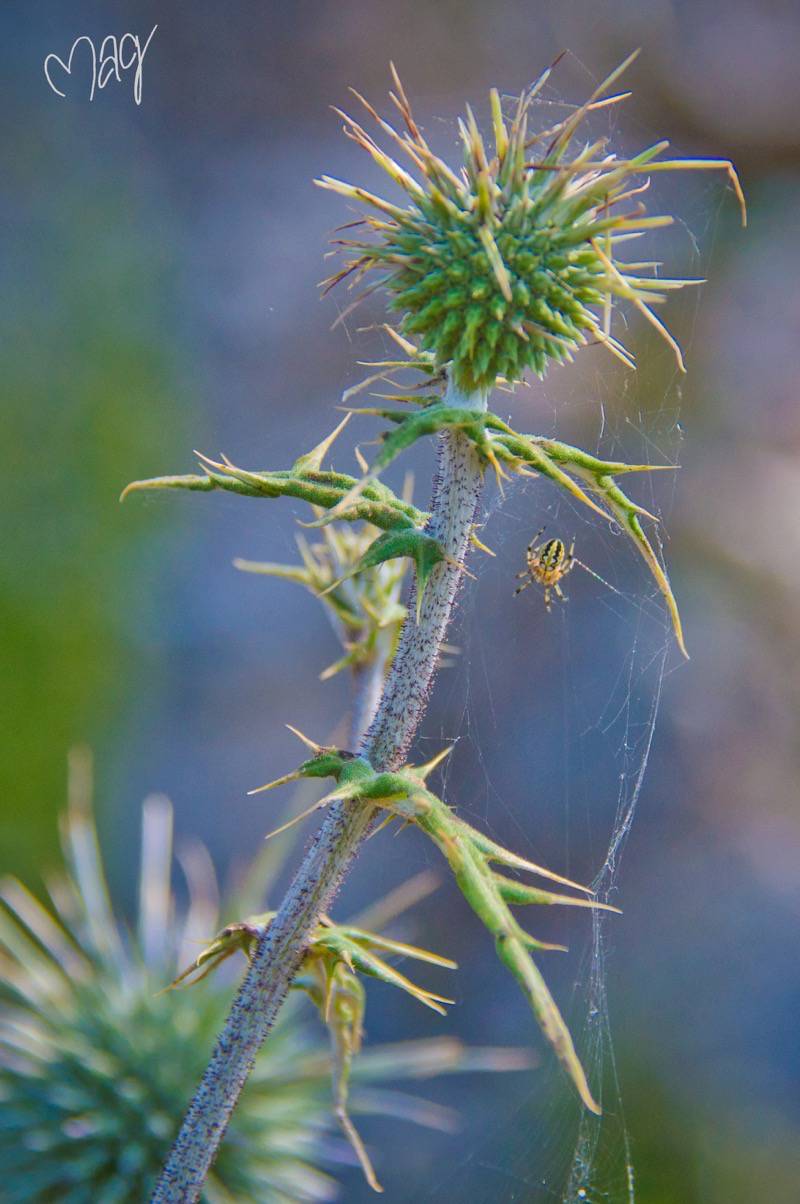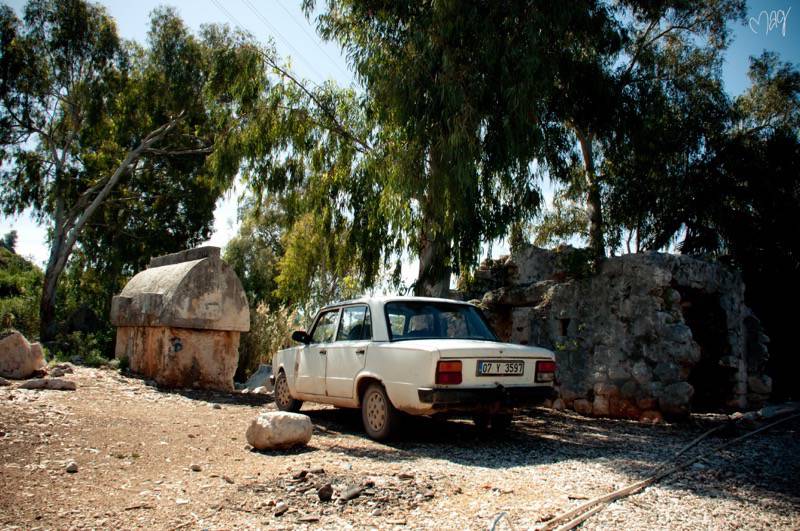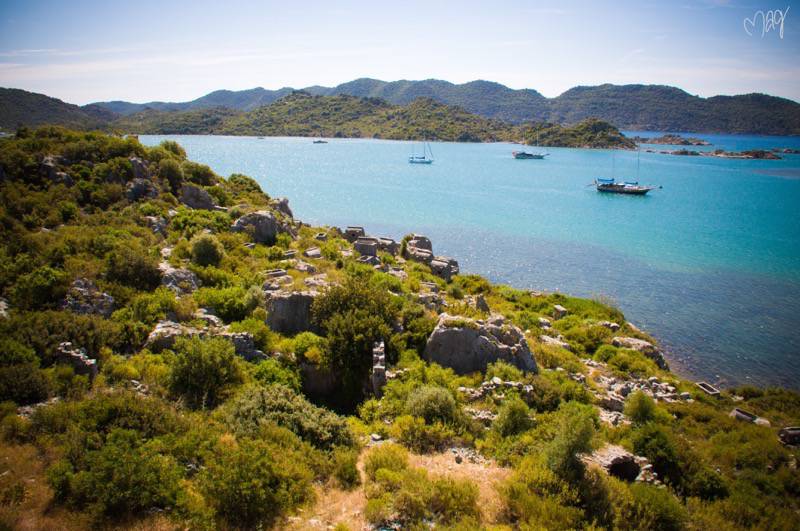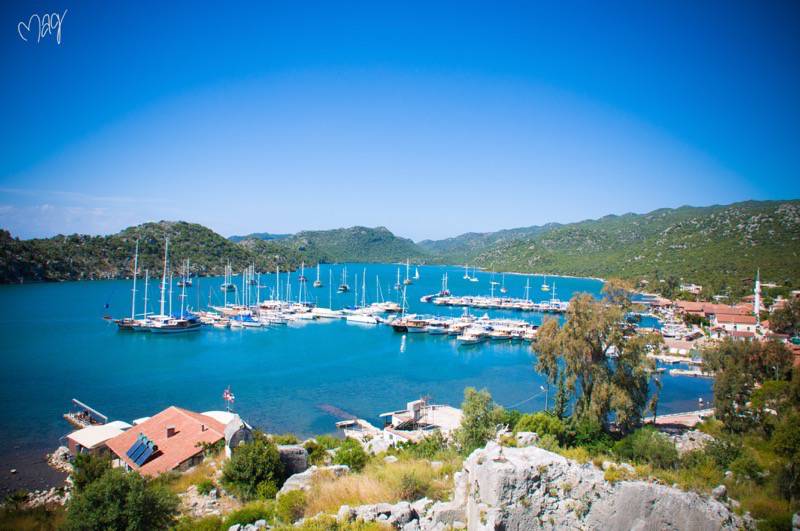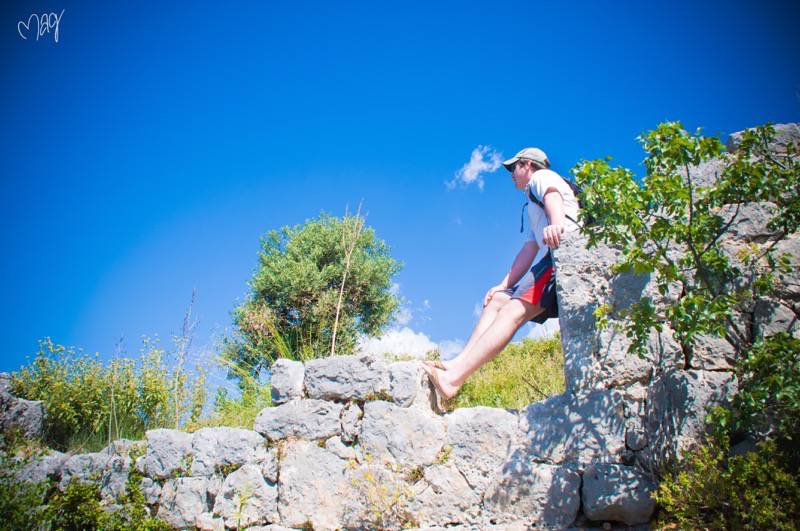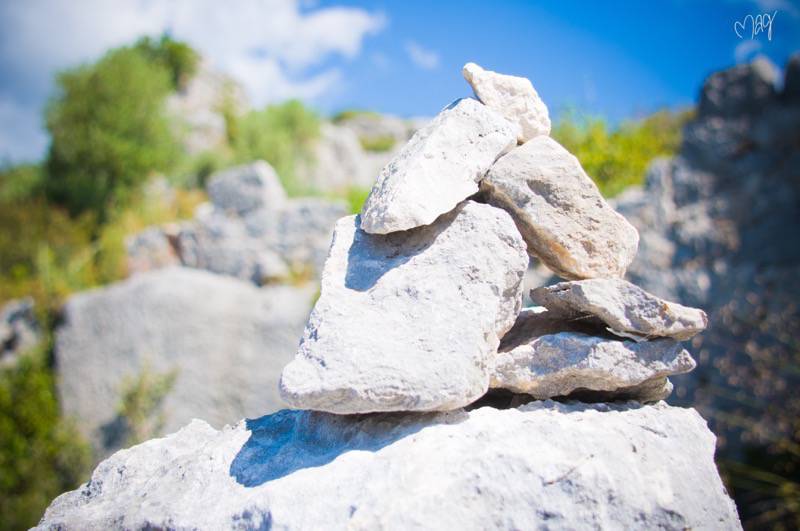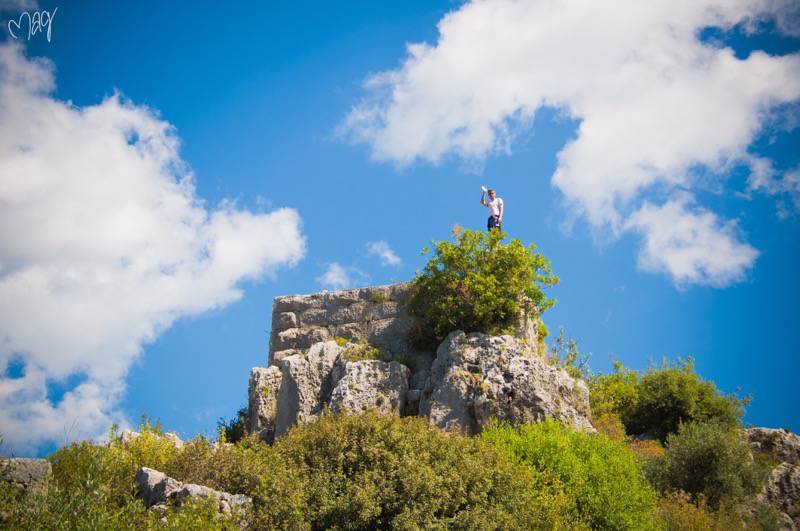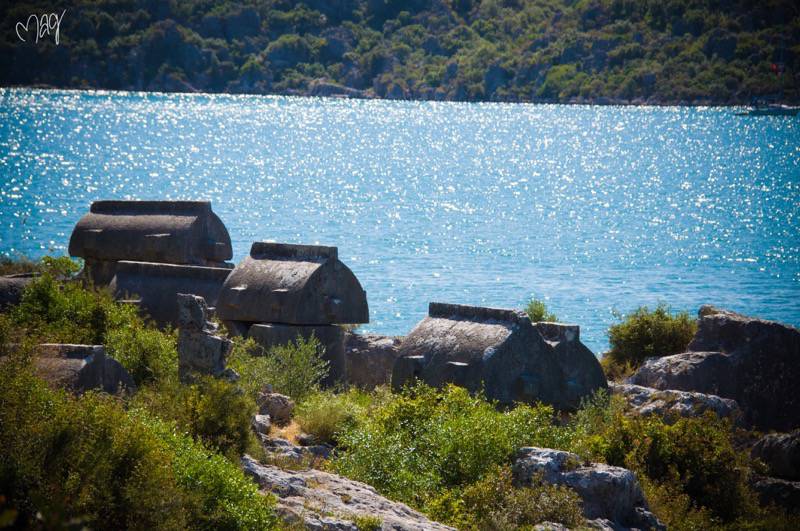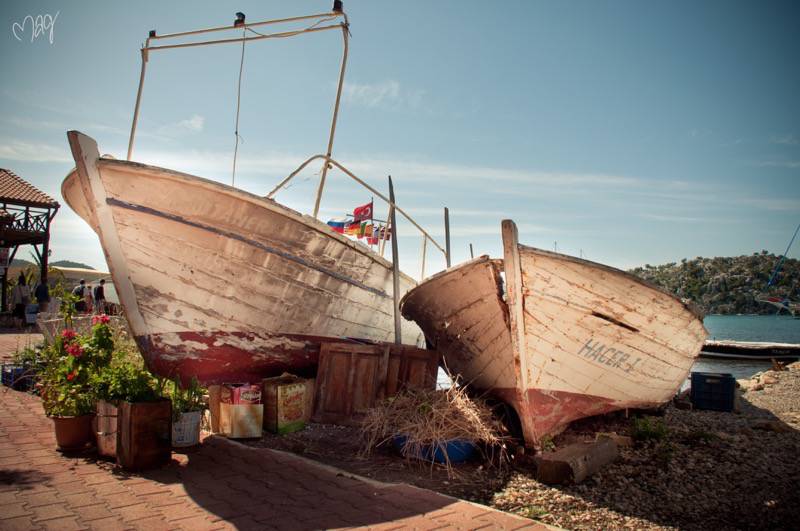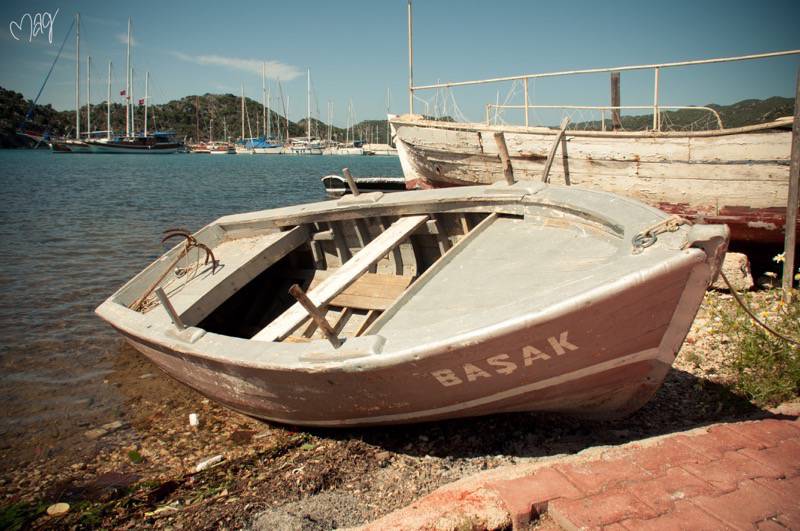 After a few hours of exploring, we boarded back up and rode by the Sunken City, which sounded a lot more interesting than it actually was. Then, we arrived at Kaleko, where we explored a crusaders castle dated back to the 4th century B.C.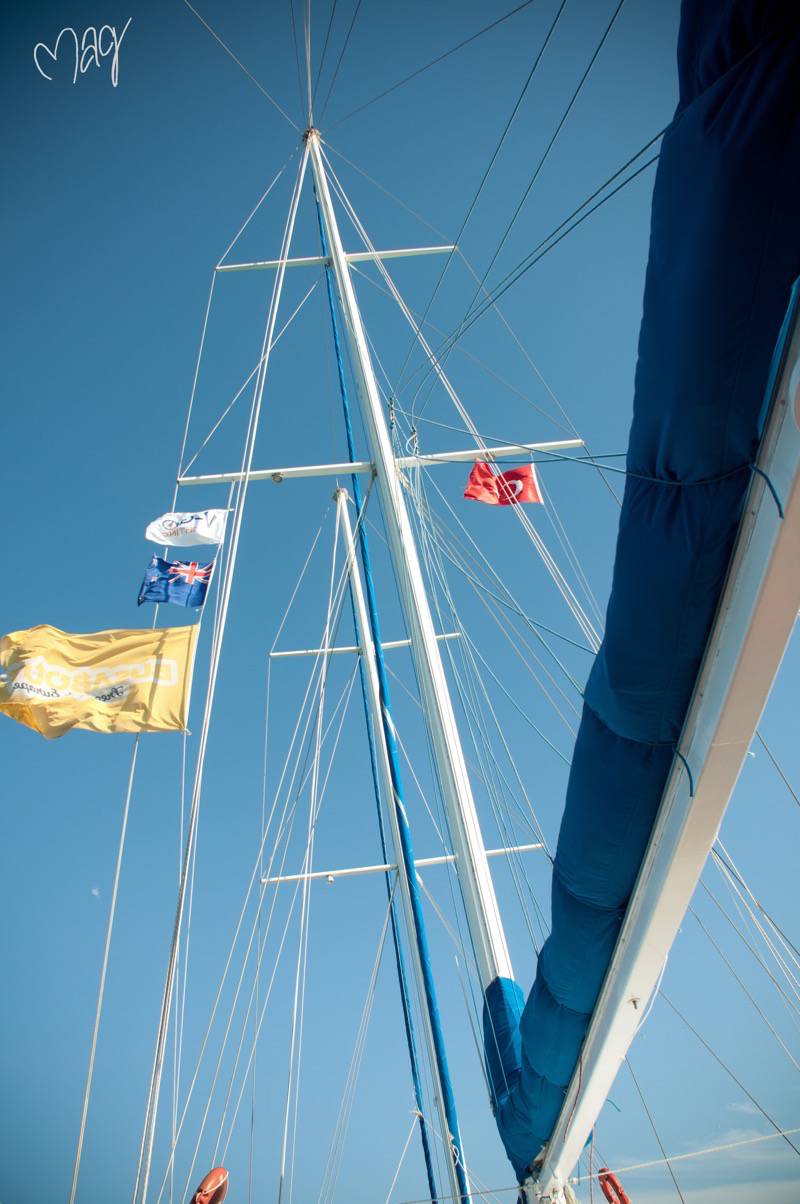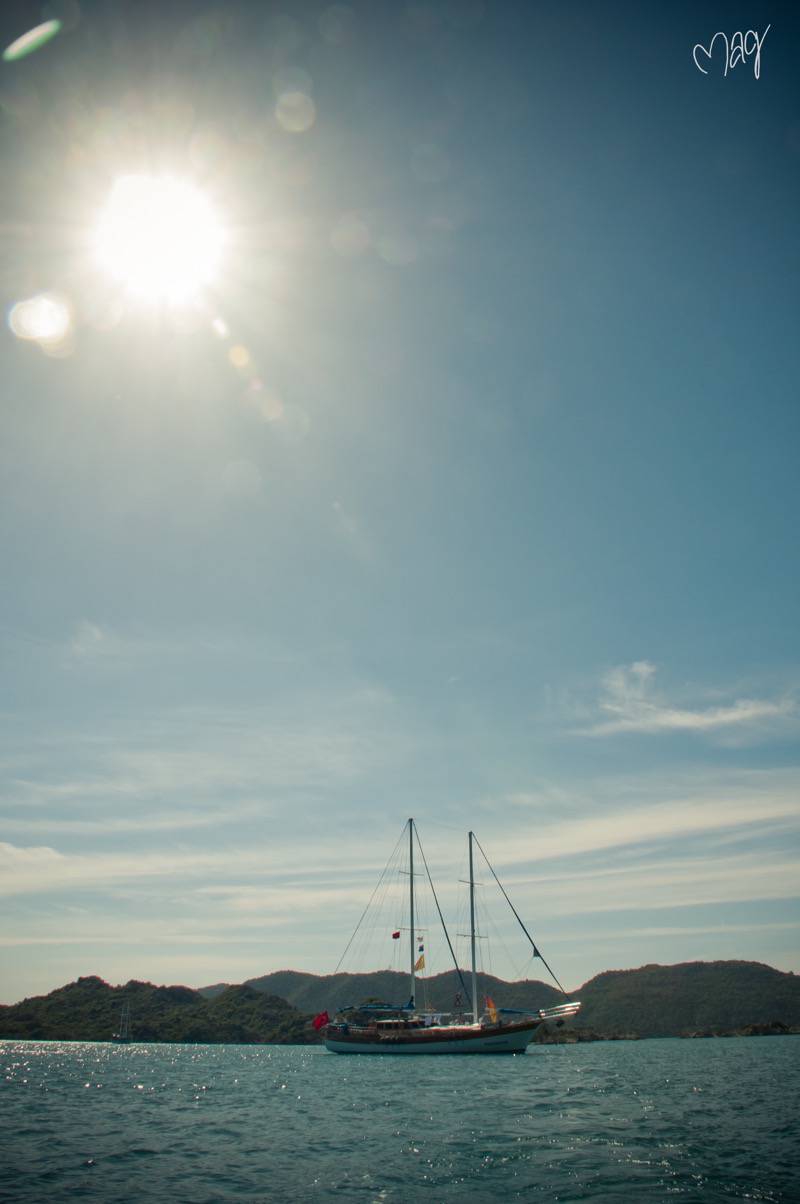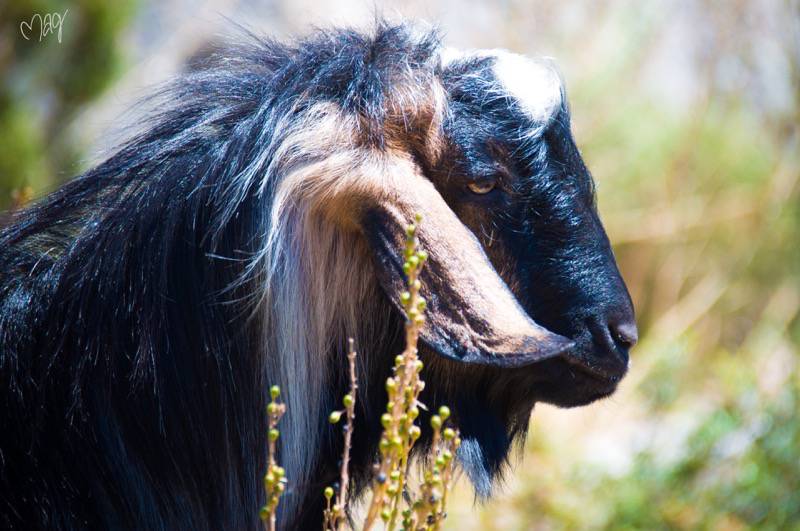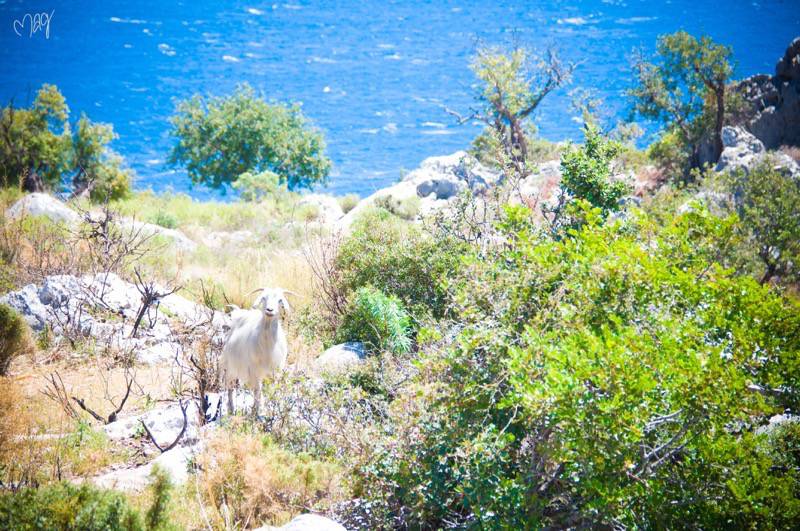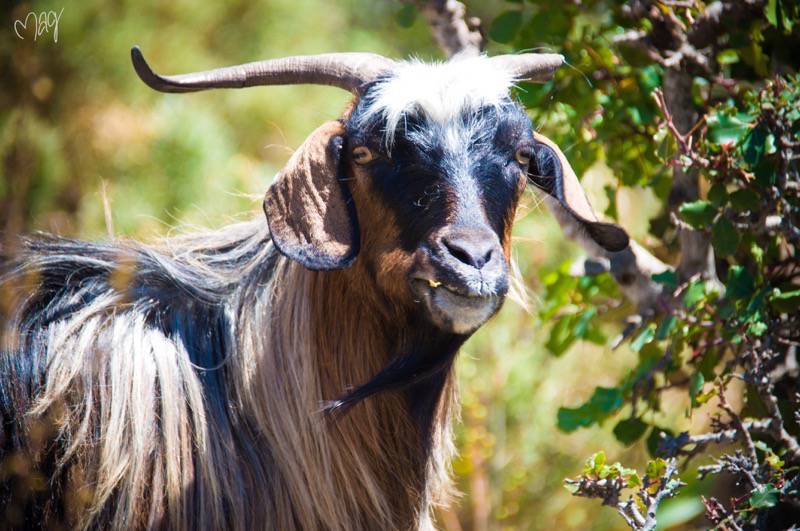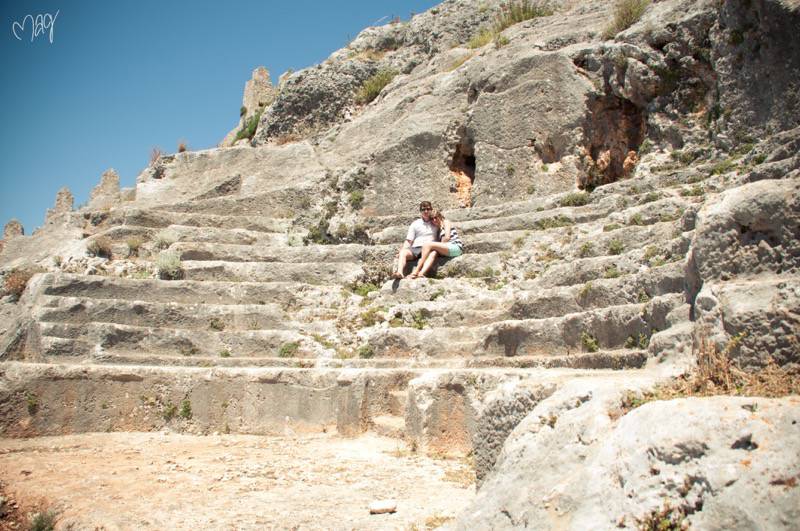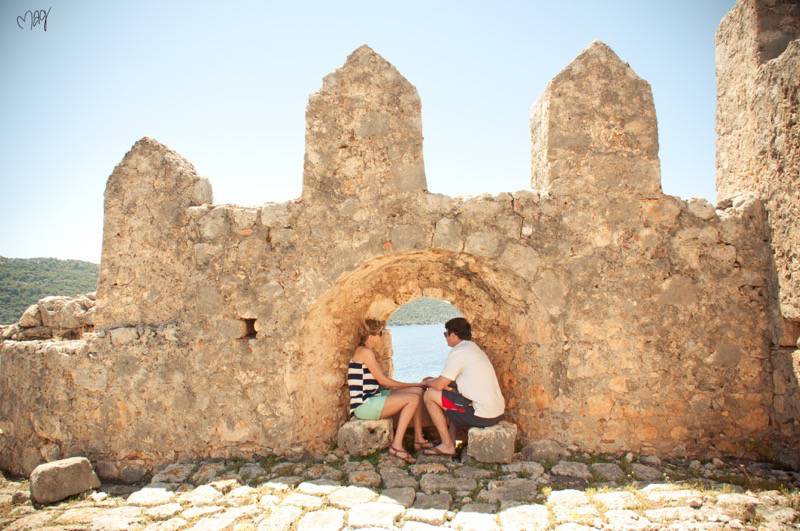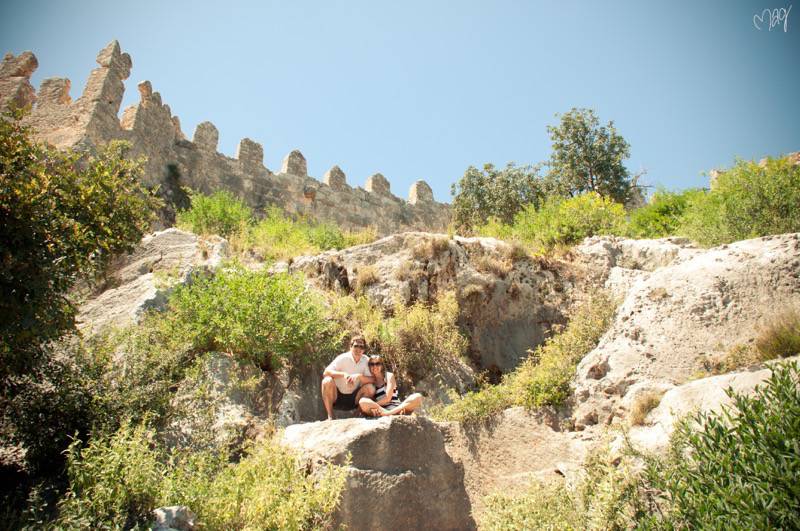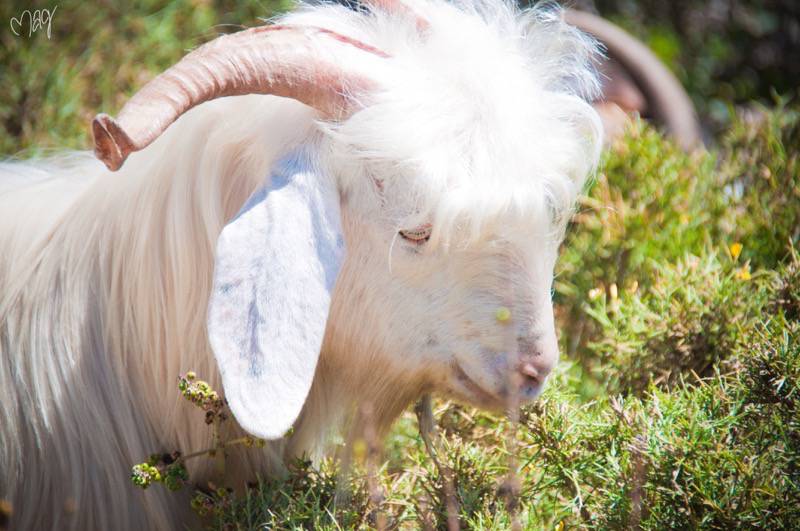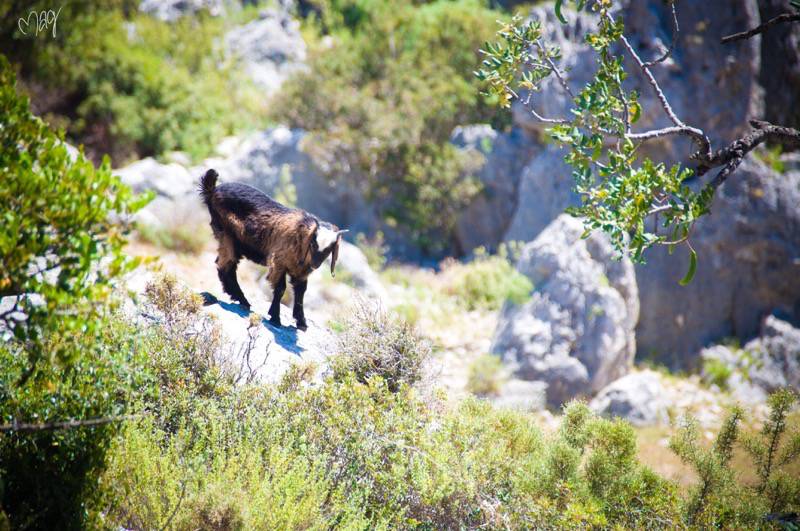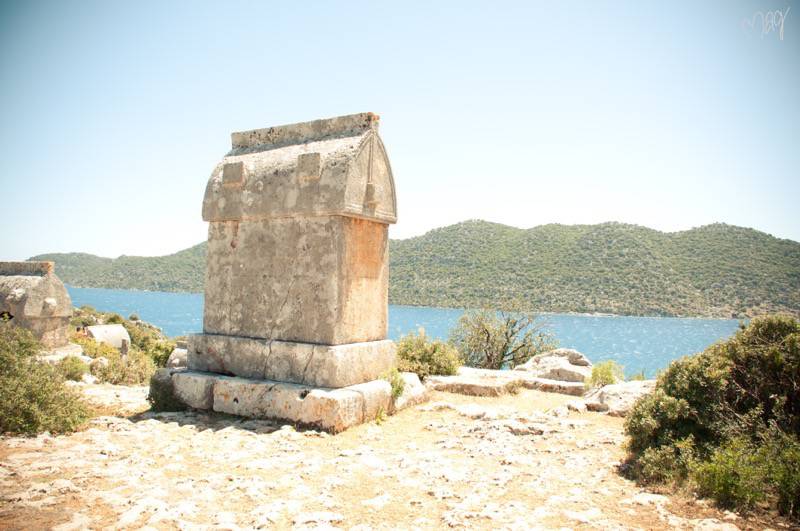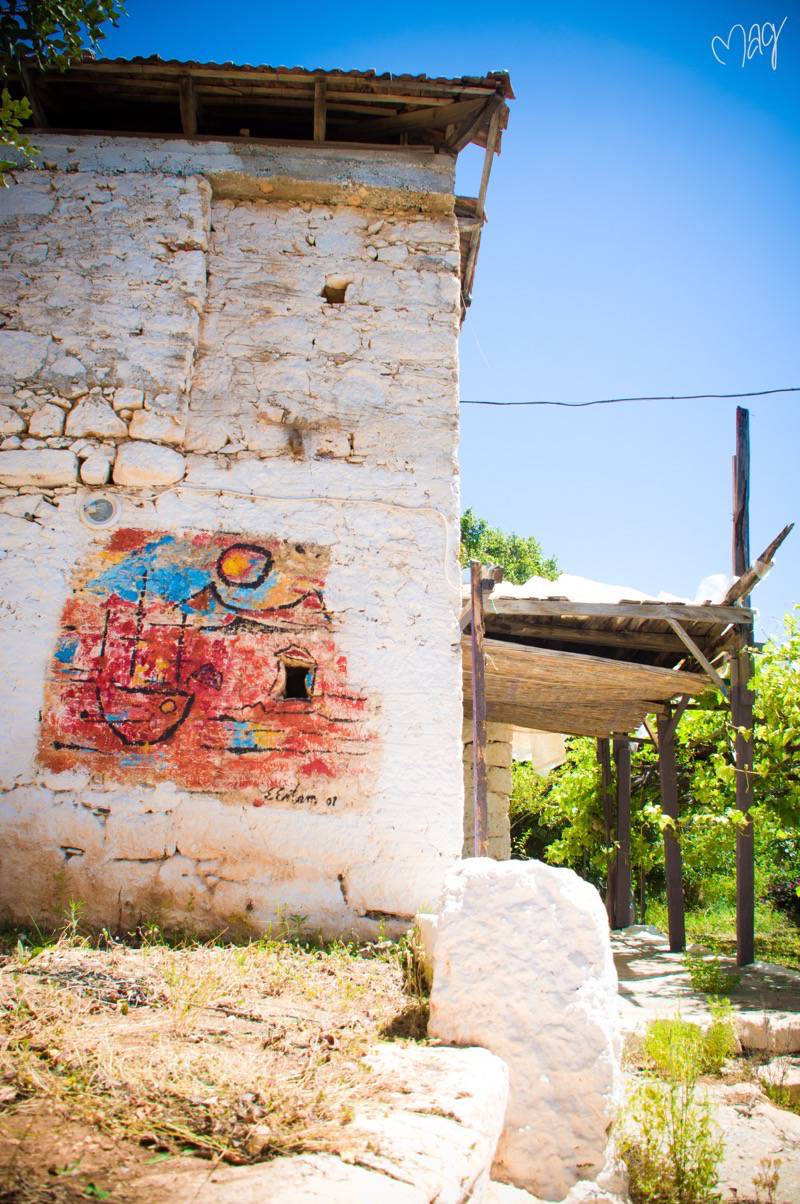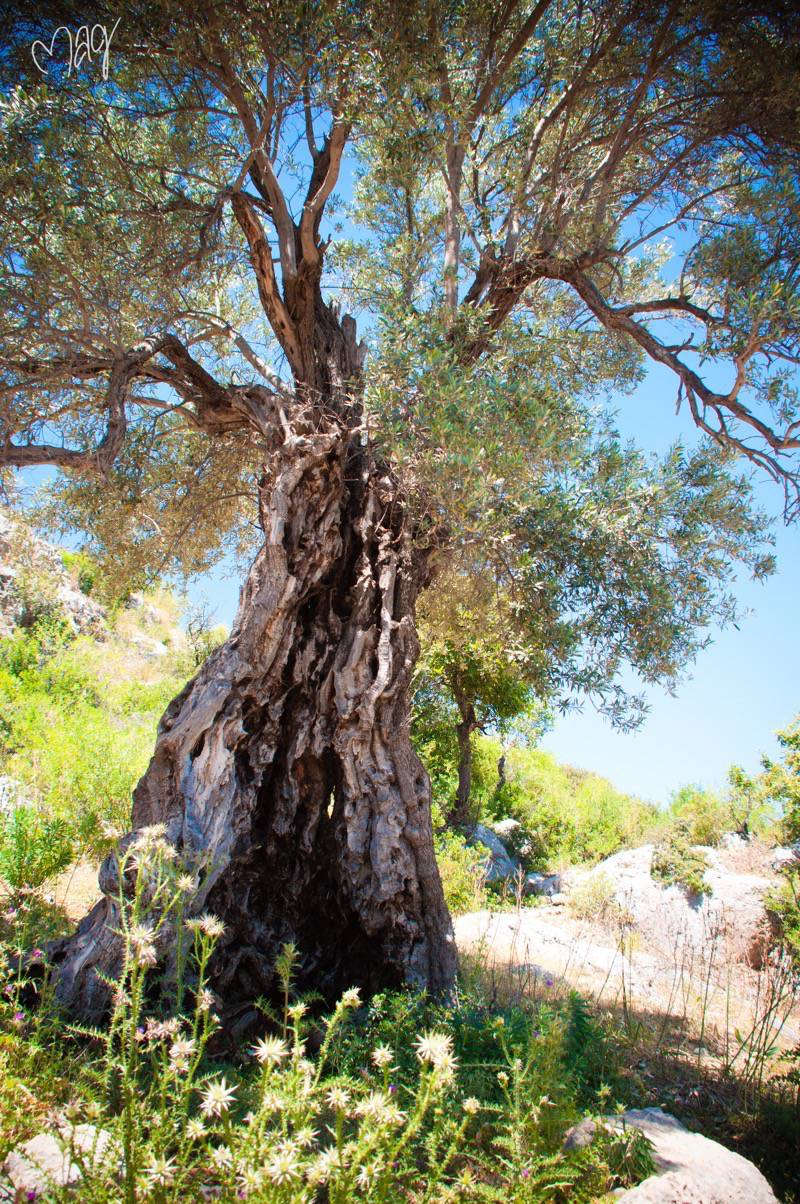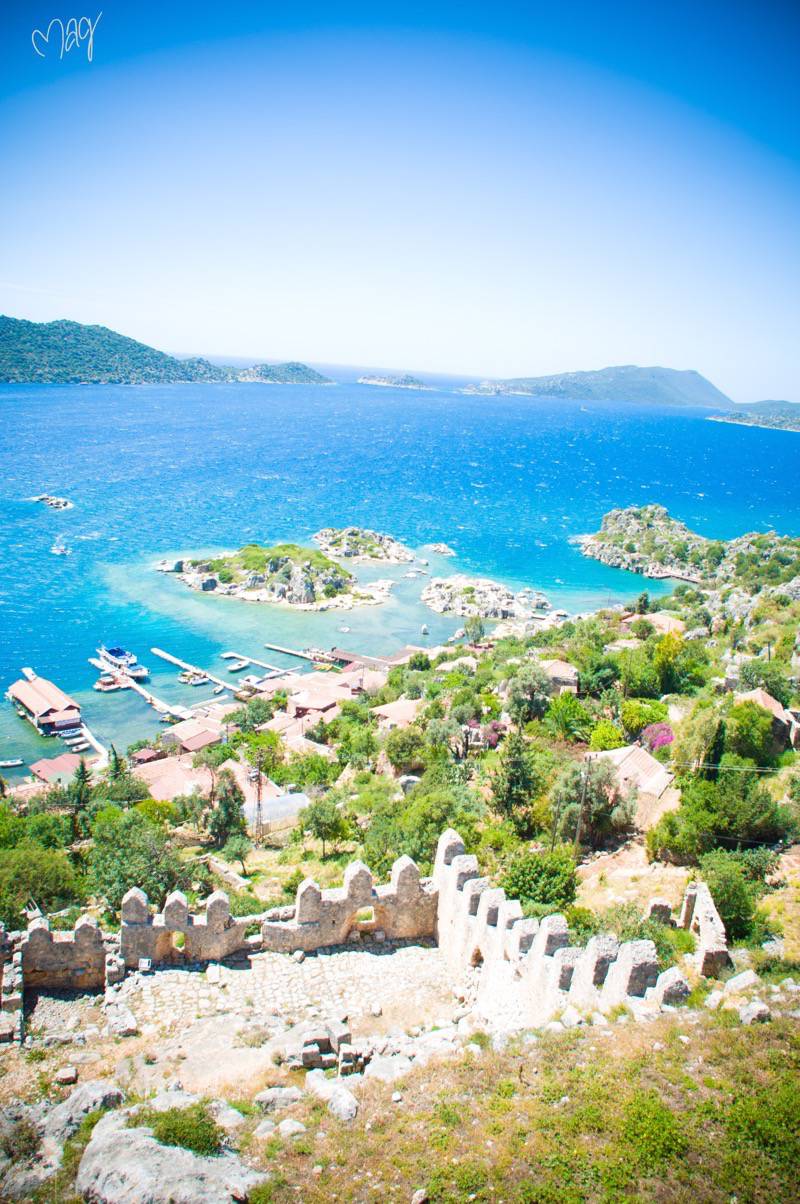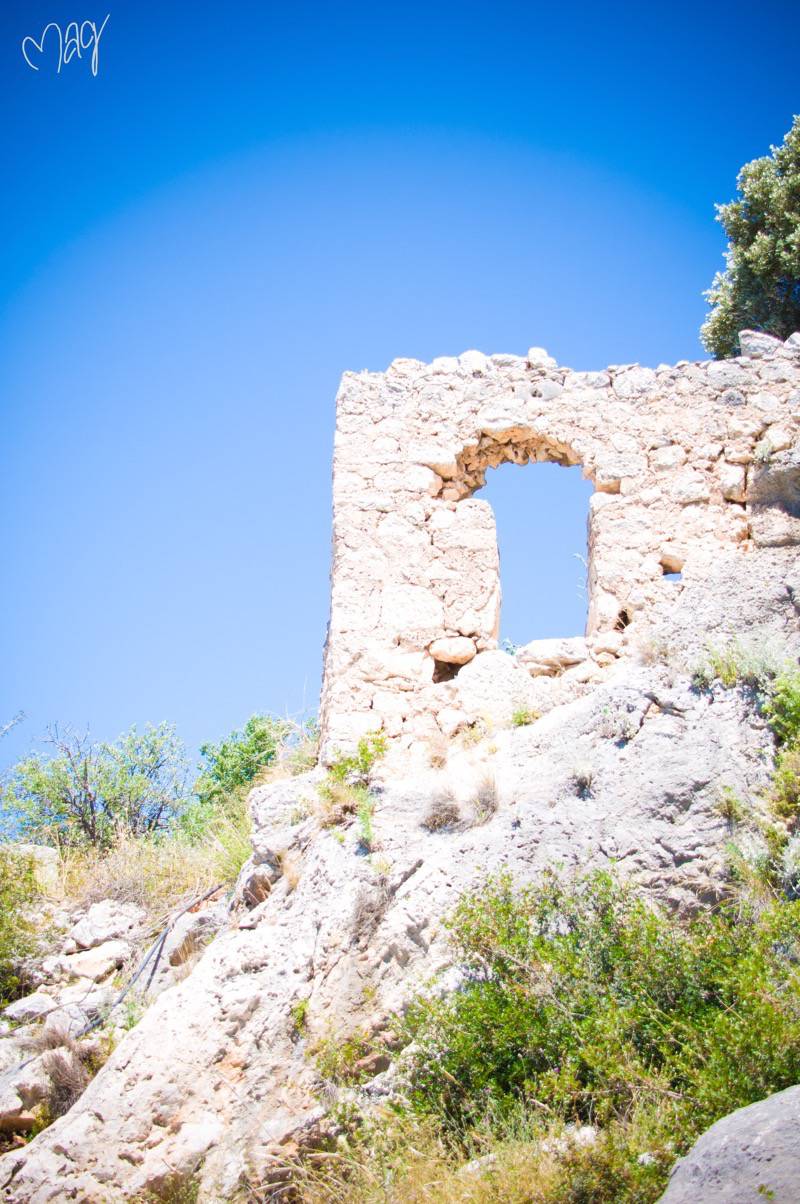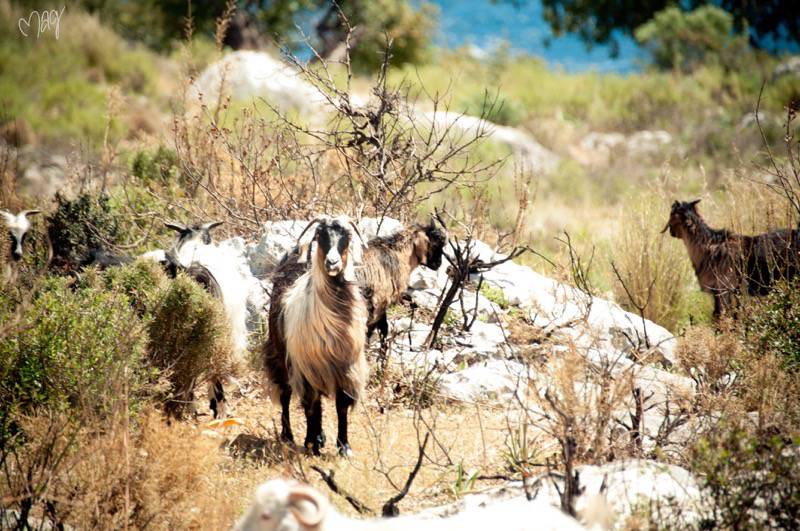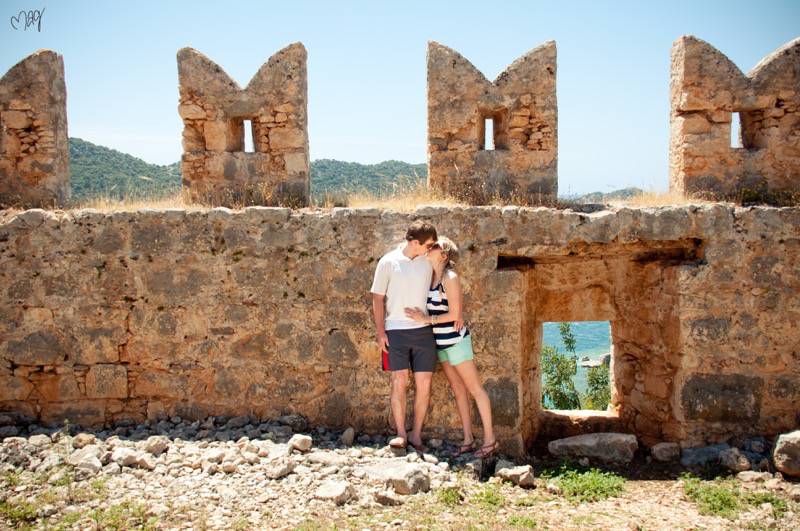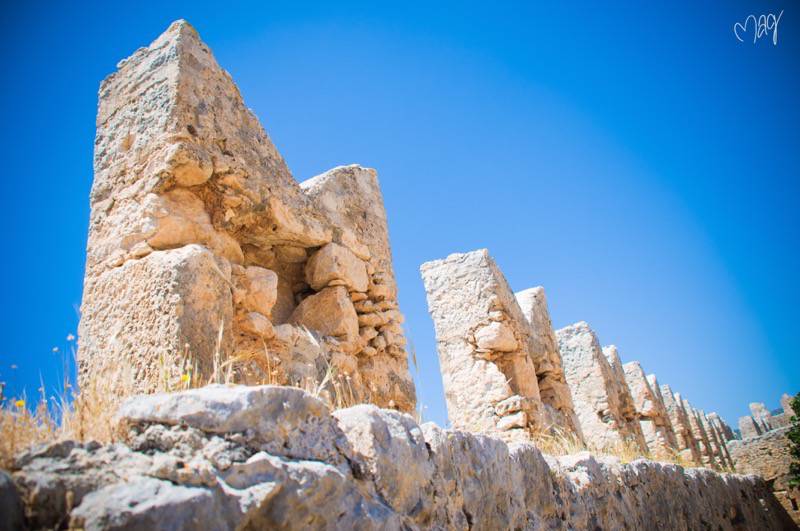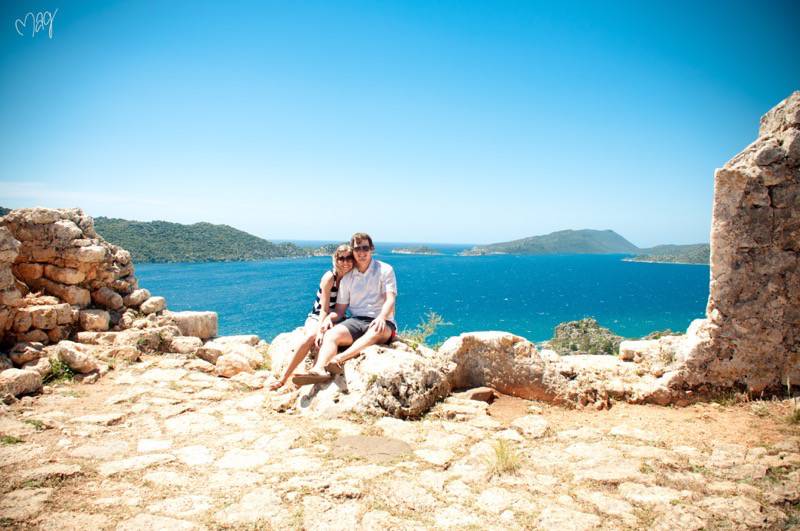 For the night, we headed to a nice cozy cove area. We found a pirate cave to explore and then spent the rest of the evening swimming. That night the boys headed to shore for a crazy bonfire, and the girls stayed on the boat and slept under the stars, slumber party style.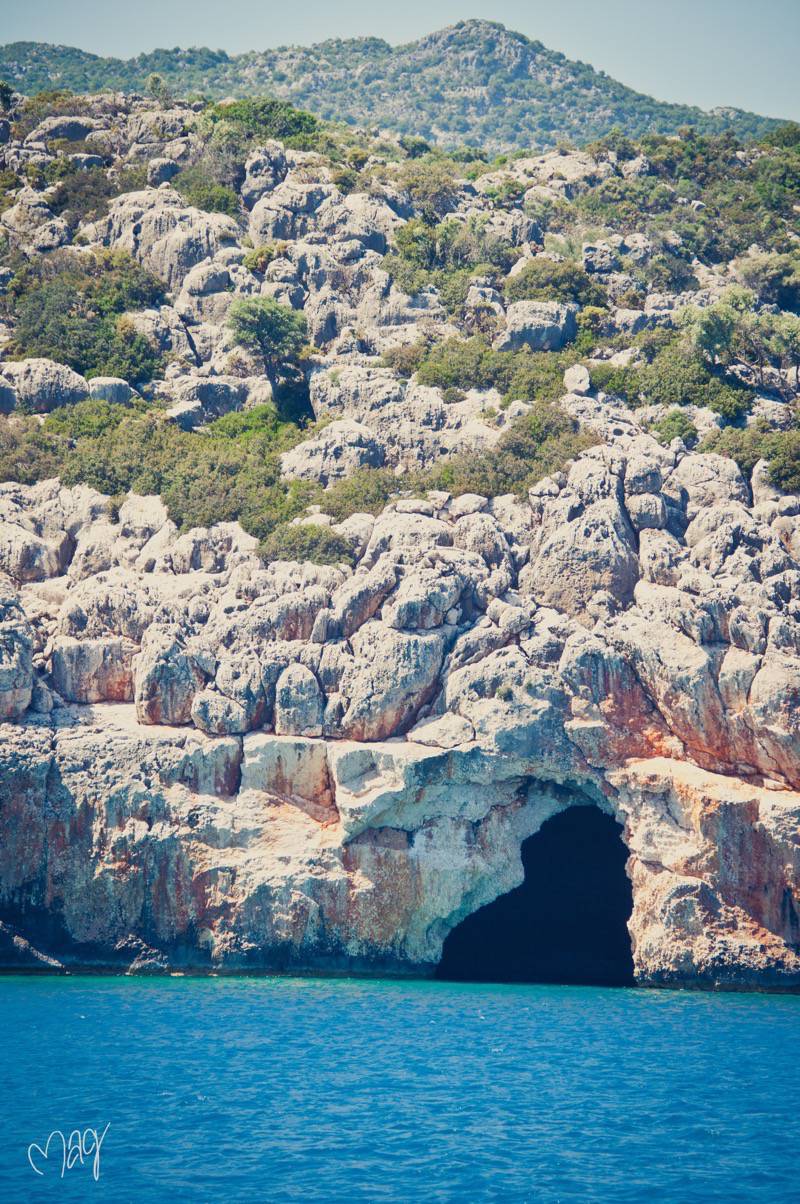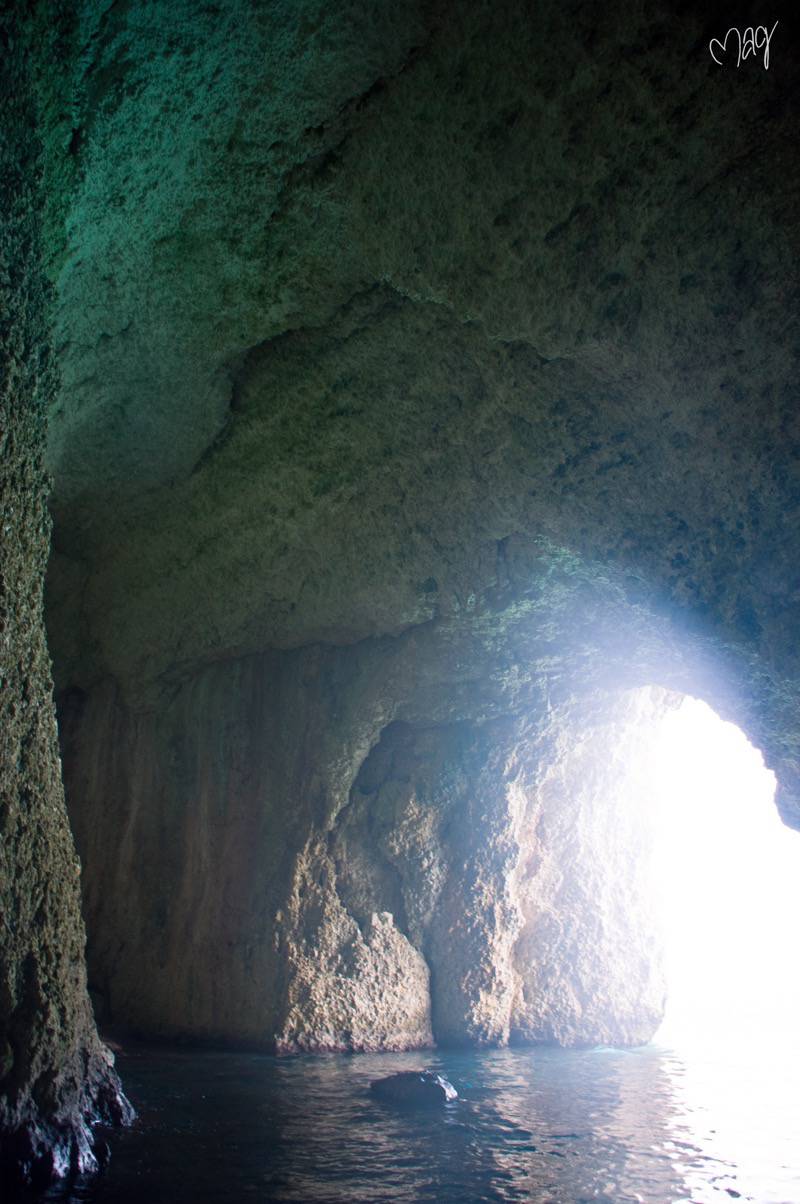 The next morning, we stayed in the cove and spent the day swimming and kayaking around the cove. That night we got all dolled up and went to a small pirate bar hidden in the cove. We spent the night dancing with all the other travelers sailing in the area.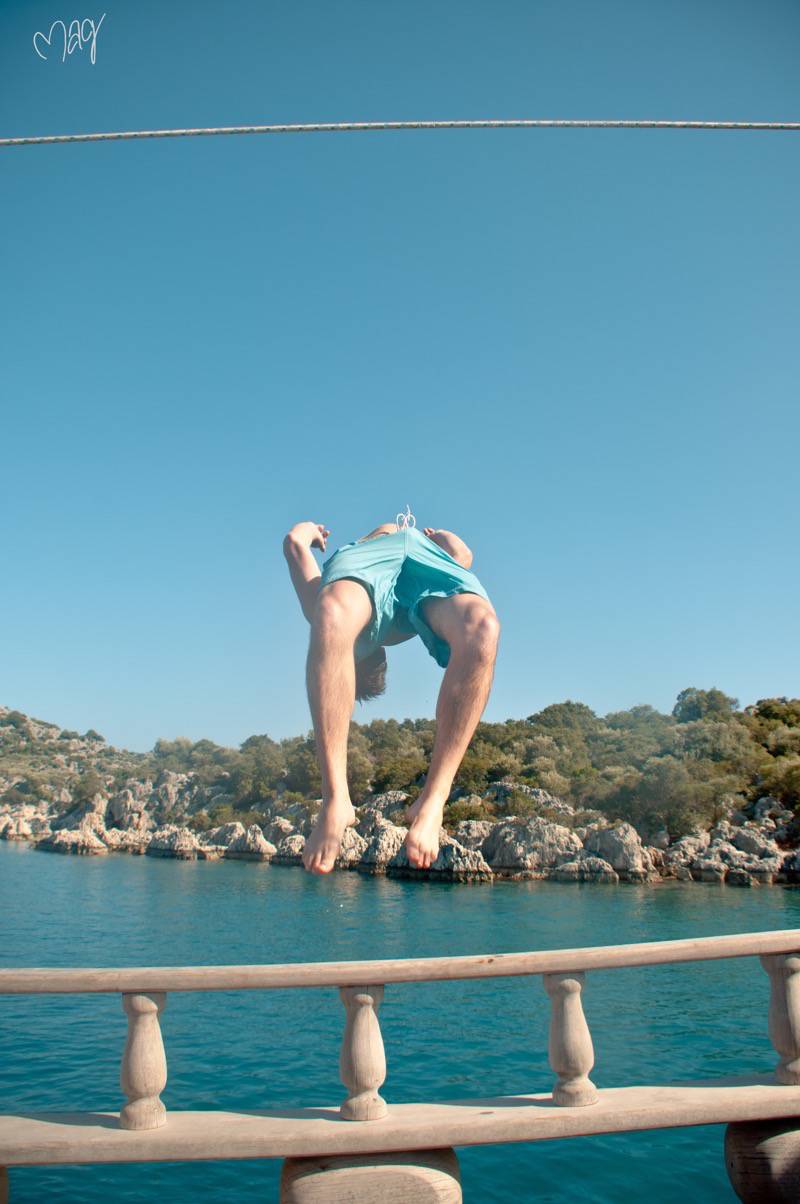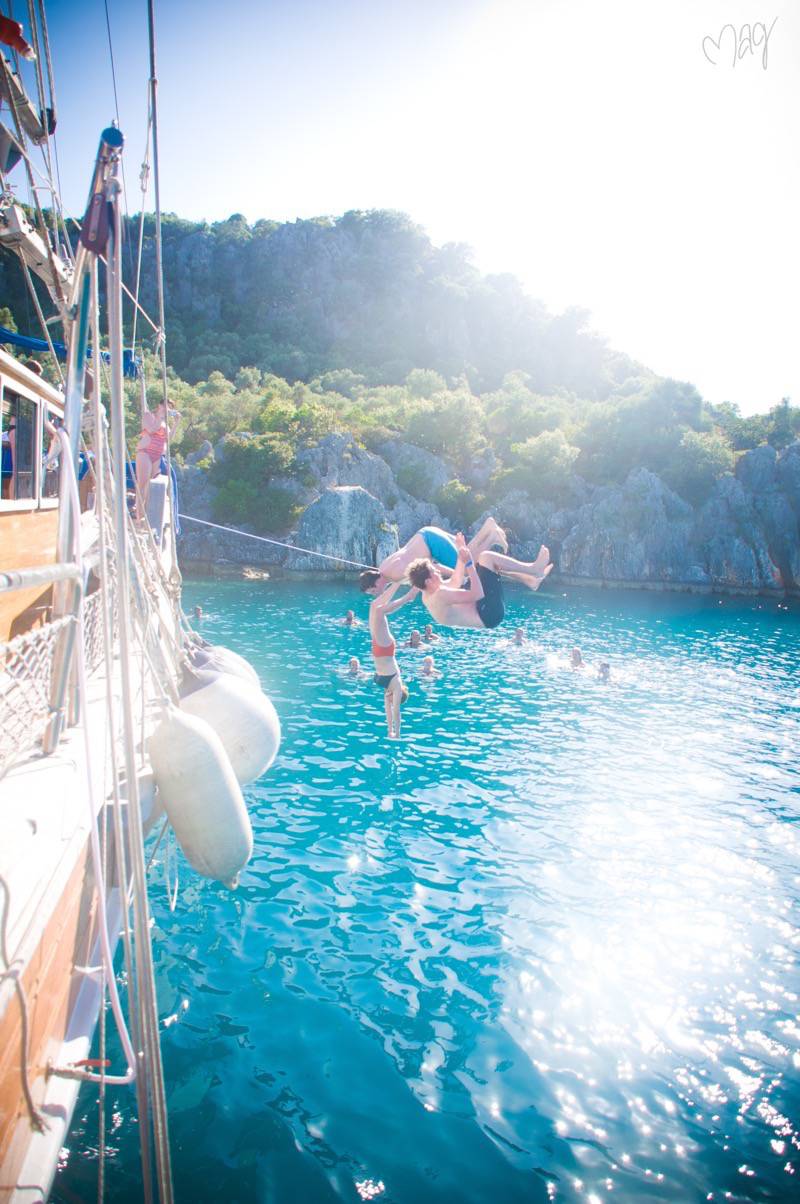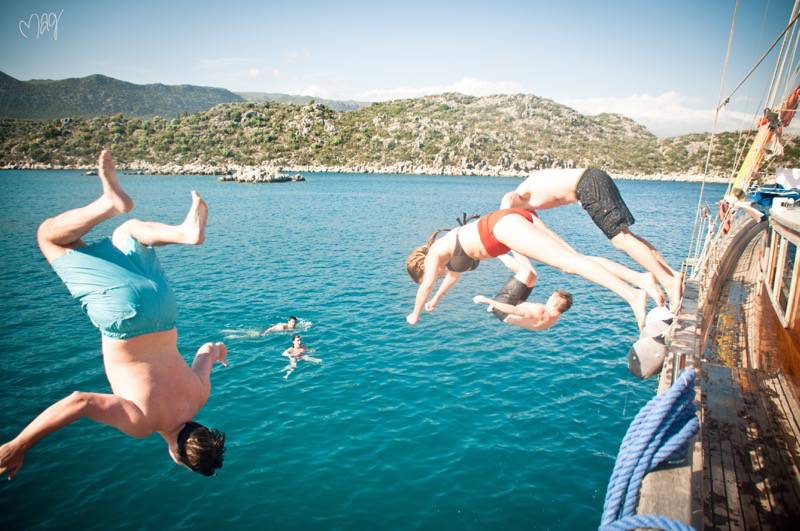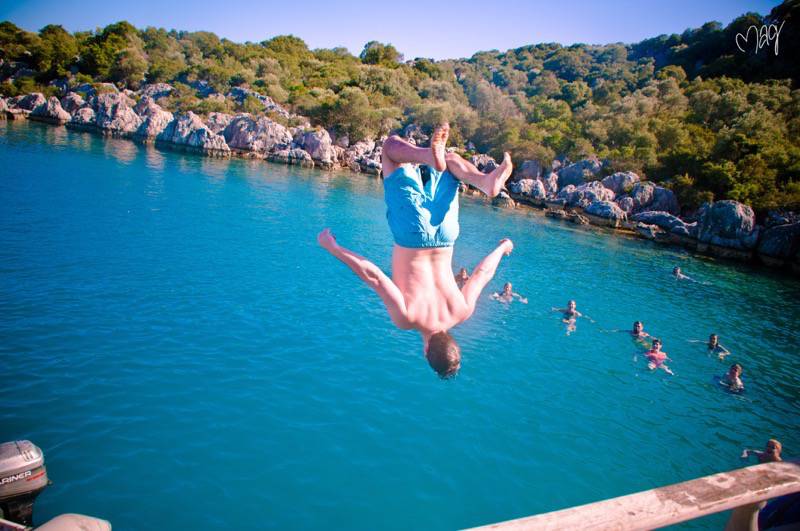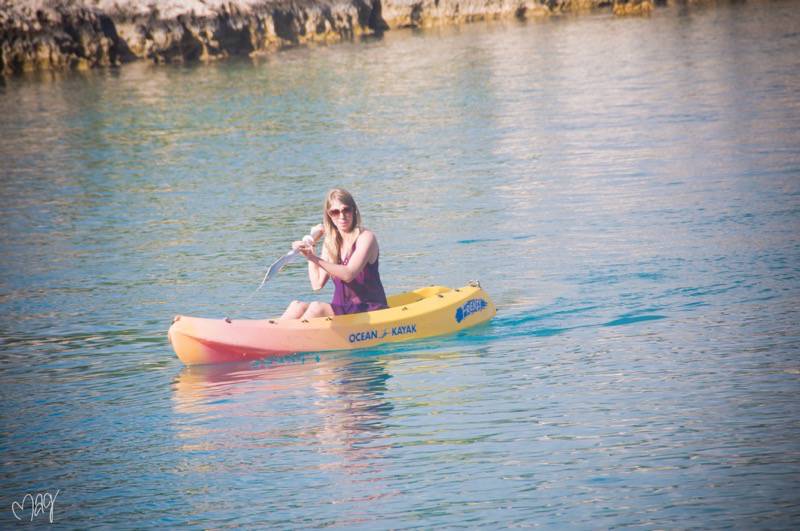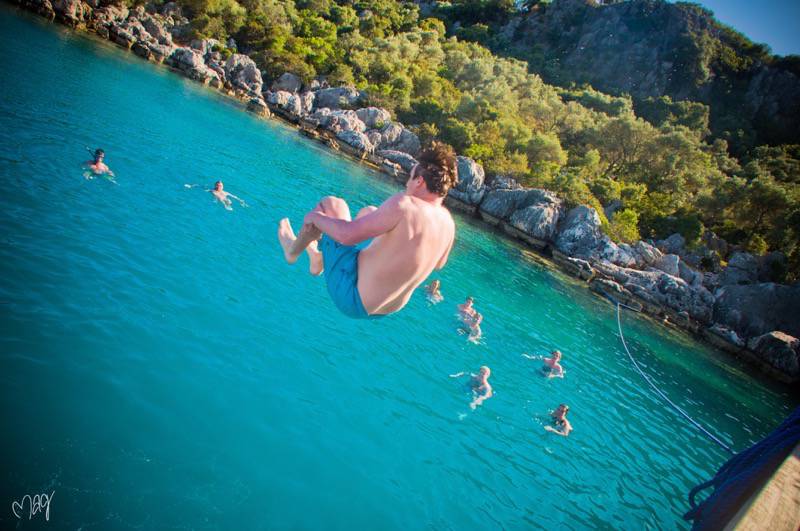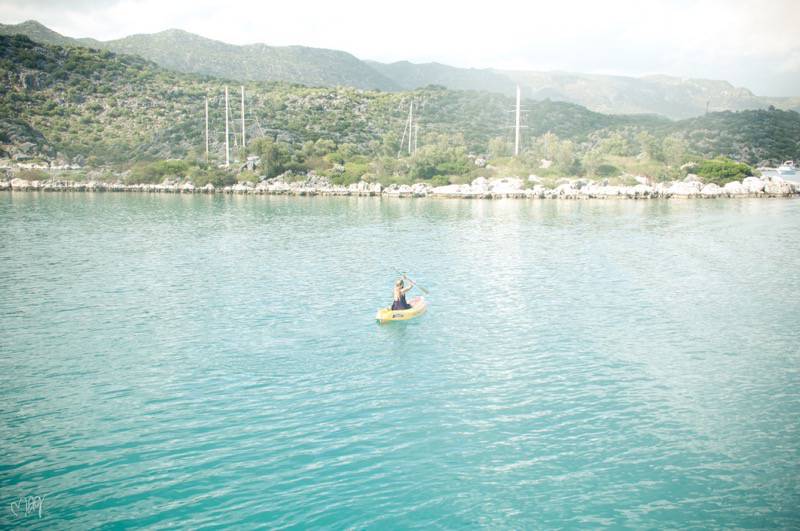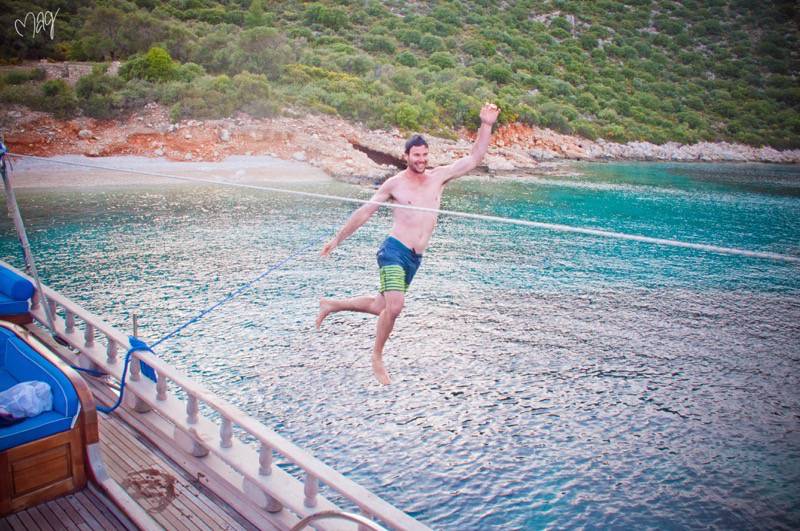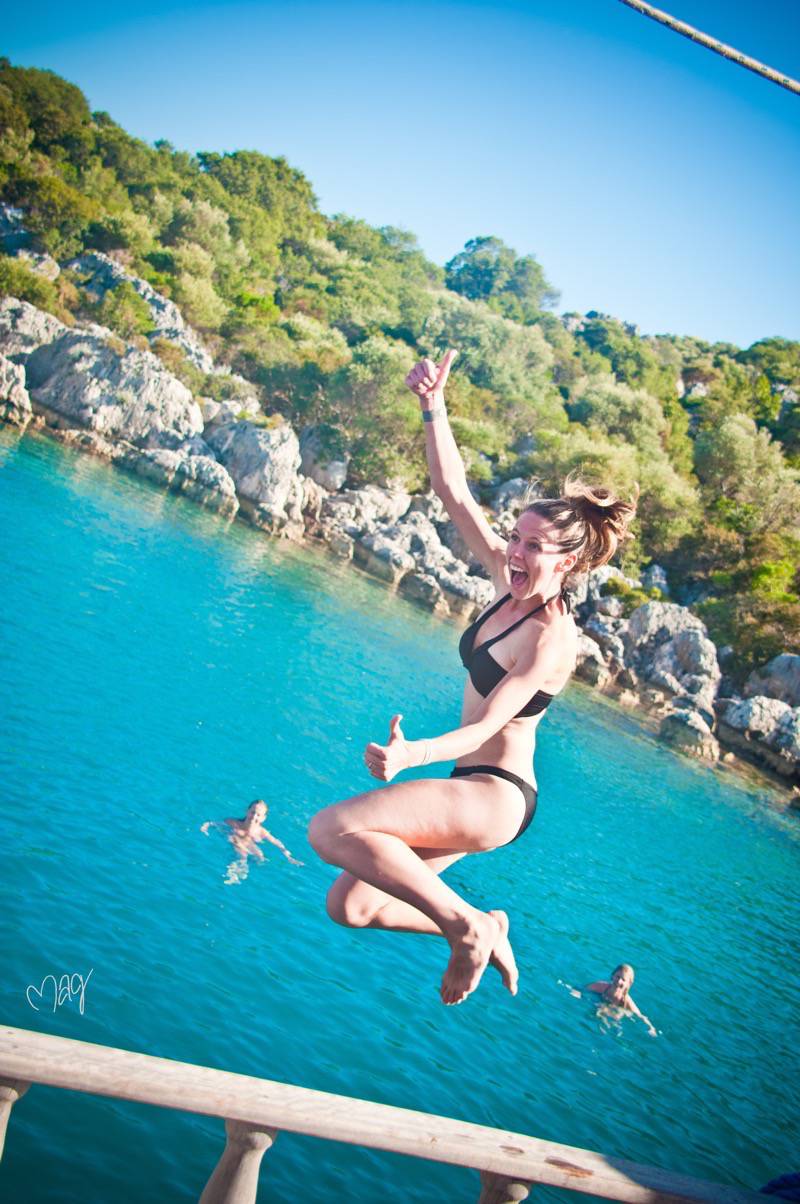 For the last couple days, we sailed back in the open sea stopping at a nice beach here and there. When we arrived back in Fethiye, we spent our last night together in a hookah bar knowing that we would most likely never see each other again. That is the bittersweet part of traveling. You meet amazing people and get to know them closely for a very fleeting moment. Then you part ways and go back to your own corner of the world. Sure, you exchange emails and become Facebook friends. But as the days pass you realize that the people you met on that trip are quite different then the people you see in your Facebook news feed. But then again, you never know when our paths may cross again.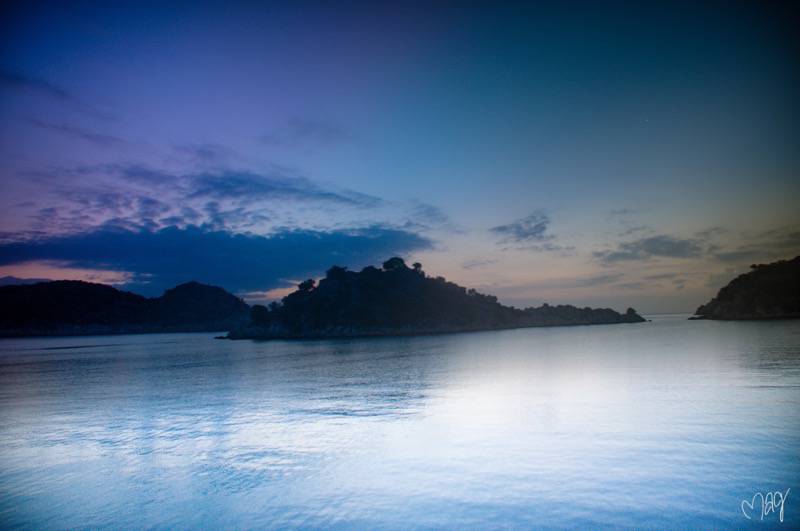 Until next time,